This is the month to celebrate National Tile Day on February 23. To commemorate some of the amazing work taking place in tile today, we bring you a few select projects that show a range of creativity and expertise in residential and commercial settings. Enjoy these outstanding projects, and if you have one you'd like to share, please email images and a few details to [email protected] – Lesley Goddin
---
Sharon Taylor, Viva Tiling
Sharon Taylor of the UK's Viva Tiling created a "blingtastic" bathroom in her own home – a ongoing project. After ordering a load of mirror mosaics in various sizes from Mosaic Heaven in the UK, Taylor had to "keystone"them by hand with her glass cutter and grozier pliers that she uses for stained glass cutting. She finished off the edges with a Kristall glass grinder.
Taylor explained, "The roundels were made onto mesh first; the background mosaics were individually laid pieces, all stuck with mirror adhesive onto wedi board. The panel was grouted with Kerakoll Color 10. They're two separate panels for convenience; both can be removed easily. The other mosaics are from Bisazza, and I did the floor pattern myself too." [email protected]
Chris Sumka Tile Artist
Canadian artist Chris Sumka creates original tile mosaics using recycled and reclaimed materials, and green art. This piece entitled "Persistence Pays Off" is a 40″x50″ wall hanging.
Sumka cut the grizzly bear from travertine marble, then etched the fur with a Dremel tool.
"Multiple layers of grouts were used to create the right color of the bear; same idea to create the rapids," he said. "The chum salmon is porcelain. There is also an epoxy layer over the entire background for the moving water effect." [email protected]
Angie Ré
Unique Mosaics LLC
This 84″ medallion is a work in progress from mosaicist extraordinaire Angie Ré. It will be installed onto a wall behind the bar of a new brewery. Originally, Ré had made a mosaic for the previous brewery and when new owners bought the business, they wanted to rebrand with a new mosaic by Ré.
Ré's client wanted her to enhance the new logo with shading. "One of my biggest challenges was figuring out where the sections would be," Ré said. The design – and the circular gradient in background – took a lot of thinking and planning during the prep and mounting process.
"I pre-mounted the glass tiles onto LATICRETE HYDRO BAN board and grouted each section," Ré added. "The logo was grouted in black epoxy; field tile was grouted with translucent epoxy grout. I created face-mounted seam tiles, and provided grout for the installer. I shipped all eight sections out on a pallet, packed with high density foam protection."
NTCA tile contractor member Dave Karp of Tile Fusion LLC in Shakopee, Minn., will install the medallion in St. Paul, Minn. "He will be able to install eight sections, add in the seam tile that I provided, and grout the seams," Ré said. "I'm very much looking forward to seeing it installed." uniquemosaicsllc.com
Aryk Snowberger
Snowbee Custom Tile LLC
This 30-year-old tile artisan has been installing tile for less than two years, in Northeast Ohio. He and his wife Rochelle wrapped up their first year in business with this beautiful oversized custom shower! The vibrant glass penny tile and 3D field tile create a bold yet elegant feel.
Aryk admitted this was a challenging installation. "Penny tile are among the most difficult tile to install at a high level due to sheet lines, and for some they can be difficult to cut," he said. "Throw in the contrasting grout color and you've got to bring your A-game."
He added that the 3D wavy tiles presented their own set of challenges where walls come together, occasionally requiring the installer to essentially "cope" the edge of the tile. "These particular 3D tiles also have veining, so add on sorting through tiles to match veins and wrap corners! It's also not acceptable to have 'twin' or duplicate tiles next to each other!"
Aryk said, "Thankfully I learned from very skilled tile installers, so I was prepared! We're happy to be part of the tile artisan community!" snowbeecustomtile.com
Lisa Bustamante
Custom Mosaic Creations
The scope of this project for Lisa Bustamante of Custom Mosaic Creations was to complete a full kitchen backsplash. "Little did I know that meeting with the client regarding a chicken backsplash would turn out to be this creative," she said. "The chicken is adorned in flowers and she has received the name 'Blossom.' The field tile is hand-cut to look like chicken wire. The client wanted a red and black checkered design going to the center as you can see in the picture."
Bustamante cut the stained glass to specifications and placed them on mosaic sticky mesh to hold the pieces in place. "I used mosaic tape on top of the pattern and set in my thinset. Once the thinset had cured for 24 hours, I peeled the mosaic tape off the mosaic and grouted."
Bustamante used wedi board, stained glass, LATICRETE Titanium 257, and PERMACOLOR grout. custommosaiccreations.com
Malachi Hilkey
Resonate Renovations
Hilkey worked artisan tile setting magic on this bathroom in his own home, manifesting his passion for an odd-shaped niche, one that was "as functional as it was 'rad.'" He envisioned LED lights as part of the project and learned how to wire them on his own, installing them on a dedicated switch. He said,
"The real challenge there was in the attic. This is right next to the exterior, so head space and in the Midwest summer was dreadful."
This was Hilkey's first attempt at a diagonal pattern, and he chose metal trim to break the transition between tiles for a bold look. Since the tiles of different thicknesses were reclaimed from his previous jobs, he floated the walls to achieve desired flatness. He had fun with the floor, ripping it down to flat 2″x8″s and sinking the subfloor, then coating floors and walls with five coats of Redgard and Denshield 4″ up the walls outside the shower. He also learned a lot working with the tile-in Infinity linear drain flush against the back wall with a very small envelope cut. And he added glass inlays on the floor and base tile. Custom touches included a vanity with tip-out trays, pull outs and organizers, topped off with a marbleized concrete countertop with a pull-out faucet for cleaning, and metallic plaster paints from Benjamin Moore.
Hilkey gives a shout-out to his wife Marissa, who gave him full control of the design, trim and finishing touches, and kept the home running – and kids and Hilkey fed and cared for – while he remodeled every room in the entire upstairs – floor to ceiling. resonatenebraska.com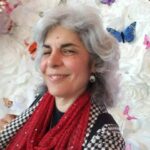 Editorial Director and Senior Writer for TileLetter and TileLetter ARTISAN
Lesley Goddin has been writing and journaling since her first diary at age 11. Her journey has taken her through a career in publishing and publicity, landing her the editor position of TileLetter and its special publications in 2006. Her goal is to educate, inspire, recognize and encourage those in the tile industry -- especially the tile and stone contractor. Other interests include the soft, purring marvels known as cats, labyrinth walking, drumming and percussion, and a range of spiritual, musical and artistic pursuits.