Greetings, and welcome to fall. Autumn around these parts means warm days and crisp nights, with fluffy clouds floating in impossibly blue skies arched over golden hillsides. There is the Albuquerque Balloon Fiesta (put this on your bucket list!) and the scent of roasting green chiles, and well, the flavor of pumpkin spice everywhere. I hope it's a beautiful fall where you are.
This issue is jam-packed with compelling content for your edification and enjoyment. There's a distinct focus this issue on the women in our industry, from our cover story to member spotlight to Training and Education feature to our Women in Tile story. The purpose of this focus is to celebrate the many women who are excelling with stellar skills and stunning work in what has been traditionally a male-dominated industry. It's also to spread the word to those women who may be considering a career in our industry, that there is a welcome place for them in a variety of roles here, including tile setter. As NTCA member Paige Pomerene of P2 Customs in Herndon, Va., said in our feature story, ""Whether you're male or female, or whatever you identify as, your skills are measured by your passion and the pride you take in your work." That's exactly right, and among the many skilled and passionate women and men in our industry who are constantly raising the bar and advancing its excellence, we recognize this group of women as being a valued part of the fold.
Our Training and Education feature looks at the emphasis on apprenticeship at Dragonfly Tile and Stone Works and the importance of custom tailoring training of the company's setters. We'll also meet Maria Meyer, one of Dragonfly's newest apprentices, who left her college studies to pursue the artistry and precision in the craft that is a hallmark of Dragonfly's reputation.
In our Business Tip, productivity expert Barbara Hemphill has some words of wisdom about records management and "clearing the clutter" from office files and documents. Whether paper or digital, information can pile up and overwhelm you fast, so without a strategy, you may find yourself drowning in information and slowing down your productivity.
We learn a little more about Vashon, Wash., tilesetter and artist extraordinaire Nadine Edelstein and her three businesses in our Member Spotlight story, and how she conceptualizes and crafts her remarkable creations.
In Tech Talk, we get an inside view of the first domestic producer of gauged porcelain tile panels – Stone Peak, part of the Iris Group, located in Crossville, Tenn. The manufacturer had a grand opening of its new production line in September, and TileLetter was there to report firsthand.
In Hot Topics, consultant Steve Rausch asks the question, "Are product and installation standards 'carrots' to encourage improvement, or, 'sticks' to beat you with about failures?" Hear what industry members have to say and send your own opinion to me at
[email protected]
There's also an opportunity to help one of our own, NTCA member Andrey Zelenko of Evergreen Tile & Stone LLC in Gladstone, Ore., who suffered serious injuries and lost his wife in a tragic boating incident on the Columbia River. A Go Fund Me account has been set up for those who want to support his recovery; details are in our Helping Hands
feature.
Here at NTCA, we are prepared for Total Solutions Plus in Grapevine, Texas at the end of the month, Oct 27-31. I hope to see many of you there! For last minute information, visit www.tile-assn.com/page/tsp.
God bless,
Lesley
[email protected]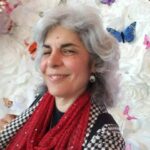 Editorial Director and Senior Writer for TileLetter and TileLetter ARTISAN
Lesley Goddin has been writing and journaling since her first diary at age 11. Her journey has taken her through a career in publishing and publicity, landing her the editor position of TileLetter and its special publications in 2006. Her goal is to educate, inspire, recognize and encourage those in the tile industry -- especially the tile and stone contractor. Other interests include the soft, purring marvels known as cats, labyrinth walking, drumming and percussion, and a range of spiritual, musical and artistic pursuits.