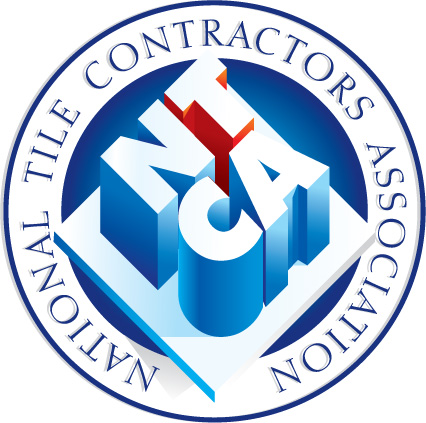 Contractors visiting Coverings '18 May 8-11 in Atlanta had the opportunity to partake in a full schedule of educational conference sessions, special features on the show floor like the Installation Experience, Installation Design Showcase, demos on the Installation Demonstration Stage, Quickfire sessions on a variety of topics and of course the amazing array of tile and stone products and setting materials, tools and associated products.
One great way to get a crash course of what's available for contractors was to take part in a NTCA Tour, given Wednesday and Thursday of the show. This tour, led by NTCA assistant executive director Jim Olson with assistance from member volunteers and Ally Jenkins from show management company Taffy Event Strategies, originated from the Contractor Lounge and led participants on a journey through 12 exhibitors in a little over an hour.
Here are the highlights:
Raimondi/Donnelly Distribution : Lindsey Madrid introduced tour participants to the Italian-made RLS leveling system, Buzon pedestals and a range of cutters and blades. A new product is the Roboslab, a hydraulic-operated mobile lifter for gauged porcelain tile panels.
European Tile Masters: Ben Szell showed a range of products and tables for handling, moving and working with gauged porcelain tile panels.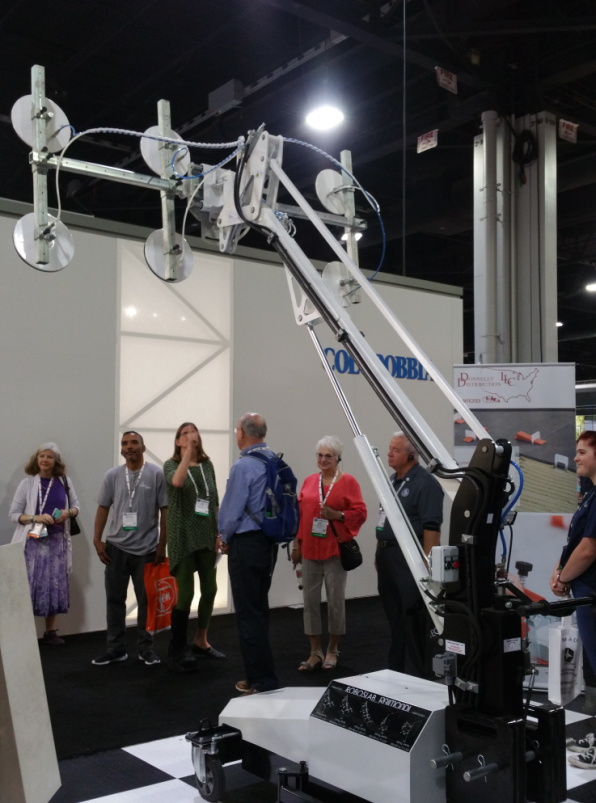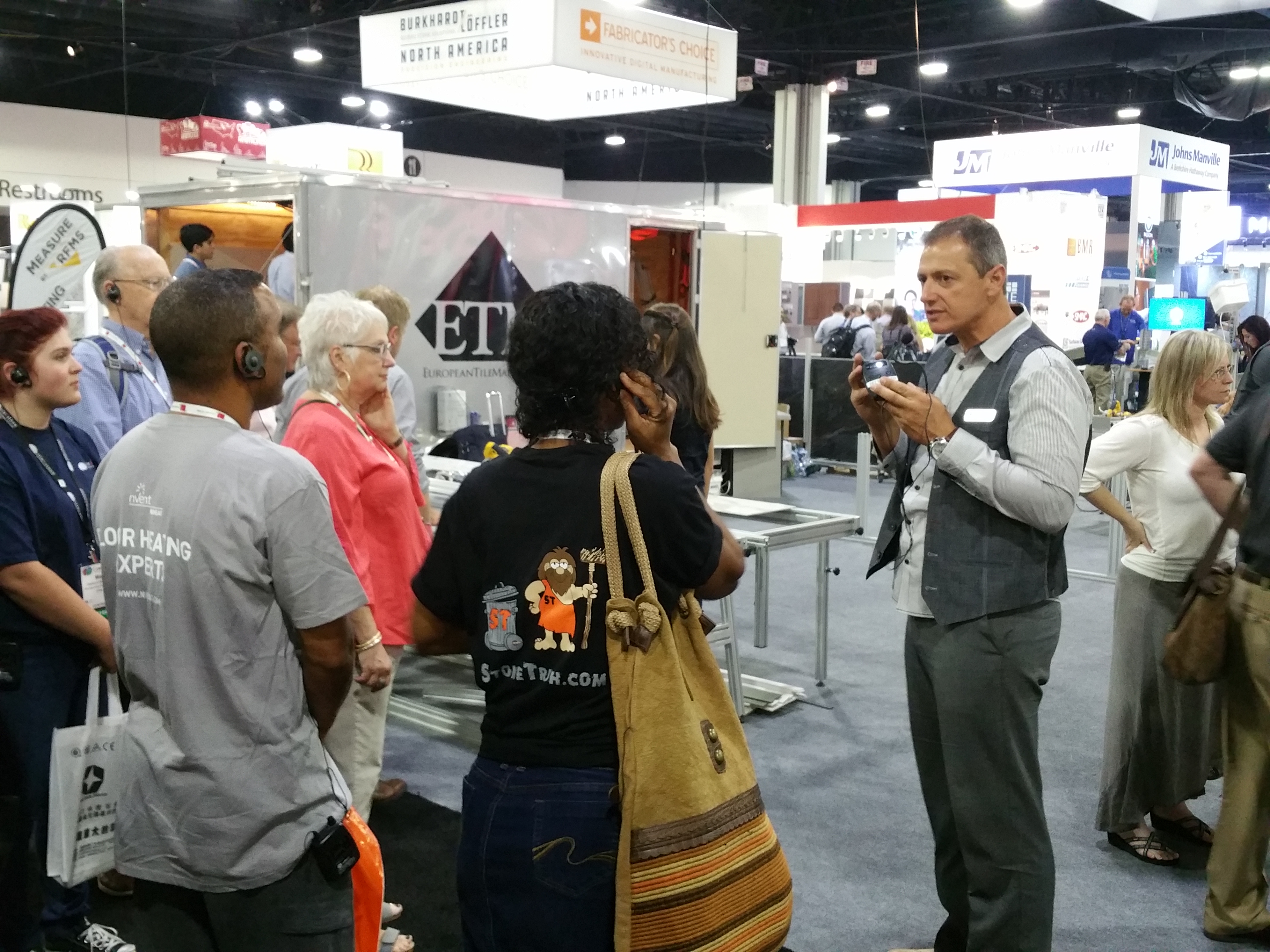 USG: USG's Leo Pena displayed USG's Shower System featuring Durock with EdgeGuard. This improved edge protects again blowouts. USG also offers the ability to custom configure a shower project, with materials easily sent to the site or contractor via UPS.
RUBI: Albert Mendez demonstrated the company's TZ Cutter, as well as a vacuum attachment that eliminates dust from cutting tile and stone products.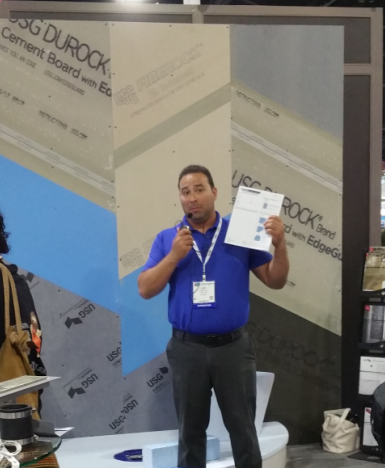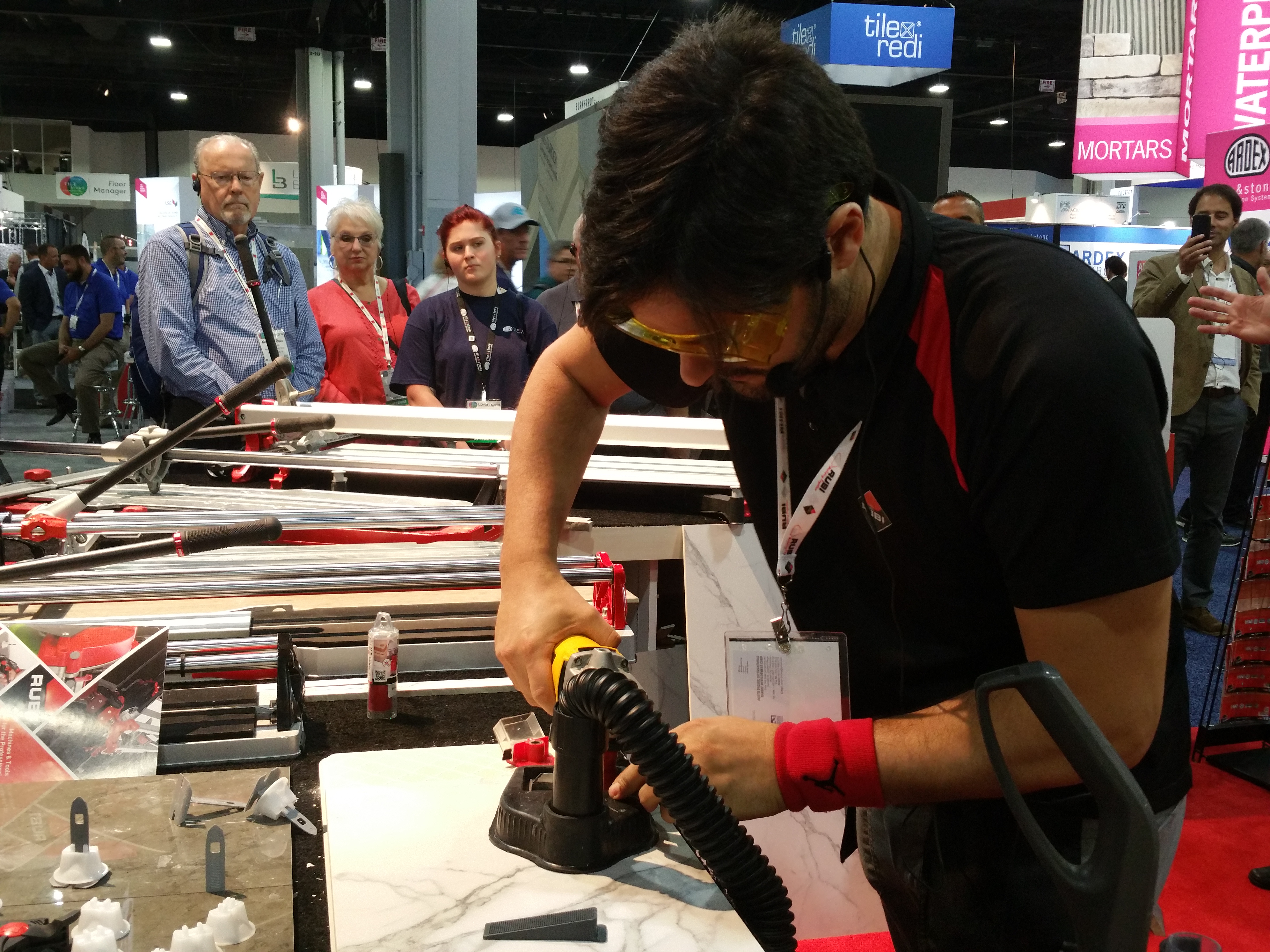 Schluter: Bobby Linam talked about DITRA-HEAT, which combines an uncoupling mat with a thermal break with customizable heating cables for electric heat installs. He also talked about the range of Schluter's edge protection profiles, in metallic or textured powder coat styles, as well as movement joint products.
MAPEI: Brian Pistulka talked about the company's Planitop 330 Fast quick-setting, polymer-modified, fiber-reinforced, cementitious rendering, patching and leveling mortar for interior and exterior walls, floors and submerged areas as well as Mapeguard UM uncoupling membrane, Flexcolor 3D translucent, iridescent ready-to-use grout, and mortars that conform to ANSI 118.5 for gauged porcelain tile installations.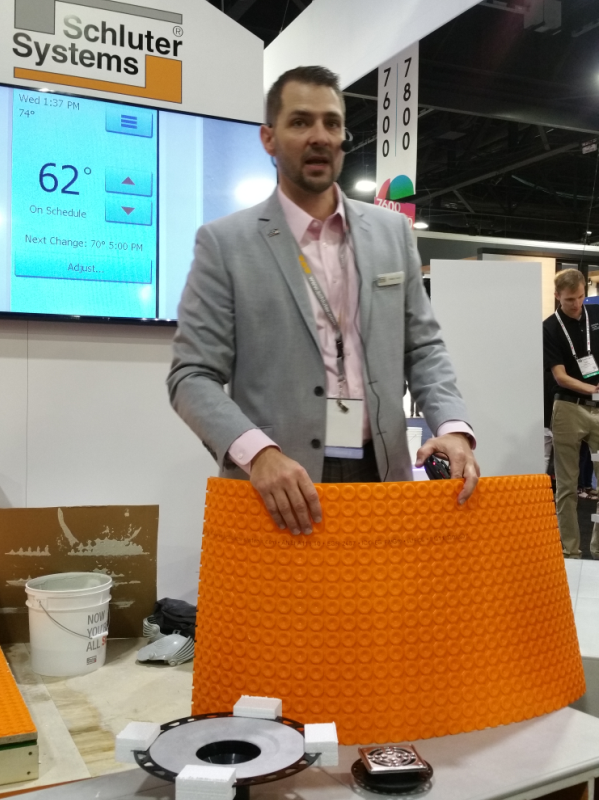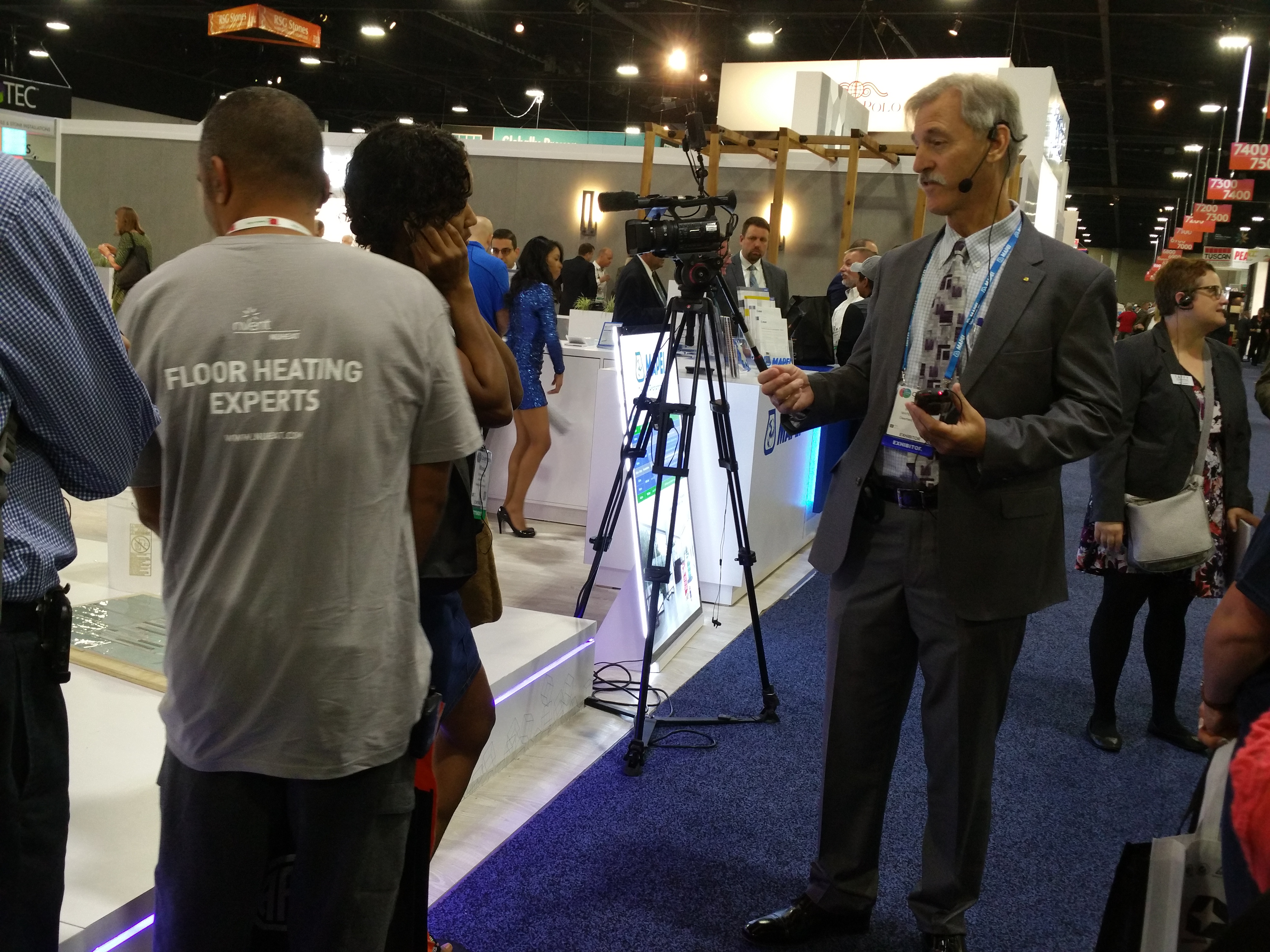 Tile Eze: Niels Mierendorff discussed the company's Keil concealed anchoring system for ventilated facades which is proven in extreme weather conditions and offers a simple three-step process that allows for panels to be hung as easily as a picture. In addition, Tile Eze demonstrated its automatic grout cleanup machine, which cleans 1,000 sq.ft./hour residentially and 1,500 sq.ft./hour commercially.
Lackmond: Justin Thomas demonstrated the Beast 10" saw and the Beast B-BTEC Rail Saw.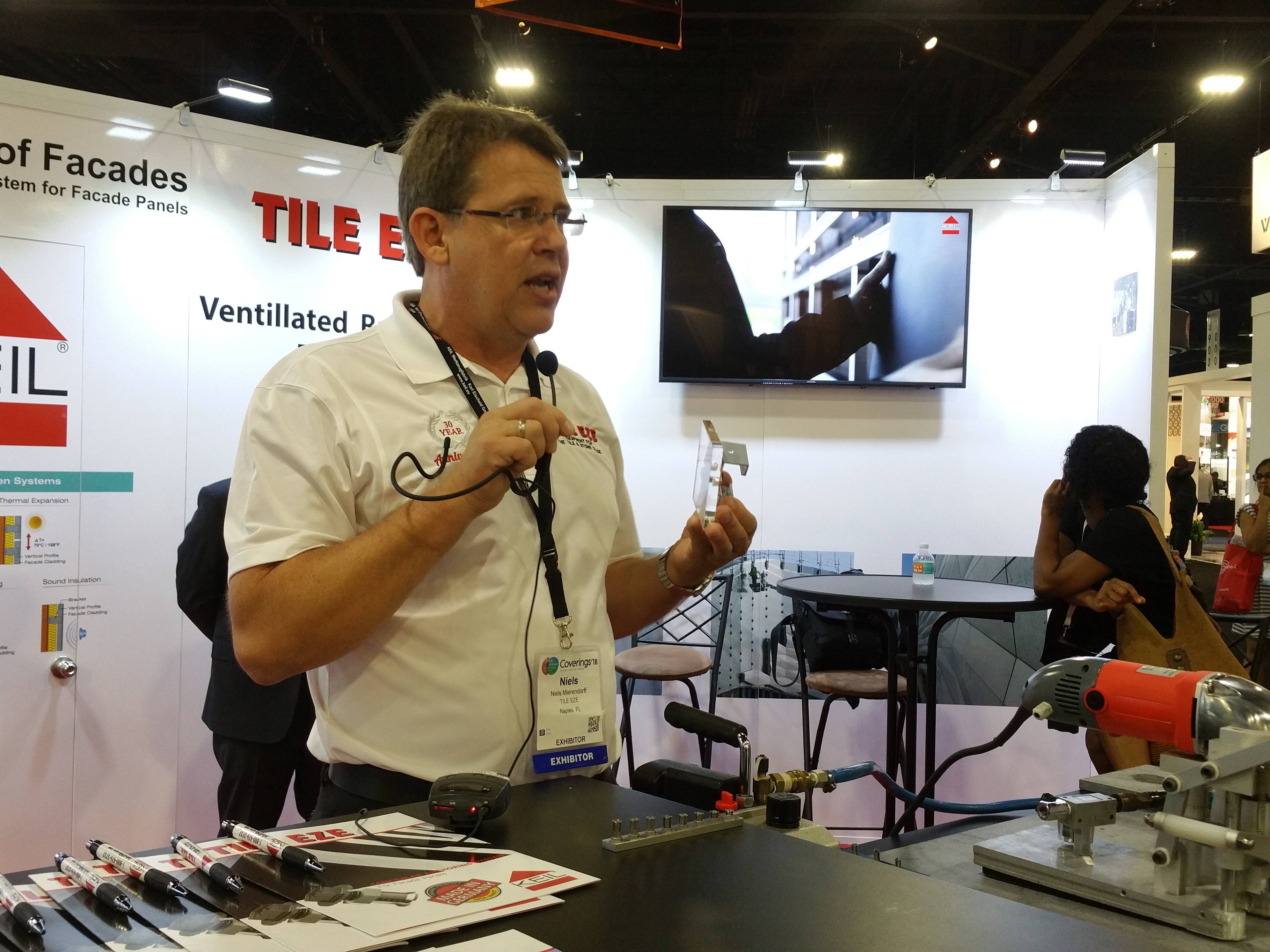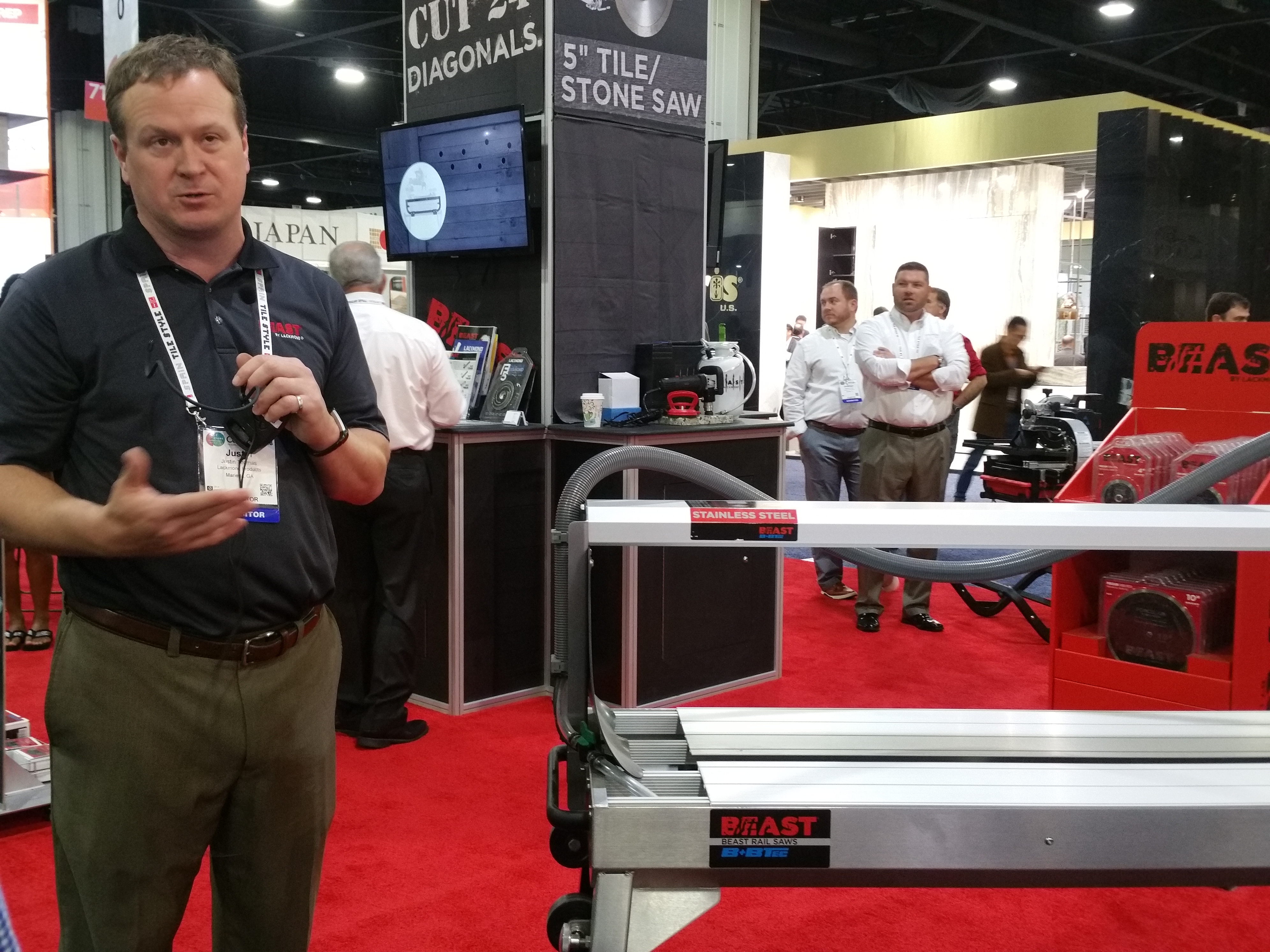 CUSTOM: Russell Brown discussed the benefits of SpeedSlope Rapid Setting Sloping Mortar and RedGard SpeedCoat for speeding waterproofing and tile setting in shower installations.
LATICRETE: Spencer Maheu conveyed the benefits of STRATA_HEAT Thermal Pack, which is the first heat diffusion additive designed exclusively for the STRATA_HEAT electric floor heating system. The STRATA_HEAT Thermal Pack eliminates cold spots between wires, reduces energy cost by 15%, and ensures heat from the STRATA_HEAT wire is distributed evenly throughout the adhesive.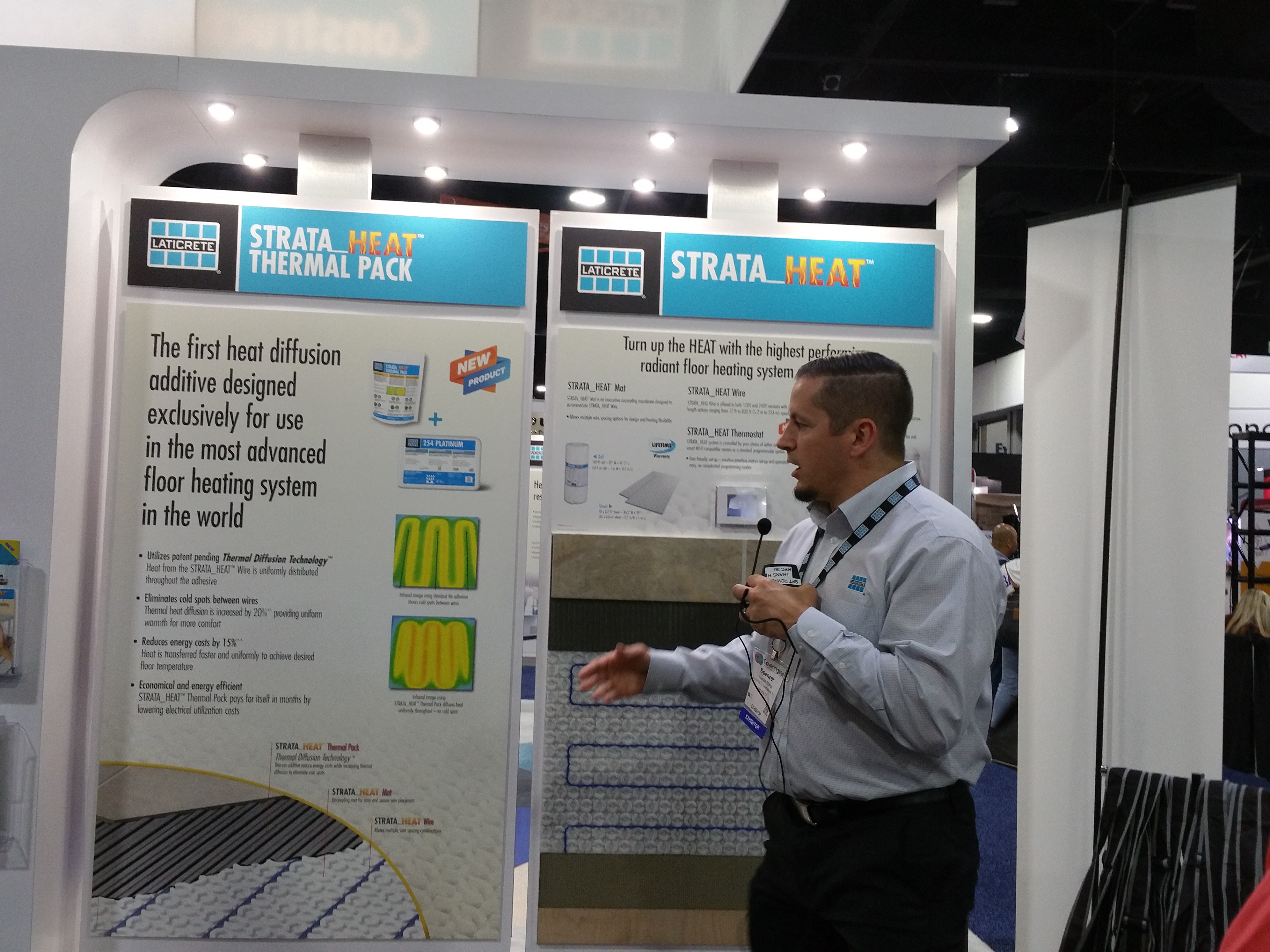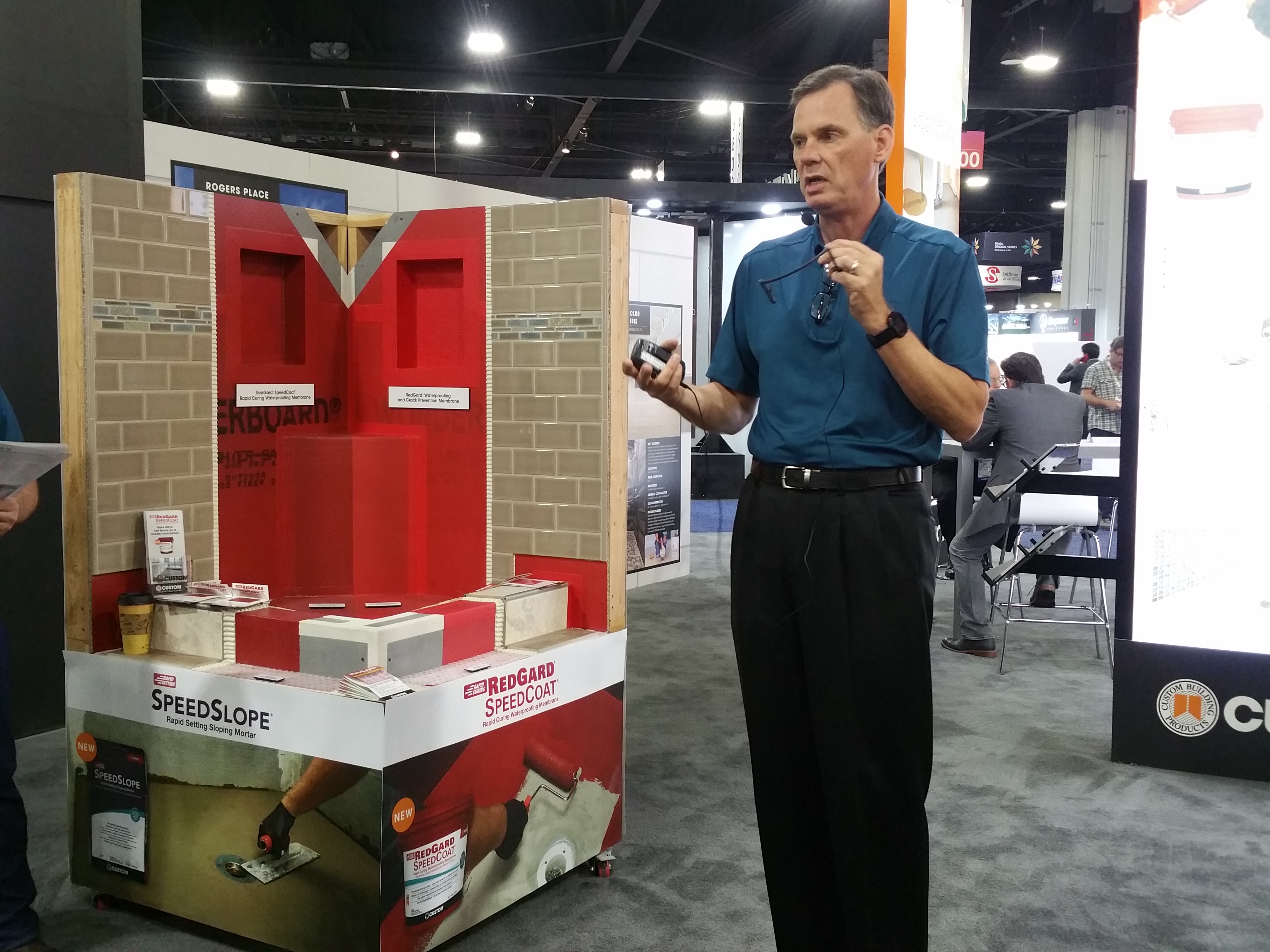 TEC: Loren Doppelt told the group that with TEC's Ultimate 6 Plus Mortar (TEC 487), projects can be grouted in as little as six hours. The product has a two-to-three hour pot life and 60 minute working time.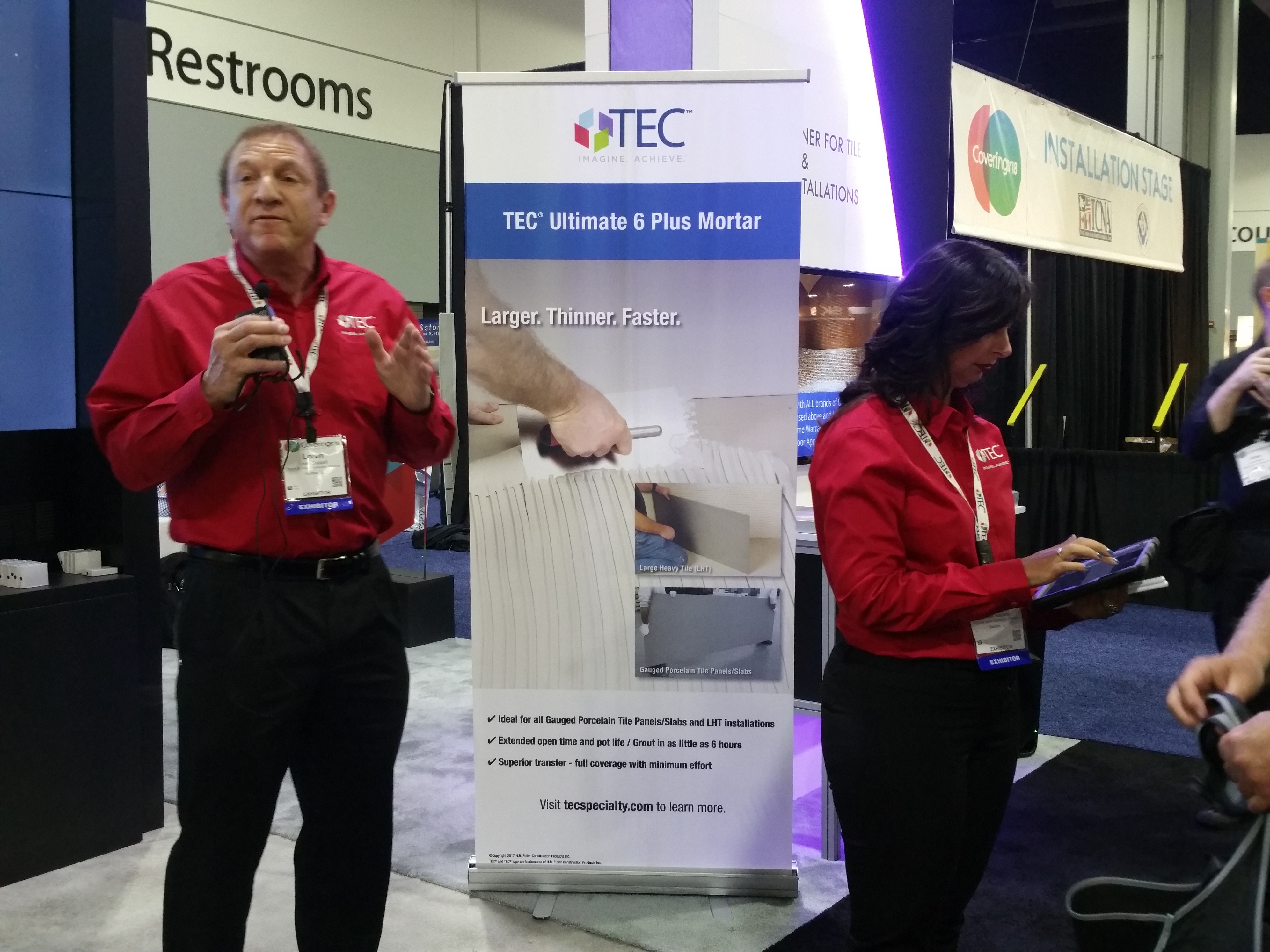 Exhibitors handed out information, cards and giveaways, with contractors returning after the tour to discuss products individually with suppliers.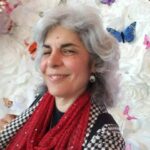 Editorial Director and Senior Writer for TileLetter and TileLetter ARTISAN
Lesley Goddin has been writing and journaling since her first diary at age 11. Her journey has taken her through a career in publishing and publicity, landing her the editor position of TileLetter and its special publications in 2006. Her goal is to educate, inspire, recognize and encourage those in the tile industry -- especially the tile and stone contractor. Other interests include the soft, purring marvels known as cats, labyrinth walking, drumming and percussion, and a range of spiritual, musical and artistic pursuits.