Craftsmanship is at the heart of our industry. I always marvel at the incredible tile and mosaic work that is unearthed in archeological digs, with most of the patterns still intact, or stunning tile installations in iconic structures that have stood the test of time. Every single tile installer is part of the rich legacy of tile craftspersons of generations past, and of businesses that have been handed down in families – and those who are choosing this trade due to its artistry, longevity, beauty and the personal satisfaction that comes from bringing a client's vision to life.
To that end, July TileLetter offers content that celebrates that craftspersonship. First, we have a story about the upcoming NTCA Tile Setter Craftsperson of the Year Awards, begun in 2019, to recognize stellar craftspeople in our industry. Do you know a craftsperson you'd like to nominate for this honor? Check out the story for details.
Second, next month MUD 6 takes place at Tile Trends in Idaho Falls. This celebrated event not only offers training and demos and camaraderie centering around the time-honored tradition of mud setting, it also will host both Certified Tile Installer and Advanced Certifications for Tile Installer exams. Glowing reviews from past attendees position this training as a must-attend event. Visit Mud Event on Facebook and read the article for more information.
Another example of craftspersonship is evident in the A&D story about the 2023 Southeastern Designer Showhouse in Atlanta's Buckhead neighborhood. Interior design firm Source worked with Allison Eden Studios to create an 11'x8'x6′ palatial shower. Brooklyn, N.Y.-based Allison Eden Studios crafted an Art Nouveau-inspired mosaic of a tree in rich golden hues. Read about this amazing project. 
Craftsman and NTCA member Robert Angle, of Ohio's Classic Tileworks LLC, takes the mantle of craftsmanship and artistry to heart in his work, and through his membership, feels he can help the skilled trade be recognized and appreciated. Learn more about his perspective and his artistry in the Member Spotlight feature.
Craftspeople are learning new methods for setting tile and pavers on patios – pedestal systems are another option in the toolbox of skilled installers who have been performing on-ground paver installations for eons. Learn more about both systems in our Technical feature.
Any business person – or casual internet user – has to juggle, remember and monitor passwords on phones, computers and tablets to maintain security. Yet, many individuals and companies employ passwords that are very easy to hack. Read our Business feature to learn what NOT to do when creating a password, and how to add greater security online.
SikaTile® and PIF Construction Group combined their resources to renovate the pool deck of the 23-floor condominium property known as Winston Towers in Sunny Isles Beach, Fla. Learn about the pride of workmanship touted by PIF and the stellar Sika products that helped transform this deck, and also led to project expansion into the interior spaces of the building as well.
Industry veteran Rich Citro, most recently with Schluter Systems, recounts with appreciation his 37 years in the industry on the occasion of his retirement.
Craftswomen and craftsmen, I salute you! If you are investing tile setting with artistry, excellence and setting your projects up for longevity, and quality performance, you have a lauded claim to your "craftsperson" title. Stand strong and proud and know you help make the world a more beautiful, safer place. May your work stand the test of time and cause future generations to look back in awe upon the craftspeople of 2023!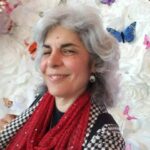 Editorial Director and Senior Writer for TileLetter and TileLetter ARTISAN
Lesley Goddin has been writing and journaling since her first diary at age 11. Her journey has taken her through a career in publishing and publicity, landing her the editor position of TileLetter and its special publications in 2006. Her goal is to educate, inspire, recognize and encourage those in the tile industry -- especially the tile and stone contractor. Other interests include the soft, purring marvels known as cats, labyrinth walking, drumming and percussion, and a range of spiritual, musical and artistic pursuits.