Dallas, TX – February 23, 2017 – Dal-Tile (parent company of Daltile, Marazzi, and American Olean brands) is officially launching its own "Why Tile" campaign on National Tile Day 2018.  The campaign is designed to complement the Tile Council of North America's ongoing Why Tile campaign that promotes the use of tile.  The foundational messaging of the Dal-Tile campaign is presented via a "four Ts" message.
"Communicating the reasons why tile is an excellent flooring choice and how tile stacks up against other flooring categories is an important 2018 goal for our brands," said April Wilson, director of brand marketing for Dal-Tile.  "Along the lines of 'the four Cs to look for when purchasing a diamond', we have created 'the four Ts' of tile to help in-store sales reps and consumers clearly understand why tile is such a smart choice for flooring."
"We will feature this messaging in our brands' POP merchandising, digital endeavors, sales training, and advertising," said Wilson.  "We want our distributors and retailers to feel equipped to engage in conversations with their customers about the benefits of tile.  During the life of our new campaign, we will educate on why tile 'Sets the Standard' for flooring."
The attributes of tile as presented by Daltile, Marazzi, and American Olean's campaign are:
Tough — Tile is Tough.  Tile is innately durable and resists decades of heavy traffic.  It is stainproof, scratchproof, waterproof, and fire resistant.
Timeless — Tile is Timeless.  Tile offers unlimited color and design selections that transcend styles, as styles come and go.  It also provides a way to seamlessly connect spaces including both indoor and outdoor.
Trouble-Free — Tile is Trouble-Free.  Tile is low maintenance and easily cleaned with zero restrictions, and won't damage from cleaning services.
Trustworthy — Tile is Trustworthy.  It's made from natural materials and returns to natural materials.  It is green certified and completely free of any VOCs, PVCs, phthalates, formaldehyde, and other harmful chemicals.
About Dal-Tile
Dal-Tile is the largest manufacturer and marketer of ceramic tile, natural stone, and countertop products used in residential and commercial spaces across North America. Under its four powerhouse brands — Daltile, American Olean, Marazzi, and Ragno — Dal-Tile leads the industry in both design and product innovation, and is committed to incorporating environmentally-friendly materials, processes, and products throughout its organization.
Dal-Tile has more than 9,000 employees in North America and sells its products through a network of more than 300 company-owned sales service centers, stone slabyards, design galleries, and design studios, as well as through independent distributors and leading home center retailers nationwide.
Founded in 1947 and headquartered in Dallas, Dal-Tile is a division of Mohawk Industries, the leading global flooring manufacturer that creates products to enhance residential and commercial spaces around the world.  For more information on Dal-Tile and Mohawk Industries, please visit mohawkind.com.
# # #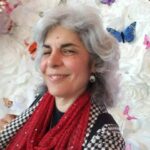 Editorial Director and Senior Writer for TileLetter and TileLetter ARTISAN
Lesley Goddin has been writing and journaling since her first diary at age 11. Her journey has taken her through a career in publishing and publicity, landing her the editor position of TileLetter and its special publications in 2006. Her goal is to educate, inspire, recognize and encourage those in the tile industry -- especially the tile and stone contractor. Other interests include the soft, purring marvels known as cats, labyrinth walking, drumming and percussion, and a range of spiritual, musical and artistic pursuits.