Third generation tile setter carries on a tradition of quality and artistry
Gemini Home Remodeling
Yardley, PA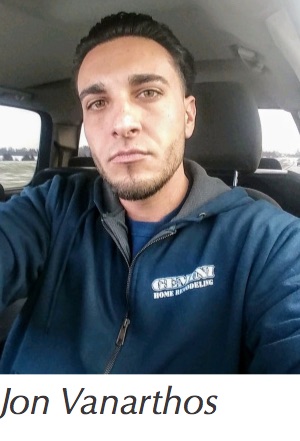 Jon Vanarthos started Gemini Home Remodeling three years ago with one additional employee, specializing in mostly residential remodels. Building from the ground up, today, the company has more manpower to provide the highest possible quality while meeting industry standards. 
"As the owner and CEO, I try to incorporate something different from 'the run of the mill contractors'," Vanarthos said. That ranges from crafting his own bullnose for jobs, mitering edges, or hand scribing in designs.
Vanarthos grew up around tile, since his grandfather and father had a tile shop located in Kennett Square, Pa. "I remember going on jobs with my grandfather, passing him tools and cleaning his trowels as soon as he put them down," he said. "Every summer I was working, learning a trade that I never knew would turn into my passion. I named my company Gemini Home Remodeling in memory of the two role models in my life, considering they passed away over a decade ago."
Vanarthos has set the bar high for his business. "Each day I strive to gain as much knowledge as possible and utilize what I've learned to be a better contractor," he added. "I am not only the owner, but the designer and installer on all jobs to assure each and every client's dreams comes true."
Gemini Home Remodeling is doing something right, with all its work coming from word of mouth without any type of advertisement.
In February 2017, Vanarthos decided to join NTCA after attending a NTCA Workshop presented by Mark Heinlein. "After talking with him for 10 minutes, I knew there was a whole other world of knowledge out there I was missing," he said. The greatest value of being a NTCA member, he said, is "the knowledge gained from this industry – all of the help and support provided by this vast industry to be successful." What drives Vanarthos to do quality work every day? "The joy of knowing I am carrying along the family tradition keeps me pushing forward every day to better myself as a tile installer," he said. "Every year I set the bar higher for myself and my employees. I am not only pursuing a passion for myself but I am also providing joy to those who trust in my work to redesign their homes."