We're all about mud for this October issue! To explore and celebrate the capabilities of mud, take a tour through our project gallery and some in-process and finished images of floor and wall mud projects.
---
Lima Tile
Joe Lima of Lima Tile in Sacramento, Calif., makes no bones about his love for mud. "I mud all my showers plain and simply because I think it's the best method," he said. "There's just nothing like setting tile over a super flat and strong surface. Like most houses, the framing is never straight and for someone like me, mud is the easy fix. I've been floating mud walls for 20 years now and it's probably faster for me to do that than it would be to fix the framing and hang boards."
On a recent job Lima Tile did for Lori K Design Studio, perfectly flat and plumb walls were needed for "those super big glass panels that go 9′ up the walls," Lima said. Lima wanted the back wall – that's a long run from the shower to behind the tub – laser straight. He used a 10′ straight edge on that particular wall.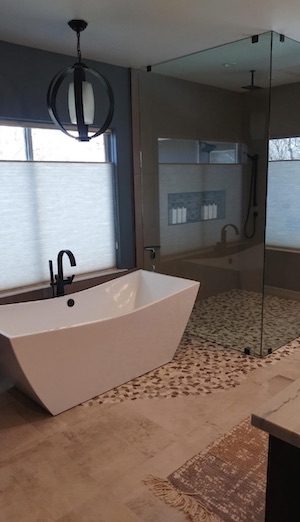 Flat and plumb were not the only challenges on this job – it was Lima's first attempt at scribing pebbles, and they had to be mapped out perfectly around the large sitting tub. The idea was to make sure the pebbles weren't UNDER the tub, but appeared to lead right up to it, so many measurements were required. ARDEX was the setting material of choice in this job: Lima set all the porcelain 12″x24″ tiles and pebbles with ARDEX X 5 thinset, and used ARDEX FLEXBONE uncoupling membrane on the bathroom floor and for waterproofing. Lima also used S1-K waterproofing on the walls and ARDEX 8+9 rapid waterproofing on the curbless shower floor.
"Bathroom floor tiles were large 24″x24″ porcelain," he said. "So they sat much higher than the pebbles. I had to get crafty and build up the substrate only where the pebbles went so they would be flush to the floor tiles."
Modern Room Remodels
NTCA member Joe Macaluso of Modern Room Remodels, East Hanover, N.J., relies on mud to get the perfectly flat surface when installing porcelain panel slabs. For him, mud is the only way to achieve the ANSI 108.19 standard that references a 1/8″ tolerance per 10′.
He explained that the bathroom project had a 3/4″ bow in the wall due to liner and framing. "To compensate for the variation, we used MAPEI Planitop 330 Fast to mud our walls for a plumb flat surface," he explained. This allowed the contractor to create a perfect bookmatch vein to line up, and no guess work when applying mortar. "After all, you only have one shot to install these slabs," he said. "This material doesn't allow you to remove the slab to add more mortar for low spots or high spots."
For the floor project, a 2-1/2″ height was needed to go over the hydronic heat tubes, as well as to achieve a minimum tolerance per ANSI 108.19 for gauged porcelain slabs. The project finished after press time, so maybe it will be featured in a future gallery!
Mike Warner Tile and Marble
In this bathroom project, Mike Warner Tile and Marble of Imperial Beach, Calif., updated his bath from a tub to a shower. He specializes in mudwork/floated showers, typically installed over a hot mop shower pan, with a scratch coat. Find him on Instagram (@fatherwarner) and on Facebook (@Mikewarnertileandmarble). He detailed the steps for this project:
Demoed down to studs
Line wired
Paper
FortiFlash self-adhesive flashing tape
Diamond metal lath
Scratch coat
Floated
Innovis expandable Better Bench (cut down 5″ to fit)
FloFX drain
Two coats of ARDEX S1-K
ARDEX SK25 mesh tape
ARDEX x5 thinset
Kiesel Servoperl royal grout
Colorfast silicon acrylic caulk
8″x48″ porcelain plank tile
3″x6″ Daltile Arctic White 790 subway tile
Utilized attic stock for pan tile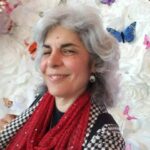 Editorial Director and Senior Writer for TileLetter and TileLetter ARTISAN
Lesley Goddin has been writing and journaling since her first diary at age 11. Her journey has taken her through a career in publishing and publicity, landing her the editor position of TileLetter and its special publications in 2006. Her goal is to educate, inspire, recognize and encourage those in the tile industry -- especially the tile and stone contractor. Other interests include the soft, purring marvels known as cats, labyrinth walking, drumming and percussion, and a range of spiritual, musical and artistic pursuits.