This August NTCA offers a packed slate with 18 three-hour workshops, seven full-day regional training events, two two-day Art Glass Panel trainings and a Zoom NTCA Live! Roundtable: Artisans Edition that focuses on the recent Artisans Revolution in Tile training, held in June in Milwaukee.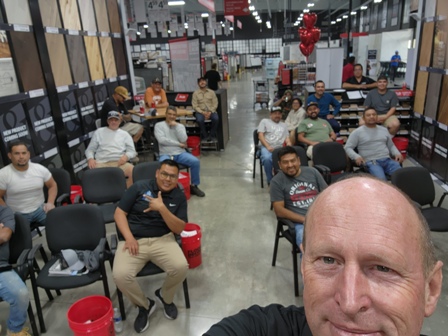 Workshops: Arizona, Oregon, Florida, New Mexico, Tennessee, Colorado, and Washington
NTCA's 18 August workshops span the country. These free standards-based workshops put you in touch with peers and industry experts as you learn new skills and information, enjoy a catered meal from local eateries, and a chance to win valuable prizes.
The three-hour afternoon or evening events are open to tile installers and contractors, as well as sales personnel and the A&D community – anyone who wants to learn more about standards-based installation practices.
Each NTCA Workshop is presented by NTCA Technical Trainers who have been installing tile themselves for many years or who still maintain their tile installation business. Workshops – made possible through the support of generous sponsors who believe in elevating the industry through education — feature one of the following topics:
Ins and Outs of Layout for Contractors
Tile Matters – Best Practices for the Pros
Failures – Could It Be Me?
Tile Technology – Adhesives, Trowels, Lippage
NTCA will be at these locations in August:
8/1 Floor & Decor, Tolleson, AZ
8/8 Daltile, Salem, OR
8/8    Floor & Decor, Sarasota, FL
8/8    Floor & Decor, Surprise, AZ
8/9    Floor & Decor, Portland, OR
8/9    Floor & Decor, Clearwater, FL
8/9 Daltile, Tucson, AZ
8/10  Floor & Decor, Fort Meyers, FL
8/11  Floor & Decor, Albuquerque, NM
8/15  Floor & Decor, Antioch, TN
8/15  Floor & Decor, Colorado Springs, CO
8/15  Floor & Decor, Everett, WA
8/16  Floor & Decor, Brentwood, TN
8/16 The Tile Shop, Denver, CO
8/16 Daltile, Seattle, WA
8/17 The Tile Shop, Knoxville, TN
8/17  Floor & Decor, Timnath, CO
8/17 Daltile, Tacoma/Lakewood, WA
Fine tune your skills and attend one of these NTCA workshops. For full information on each event, visit NTCAtraining.com, or click https://bit.ly/3TsR8Tk to visit the Event Calendar.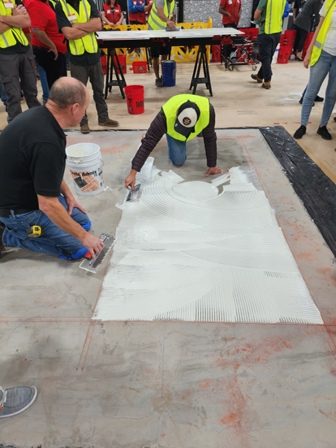 Regional Training: Minnesota, Illinois, California, Michigan
Contractors can learn about GPTP installation during seven free day-long NTCA Regional Training Events in Minnesota, Illinois, California and Michigan.  Visit NTCAtraining.com or the events calendar at https://bit.ly/3TsR8Tk for details and registration.
8/3 –- Sponsored by Atlas Concorde, hosted by Virginia Tile, Plymouth, MN
8/10 –  Sponsored and hosted by Floor & Decor, Chicago, IL
8/17 –  Sponsored and hosted by Floor & Decor, Milpitas, CA
8/17 – Sponsored by Crossville, hosted by Virginia Tile, Elk Grove Village, IL
8/24 – Sponsored and hosted by Floor & Décor, San Leandro, CA
8/24 – Sponsored by Atlas Concorde, hosted by Genessee Tile, Grand Rapids, MI
8/31 – Sponsored by Atlas Concorde, hosted by Virginia Tile, Elk Grove Village,IL
GPTP/Slabs Training equips you to install porcelain panels with confidence and accuracy. Learn new tile industry standards and methods for installing GPTP, how GPTP is made, where it can be used, and special tools, setting materials and techniques required to install it. This program will emphasize:
Introduction to tile industry standards
Use of ANSI A108.19 to install Gauged Porcelain Tile and Panels
Use of specialty tools and setting materials to install GPTP
Working with a team to install GPTP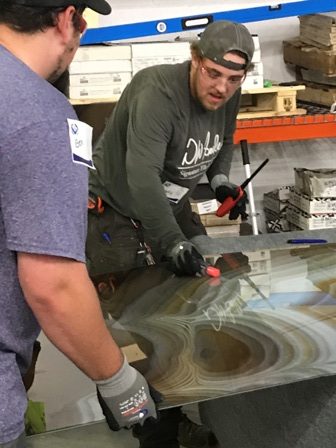 Art Glass Panel Installation Training: Arizona and California
This two-day intensive that equips qualified tile contractors to install luxurious, high-end Vetrite glass tile panels from Sicis. Qualified contractors must sign up for both days. Attendees who fully complete all course requirements will be eligible for manufacturer certification for Art Glass Panel installation and will be placed on a preferred installer/contractor list. They will also receive a Certificate of Course Completion from the NTCA. Get details at NTCAtraining.com or register for the Art Glass Panel Installation Training at: https://bit.ly/40FuHwX . August training takes place at:
8/3-8/4: Sponsored by SICIS, hosted by Architectural Surfaces, Scottsdale, AZ
8/31-9/1: Sponsored by SICIS, hosted by Stone Systems, San Diego, CA
Attendees of NTCA's Art Glass Panel Installation program will experience an advanced training program where they will:
Learn about glass of many types
Will gain the knowledge, ability and confidence to understand, handle, fabricate and install very large art glass panels to create custom installations on walls in interior wet and dry areas using a direct bond adhesive method following manufacturer instructions.
Demand is high and class size is limited, so register early. If the class is full, your registration will be added to the waiting list and you will be contacted if a space opens. Visit NTCAtraining.com or consult the NTCA Event Calendar at https://bit.ly/3TsR8Tk for details.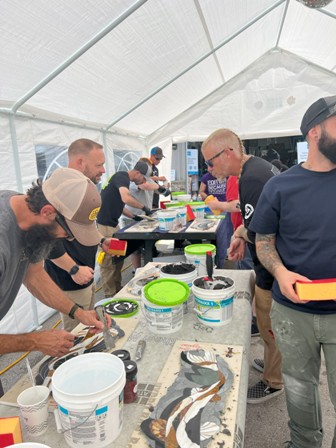 Online roundtable: August 15 – Artisans Revolution in Tile
On August 15 at 6 p.m. CDT, NTCA Roundtable Live! Artisan Edition will present "Artisans Revolution in Tile – A.R.T. –What's it all about?" Join the trainers and participants of the very first NTCA/LATICRETE –sponsored artisan tile training program held in June at the Dragonfly Tile and Stone Works shop in Milwaukee as they discuss their experience at this four-day program. Learn about the program, how it has inspired the artisans who attended and what's in store for the future. Click this link to join the Zoom meeting. https://us06web.zoom.us/j/89011108348?pwd=dlFCQXllN1ZhdlVhRlF5MzlwdFV4QT09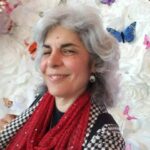 Editorial Director and Senior Writer for TileLetter and TileLetter ARTISAN
Lesley Goddin has been writing and journaling since her first diary at age 11. Her journey has taken her through a career in publishing and publicity, landing her the editor position of TileLetter and its special publications in 2006. Her goal is to educate, inspire, recognize and encourage those in the tile industry -- especially the tile and stone contractor. Other interests include the soft, purring marvels known as cats, labyrinth walking, drumming and percussion, and a range of spiritual, musical and artistic pursuits.