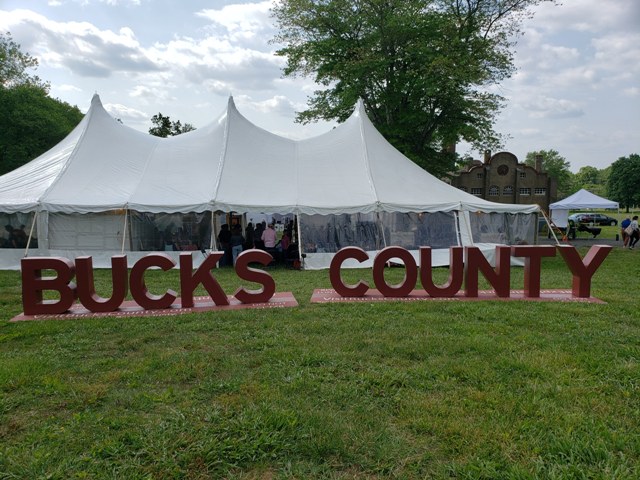 DOYLESTOWN, PA — The third weekend in May, aficionados and makers of all things tile – handmade tile, that is – converged on the TileWorks of Bucks County (aka Moravian Pottery and Tile Works) here.
The annual festival attracts collectors and art lovers, architects and tile setters, plus the "tile curious," as Executive Director Katia McGuirk says. The masses flock to Doylestown for a tour of the TileWorks, to roam among the historic, working factory and big white vendor tents and see examples of creative, collectible, decorative tile for sale, participate in tile-centric activities and meet the artists who craft these beautiful works of art.
One such artist is Ricky Boscarino, whose Luna Parc site in Sandyston, N.J. is a complete wonderland. In the past, Boscarino has brought his unique face pots for sale, but this year he demonstrated the technique of "faux bois" or "false wood" in French, creating a "wooden" tree stump from wire mesh with layers of a special mix of concrete with polymer bonding agents, much like clay that can be sculpted into a bark texture.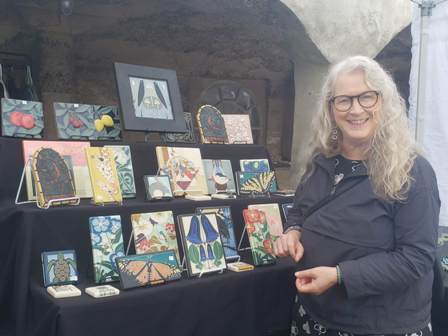 Nawal Motawi, Owner and Artistic Director of Motawi Tile in Ann Arbor, Mich., was on site to view the proceedings, even as exquisite tiles from her company graced the exhibits, for sale. Andru Eron of New York Tilemakers drove down from his studio in Long Island City, N.Y.; Laurel True came by from New Orleans, where she founded True Mosaics Studio and has been creating public, architectural and commissioned work for over 25 years. In addition to her prolific vibrant work, she leads live retreats and online Conscious Creativity courses. Isaiah Zagar of Philadelphia's Magic Gardens was among the attendees. Also on hand was Tile Gallerie, a nearby Dublin, Pa., tile shop that dedicates the front of its showroom to a collection of handmade tiles.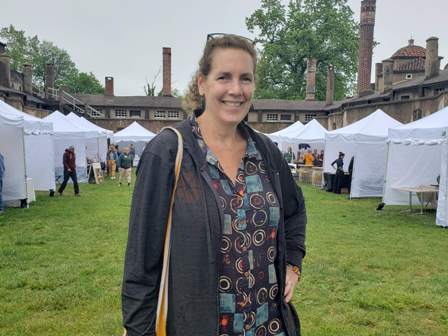 In fact, artists ranged from local tile makers who got their start through work and classes at The TileWorks, to artists from all around the country – Pennsylvania, New York, New Jersey, North Carolina, Ohio, Michigan, Maryland, Massachusetts and more exhibited and visited. Also on hand were industry giant Svend Hovmand, formerly of Crossville, who said in retirement he "finally" got a chance to attend the fair, and Brigid O'Connor of Artfind Tile in Wooster, Ohio, tile studio and gallery who made the trip to search for unique finds of art for her shop.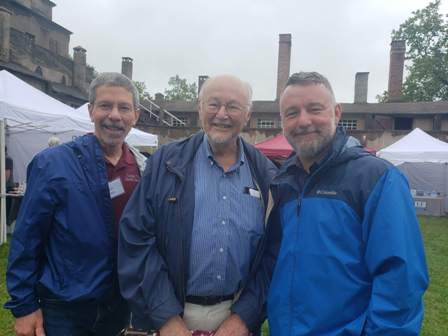 The constant drizzle on the first day proved beneficial – tile maker Coleen Magasic of Magasic Studio in West Milford, N.J., said she thought the downpour discouraged people from working in their yards on Saturday, and chose to pour into the festival instead.
Tile artists said most shoppers are "homeowners looking for specialty tiles for installations," according to Mandy Baker, of Whispering Hill Studio in Jamison, Pa. John Hume – at TileFest with wife and fellow artist Lynn Hume of Sligo Creek Tile Co., in Takoma Park, Md. — agreed, expressing what other artists also noted – that the HGTV craze has created an appetite for sameness in new construction, and designers aren't interested or knowledgeable about the unique, custom touches handmade tile can impart to a home.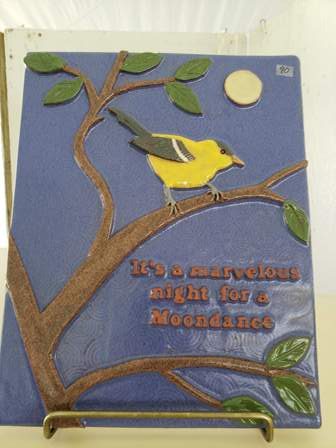 Gary Quirk of Gary L. Quirk Studios in Syracuse, N.Y., said his relief tiles, many based on nature, are sold framed for hangings in a home. "Handmade tile is kind of thick to work with commercial tile. I tried to make it thinner, but it caused problems, so I kept making the thicker tile."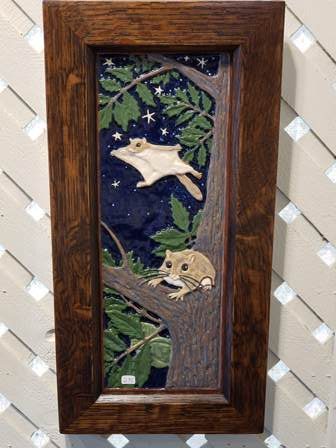 But Theresa Mustafa of Boonton, N.J. has set her mind on making her handmade tile easy to work with and install in popular applications like backsplashes or along with commercial tile. She calculates the sizes she needs for finished panels for backsplashes and the like, and calculates shrinkage in the raw commercial clay. Then when her tiles are glazed and fired, she mounts them on mesh so they are easy to install.
A place for installers
Tile installers also poured into the festival – in fact installers from the Tile Geeks Facebook group regularly attend the festival to select and install reproduction Mercer tiles from the TileWorks on a form – which is then auctioned off to benefit The TileWorks. This year, they tiled a fireplace surround with a gorgeous selection of handmade tiles. James Mowery of the TileWorks put the finishing touches on the surround by grouting with CUSTOM Polyblend Plus.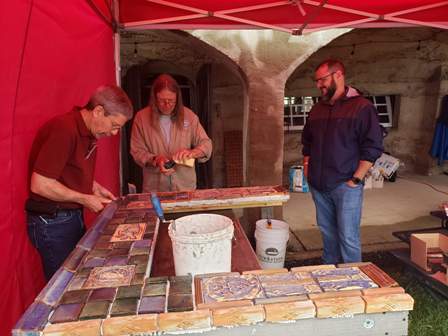 Ashley Singer, Owner of installation and design company Tile Jawn (IG: @tilejawn) from Phoenixville, Pa., had a booth at the event. Singer's t-shirt was boldly emblazoned with the words "TILE INSTALLER" because, as Singer explained, "women in construction are rare, and there is a lot of gender bias and a lot of different expectations and people not believing 'Are you a tile installer?' So I wear this shirt – and I even have it on my business cards as part of my branding – to let people know that I really AM a tile installer. I do a lot of design work and installation, and we (with partner Marlon Cedeno) do a lot of flooring and full bathroom demolition and kitchen backsplashes and all sorts of surfaces." Tile Jawn also just joined NTCA as a new member this year, and had just attended her first Coverings in April.
Art and Industry make inroads together
This year was the first year The Ceramic Tile Education Foundation (CTEF) had a table at the TileFest, with both Executive Director Brad Denny and Academic Director Scott Carothers attending on CTEF's behalf. It gave other vendors a chance to learn more about CTEF and allowed CTEF to see inroads it could make in the handmade tile artist community. "Moravian Pottery and Tile Works is something out of a medieval fairy tale," Denny said. "It wasn't what I was expecting!"
Jim Garbe (aka Artzenfrankenguese) invited Denny to participate in the Tile Geek's fireplace project. He was Denny's guide through the factory, as the Geeks selected handmade tile for the fireplace surround.
"Jim is like a pied piper, he told me to follow, and I did, into the factory through the mortared archways, past the two-story brick kilns, skirting around the wooden tool tables filled with traditional archaic (but still used today) molding tools, up a flight of hand placed masonry stairs, through the iron latched wooden door with counterweights, and into a cornucopia of beautiful handmade tiles….the entire structure is molded masonry, giving a castle-like feel," he said.
Justin Kyle, Joe Lenner, Steve Belyea, and Scott Carothers gave their input as to the selections and layout and the setting began, amidst a cooler full of  charcuterie and fruit the Geeks had brought. "I felt like a real artist," Denny said. "Tile Geekiness was in full swing."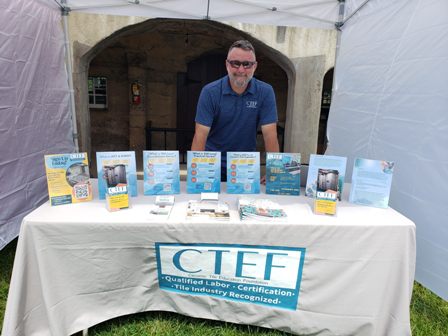 Touched with wonder, history and the chance to create a modern piece with reproduction tiles, "CTEF was privileged to meet and speak with many of the attending artists and Katia McGuirk, artist and Executive Director of Tile Works, about the event's mission to create an awareness about the creative people in the industry using their talents to make tile, sometimes overlooked and overshadowed because of fragmentation," Denny added. "Whether they have us down in the coolness of the clay pit fetching materials for the tile makers, sweeping floors, or creating art for sale, CTEF hopes to be involved. We also hope to discuss what needs the industry has regarding training and certification for the successful installation of handmade tile. If it is created to be beautiful, the least we could do as an installation community is be informed and capable enough to install it to be beautiful for years of enjoyment."
Transforming the TileWorks
Since 2021, McGuirk has breathed new life into the TileWorks and has made new connections. It hasn't gone unnoticed.
"Katia has fostered community involvement and grass roots – this is in our backyard," said Whispering Hills Studio's Baker, who was the second artist to be featured in The TileWorks' legacy series. She said Katia has brought workshops and music programs to the TileWorks, and there is more of a sense of ownership locally in the history of tile making.
Parran Collery of Eartha Handmade Tile in Port Republic, Md., said, "Katia is trying to bring younger people in and get them interested in tile. She is thinking outside the box. Katia's enthusiasm is infectious and she has boundless energy."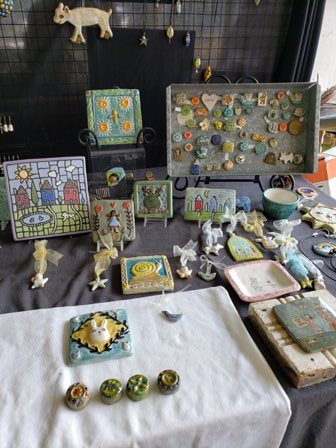 Patricia Brown Tolton at P2 Ware Art, Kennett Square, Pa. (IG: @patriciatolton), learned to make tile at the Moravian Pottery and Tile Works. She said, "Katia is vibrant and part of the community. She is a vibrant, fantastic businesswoman who promotes local artists and emerging artists." In fact, one of the five new lines that will be offered in the Museum Store is from Alexis Ellison – Kitchen Magician Tile on Instagram (IG: @kitchen_magician_tile). She is a young, emerging artist from Michigan who crafts high relief and phantasmagorical tiles right in her kitchen!
Honoring traditions and poised for growth
TileFest 23 had some record sales and record number of people through the gate—about 1,500 people for the two-day event, according to McGuirk. "Next year, it is May 18-19, and we are already trying to recruit people to come. I see so many new makers on Instagram." Rookwood and Ramona Paloma Tile Studios are just two McGuirk is inviting to exhibit next year.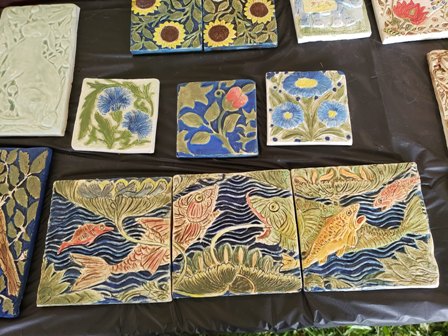 McGuirk was most excited about bringing in art and bridging art and industry – bringing people in from both sides of the industry and the dynamic conversations that ensued. And for those long time exhibitors like Baker — who has been to 23 TileFests – "all those people feel like they have turned from vendors to stakeholders," she said. "They come because the TileWorks is so magical and it's their roots. They love the show.
As mentioned, five new lines will be carried in the Museum Store – Alexis Ellison/ Kitchen Magician Tile, One Acre Ceramics, B.A. Schmidt Arts Tiles, Eartha Handmade Tile and Teresa Mustafa.
McGuirk observed new connections being made especially in the installation community, for CTEF, and Tile Jawn. "We learn stories from the past. How do we make them new again?" she asked. "We are trying to honor traditions and meet the tastes of people today."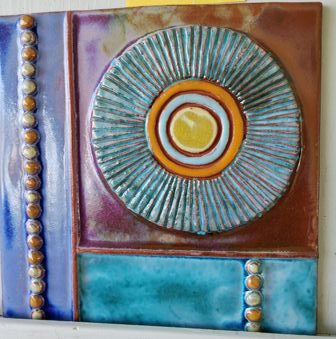 The movement is starting to catch fire and one of McGuirk's goals is to fan the flames. "We are trying to get all the makers to get into the conversation on how we get our stuff to designers, market, build our customers and markets," she said. "Coverings is asking to attract more art tile people to get them to Art Village in Coverings. How do we get people out of their studio?" She is keen on strengthening the connection between the artist and the person buying the tile, introducing buyers to the humanity of the creator behind the tile.
Be sure to mark the third weekend of May — May 18-19, 2024 — on your calendar to attend this evolving and spectacular event. Come on out to the TileFest, and be part of the conversation!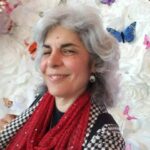 Editorial Director and Senior Writer for TileLetter and TileLetter ARTISAN
Lesley Goddin has been writing and journaling since her first diary at age 11. Her journey has taken her through a career in publishing and publicity, landing her the editor position of TileLetter and its special publications in 2006. Her goal is to educate, inspire, recognize and encourage those in the tile industry -- especially the tile and stone contractor. Other interests include the soft, purring marvels known as cats, labyrinth walking, drumming and percussion, and a range of spiritual, musical and artistic pursuits.