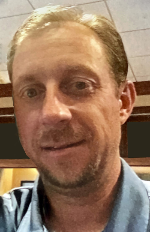 It is with great sadness that we report Scott Carlson, Co-Founder of Legacy Tile passed away on April 12th, 2023 at the age of 45. Scott was very involved in CTDA, participating on committees and attending many conferences as well as Trade Missions.
Scott was born on June 7th, 1977 and was a beloved son, brother, husband and father. Scott was the middle child of Mark and Elaine Carlson, brother to Keith and Christy. He is survived by his wife Sara and their two boys, Johnathan and James.
Scott helped co-found Legacy Tile in early 2021 with siblings Keith and Christy Carlson in Wood Dale, IL. His dedication, passion, and expertise in the tile industry have left a lasting impact on the company and the customers it serves.
Scott will be deeply missed by those that knew him. He will always be remembered for his quick wit, sense of humor and unwavering commitment to his family and business.
A celebration of Scott's life will be held on April 18th, 2023 at Smith-Corcoran Funeral Home. Please visit www.smithcorcoran.com for more details.