Free registration for Coverings 2019 is now open. Connect with colleagues and discover the best in tile & stone in Orlando at the Orange County Convention Center, April 9-12.
After completing your registration, you will automatically be prompted to book your hotel. To view the current Orlando options including show specific amenities, visit our Hotels page.
Coverings 2019 has partnered with select hotels in Orlando to offer room rates ranging from $99.00- $285.00/night (single/double occupancy, excluding taxes and fees). These are the lowest rates available guaranteed and only available to Coverings participants booking through our conference website.
To view the current Orlando options, visit our Hotels page.
Experient is the official housing provider for Coverings 2019. We have been made aware of other housing companies or travel agencies that may be aggressively pursuing you, or your company, to book guest rooms through their company at supposedly significant discounts. Please be vigilant if approached by any company or service other than Experient that implies or claims to be an official housing provider of Coverings 2019. Learn More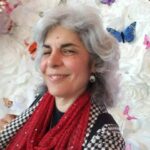 Editorial Director and Senior Writer for TileLetter and TileLetter ARTISAN
Lesley Goddin has been writing and journaling since her first diary at age 11. Her journey has taken her through a career in publishing and publicity, landing her the editor position of TileLetter and its special publications in 2006. Her goal is to educate, inspire, recognize and encourage those in the tile industry -- especially the tile and stone contractor. Other interests include the soft, purring marvels known as cats, labyrinth walking, drumming and percussion, and a range of spiritual, musical and artistic pursuits.