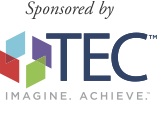 At Coverings in Atlanta this past May, iQ Power Tools president Joel Guth gave a presentation with NTCA president Martin Howard of David Allen Company and NTCA assistant executive director Jim Olson titled, "What the Tile Industry Needs to Know about the Silica Standard."
The presentation started with an overview of what silica is and the hazard, standards, exposure and options to manage your exposure. Silica is quartz that naturally occurs as a component in many construction products, including concrete, tile, mortar, grout, etc. When you inhale the dust from cutting tile, grinding concrete flooring, mixing traditional materials, dry sweeping or demo, the tiny quartz/silica particles penetrate deep into the lungs and cause scarring and disease. Once these respirable crystalline silica particles lodge in the lungs, they can create a range of irreversible diseases such as chronic obstructive pulmonary disease (COPD), lung cancer and kidney disease. Inhaled silica dust causes fibrosis or scar tissue, as well as silicosis lung disease, both of which reduce the lungs' ability to extract oxygen from the air. There is no cure for these often-fatal diseases.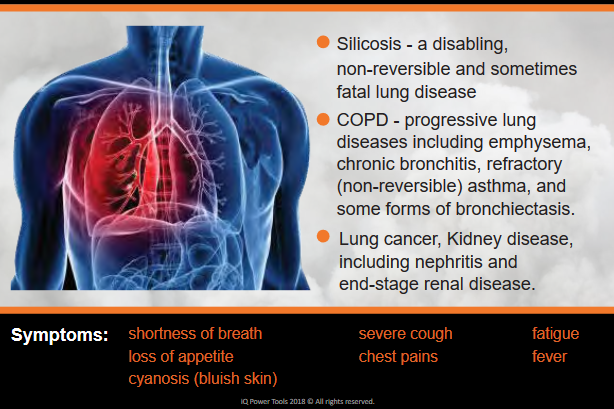 Think it doesn't affect you? Often, when protective gear isn't used or precautions aren't taken, it's too late to discover that it has. According to the OSHA Frequently Asked Questions for the Respirable Crystalline Silica Rule the problem of silicosis remains a serious workplace health problem even though silicosis cases and deaths have declined in recent years. The document says that "from 2005 through 2014, silicosis was listed as the underlying or a contributing cause of death on over 1,100 death certificates in the United States, but most deaths from silicosis go undiagnosed and unreported. Also, those numbers of silicosis deaths do not include additional deaths from other silica-related diseases such as COPD, lung cancer and kidney disease. In fact, more workers died from silicosis in 2014 than in fires, or from being caught in or crushed by  collapsing materials, such as in trench and structure collapses."
OSHA PEL: 50 mg/m over eight hours
The Occupational Health and Safety Administration (OSHA) issued a standard in 2017 that spells out requirements to comply to the regulation and that limits the acceptable amount of respirable crystalline silica dust to 50 micrograms per cubic meter of air over an eight-hour time weighted average. This is known as the Permissible Exposure Limit or PEL. It can be calculated by the formula: Air X Dust X Time = PEL. 
The PEL is the upper, maximum allowable amount of what a person should breathe in. But OSHA requires a silica plan to start being implemented when levels reach 25 micrograms per cubic meter to ensure that maximum levels of exposure do not exceed 50 micrograms per cubic meter of air over an eight-hour time period.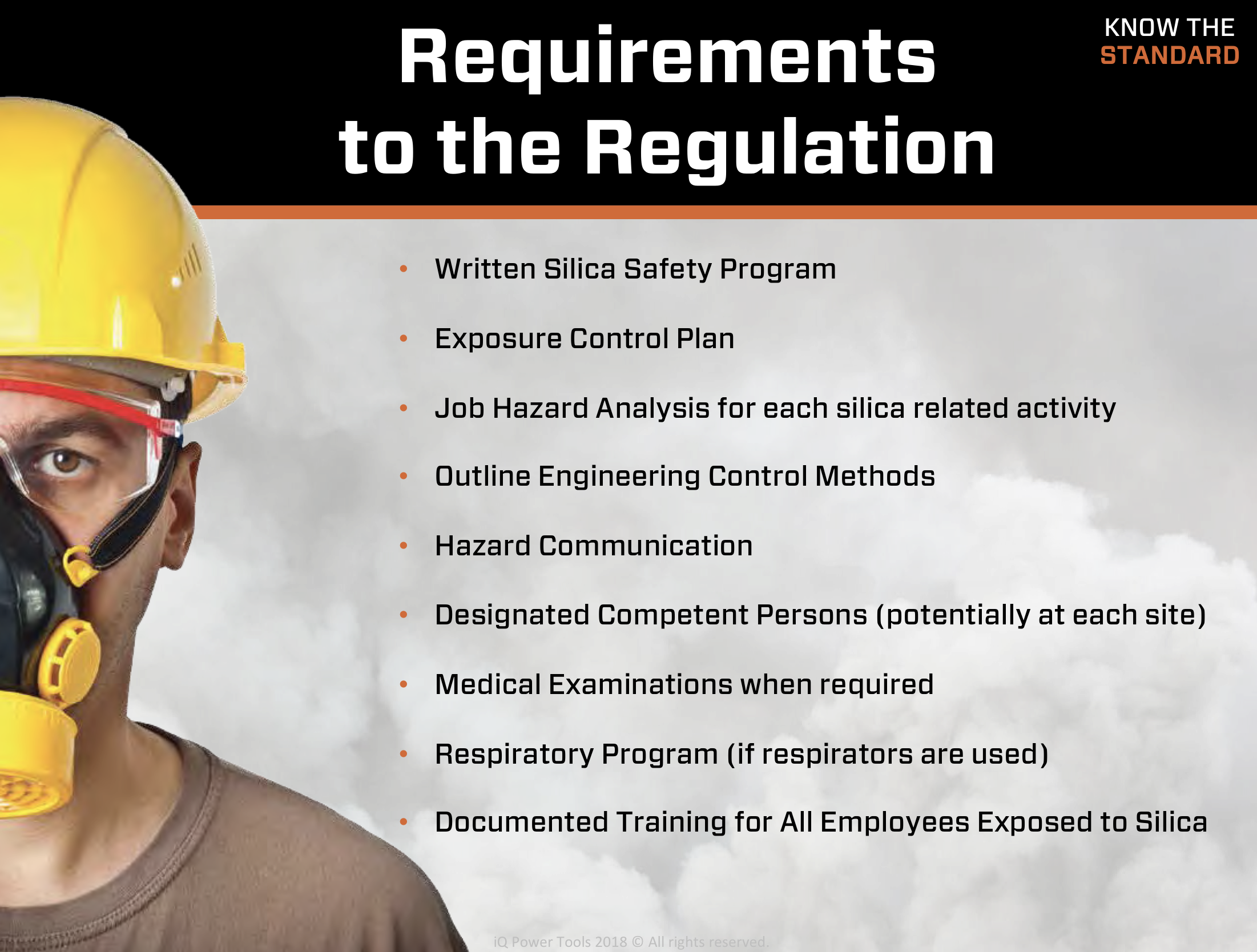 The intent of OSHA's Silica PEL is to keep people working in a safe environment. From the OSHA FAQ document above: "The National Institute for Occupational Safety and Health (NIOSH) first recommended this exposure limit to OSHA over 40 years ago, and the American Public Health Association has also recommended that OSHA adopt this PEL. The American Conference of Governmental Industrial Hygienists recommends an even lower exposure limit of 25 μg/m of air, averaged over an eight-hour day. OSHA established a PEL of 50 μg/m because the agency determined that occupational exposure to respirable crystalline silica at the previous PELs resulted in a significant risk of developing or dying from silicosis and dying from lung cancer, other lung diseases, or kidney disease, and that compliance with a 50 μg/m PEL would substantially reduce that risk. OSHA also finds significant risk remaining at the new PEL, but considers a PEL of 50 μg/m to be the lowest level that can reasonably be achieved through use of engineering controls and work practices in most affected operations."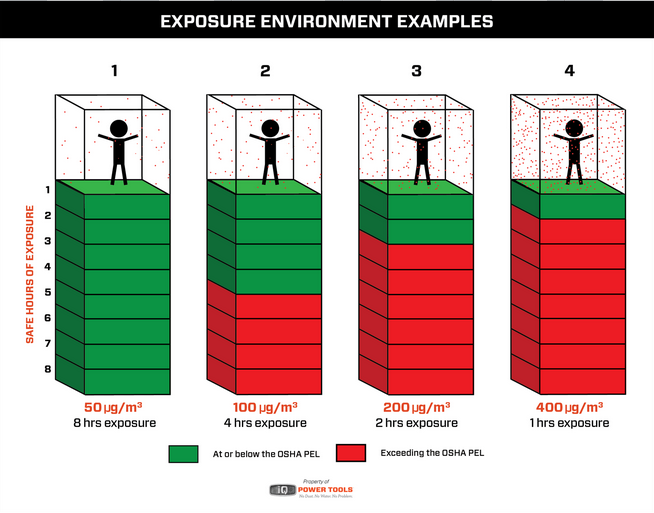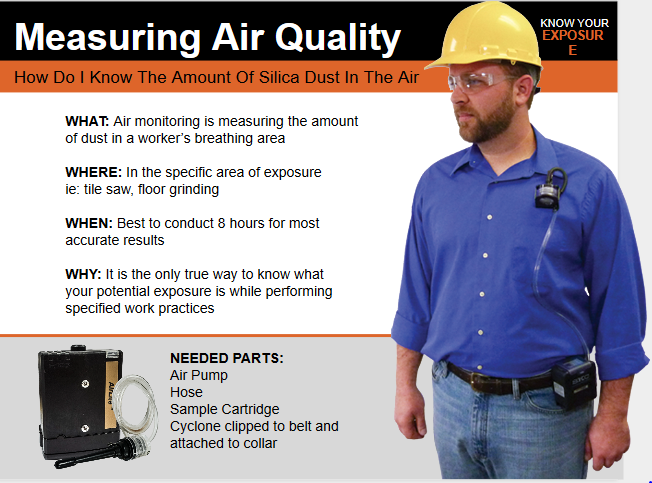 It's critical to measure air quality to determine the amount of dust in a worker's breathing area in the specific area of exposure, such as during floor grinding or using a tile saw. The most accurate measurements take place in a full eight hours. The OSHA FAQ document states that "Published OSHA, NIOSH, and MSHA methods for analyzing respirable crystalline silica are able to measure concentrations at the new PEL and action level with acceptable precision, based on analyses of quality control samples and on studies conducted when those methods were developed in the 1970s." The cartridge filter of the air pump is sent to the lab to obtain results.
Hierarchy of Controls
Guth presented an inverted pyramid called the "Hierarchy of Controls" that lists methods from top to bottom according to how effective methods are in protecting workers.
Guth pointed out that elimination and substitution are the most effective methods of protecting workers, but are also the most difficult to implement unless the process is in the design stages – then elimination and substitution of hazards may be inexpensive and simple to implement.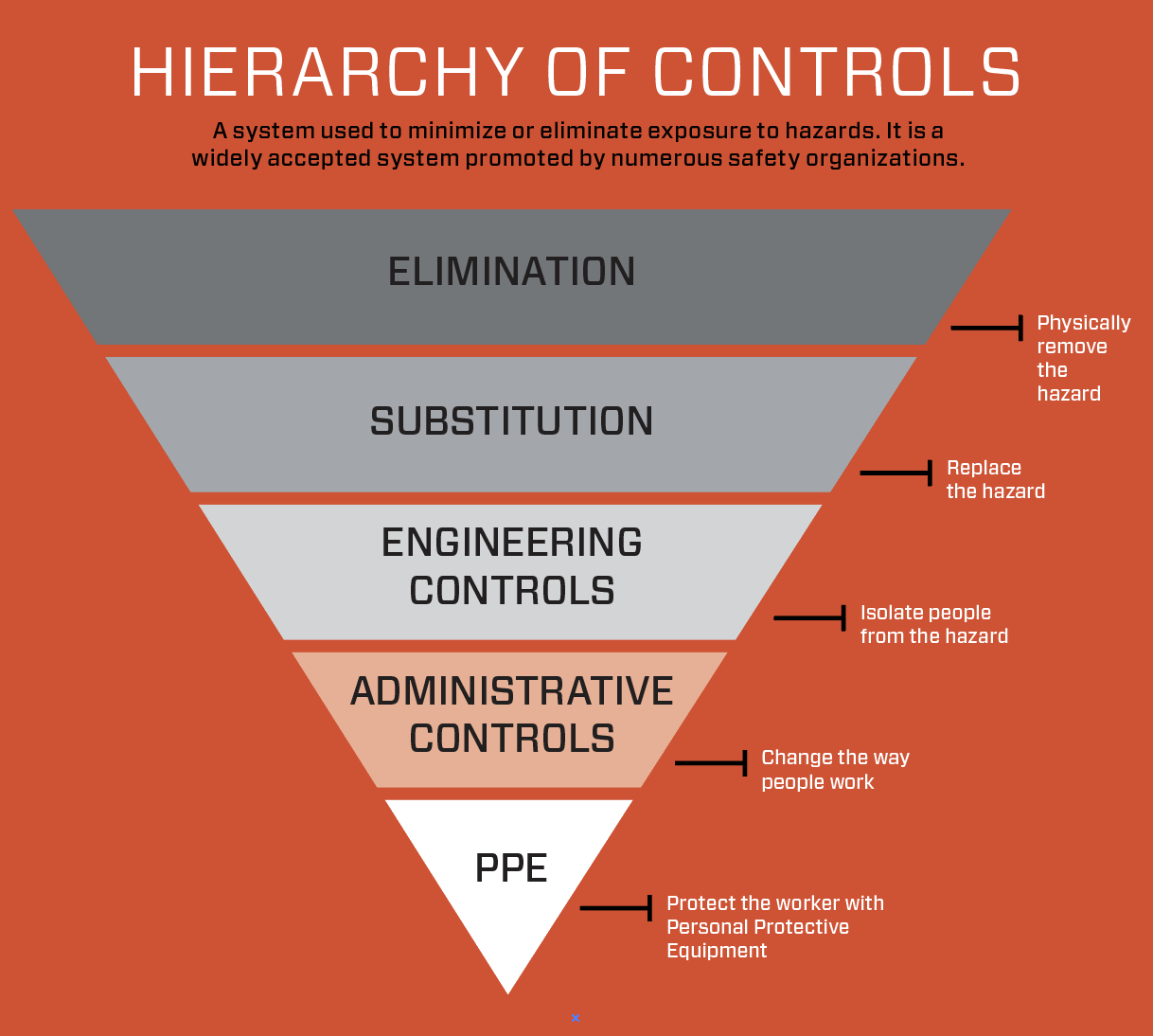 Here's why this elimination and substitution are effective but not desirable: "An example of elimination would be to withdraw the ceramic tile from the project, and there would be no silica exposure from cutting," Guth said. "However, we do not want to see tile eliminated from projects. An example of substitution would be to substitute VCT for ceramic tile, and there would be no silica exposure from cutting." Again, that would not be a desirable goal for the tile industry."
 Engineering controls, such as wetting down work operations or using local exhaust ventilation (vacuums) or "process isolation" – enclosing an operation – are preferred over personal protective equipment (PPE) because they are designed to remove the hazard at the source – before it comes in contact with the worker.
Administrative controls and PPE are often used with existing processes where hazards are not well controlled. These measures can be relatively inexpensive to implement but costly to maintain in the long run. Because they require significant effort by affected workers, they also are less effective than the measures higher up in the pyramid. 
For instance, one example of an administrative control would be to limit the number of hours per day a person performs a work practice with silica exposure, Guth said. "Creating controlled access zones where a hazardous environment exists is another example. This could be closing off a room or a portion of a building where someone is chipping or grinding on a concrete floor. 
"Administrative controls and PPE are considered the least desirable methods of control by OSHA and should be viewed as a last resort, implemented only when the other options are not available," he added.
The OSHA Table 1 shows methods designed to minimize dust emissions to maintain compliance with the Standard. Respirators are sometimes required, but on a more limited basis depending on the work practice used and the time spent engaging in that particular practice. To view the detailed table, visit https://bit.ly/2LxduQ2.
The tile industry responds
The tile industry is heeding OSHA's standard and working to provide solutions to keep workers within the OSHA PEL. iQ Power Tools itself has introduced the iQTS 244 Dry-Cut Dustless Tile Saw that has cyclone technology tested to 99.5% of dust. The company consults with an advisory panel comprised of three NTCA Five Star Contractors – Erin Albrecht of J&R Tile, San Antonio, Texas; James Woelfel of Artcraft Granite Marble & Tile Co., in Mesa, Ariz.; and Mike DiGuisti of Terra-Mar Inc., in Oklahoma City, OK, to develop products that are effective on the job and safe for the contractor.
Other companies too are doing their best to make dust a thing of the past as well. These include:
WaleTale – designed by Joel Beaton, this simple device that attaches to a mixing bucket sucks dangerous dust into a shop vac. MAPEI offers a branded version of this device as well.
MAPEI – The company offers a range of products that are tested at lower silica options than the OSHA PEL, from mortars to underlayment products to patching compounds.

 

Merkrete/PAREX USA – Dustless Technology (DLT) is used in three mortar products: 720 Dustless LHT Mortar, 710 Dustless Premium Set Plus mortar and 705 Dustless Pro Set Plus. The company claims each of these mortars produced approximately 80% less dust than ordinary thinsets.
Rubi – just introduced a vacuum attachment at Coverings that enables contractors to cut holes in porcelain, tile and stone products without dust.
LATICRETE's 257® Titanium™ lightweight high-performance thinset mortar designed for installing Gauged Porcelain Tile (GPT) and Gauged Porcelain Tile Panels/Slabs (GPTP) is silica sand-free, which reduces exposure to respirable silica.

 
"We all have an obligation to keep our people safe on the job site," Guth concluded. "Following the OSHA standard to minimize silica exposure is a big step to make that happen."
Stay tuned to TileLetter for ongoing information about the OSHA regulation and ways to protect your workers and yourself on the job.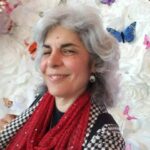 Editorial Director and Senior Writer for TileLetter and TileLetter ARTISAN
Lesley Goddin has been writing and journaling since her first diary at age 11. Her journey has taken her through a career in publishing and publicity, landing her the editor position of TileLetter and its special publications in 2006. Her goal is to educate, inspire, recognize and encourage those in the tile industry -- especially the tile and stone contractor. Other interests include the soft, purring marvels known as cats, labyrinth walking, drumming and percussion, and a range of spiritual, musical and artistic pursuits.