In the One-to-One column, NTCA Executive Director Bart Bettiga interviews industry leaders about pertinent topics. Watch the entire interview on the TileLetter YouTube channel.
Technology, training, acquisition help company make inroads in the U.S.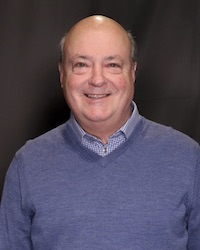 Recognized by installation experts, ARDEX Americas is a leading solution and service provider of innovative building systems. ARDEX develops, manufactures, and distributes high-performance specialty building products for all aspects of substrate preparation, floor covering, tile and stone installation systems and architectural concrete systems for commercial and residential applications. ARDEX recently made a major announcement in the tile industry with the news that it had finalized the biggest acquisition in the company's history by taking up a majority stake in wedi GmbH, a leading manufacturer of system solutions for wet room solutions. We caught up with Russ Gaetano, Senior Marketing Director of Tile and Installation Systems, to hear more about the company's plans moving forward. 
ARDEX has been in the United States for many years, but it was not long ago when you decided to really focus on tile and installation systems here. Tell us about that process and what the market looks like for your company moving forward.
We introduced self-leveling technology in the United States in 1978, and that is where we focused our business at first. But in the rest of the world, ARDEX is known as a leader in tile and stone installation systems as well. In 2010 and 2011 we looked at introducing these products, which were well received around the world, into the U.S. market. The challenges included that there is a crowded and competitive landscape, and we acknowledge that there are large and established competitors. We embarked on an in-depth market research plan, and we determined that we had the products and the team to have success. We knew it would take time, but we were confident in our approach.
Some milestones that helped us included the introduction of MICROTEC® technology, which produced creamy, easy-to-work mortars and grouts with extended open times and pot life, and we introduced Self-Drying Technology, ideal for moisture-sensitive tile and stone and large- and super large-format tile and panels. Key partnerships were established along the way which helped us get into important product segments like uncoupling membranes, in-floor heating and new in 2022 our exterior systems products. We also gained access to a full line of tools in 2018 as well as profiles and trims, and the acquisition of TiLite in 2021: a full line of waterproofing systems that we are excited about.
Tell us what the plans are moving forward now with the major news that you have acquired a majority stake in wedi products.
ARDEX and wedi are two strong brands, and we think they will complement each other very well. We are both German-based, family-run companies and we have a common understanding of the importance of innovation, quality and customer service. Both businesses have a proven track record of a commitment to excellence and training and support of the customer. However, both companies will retain their independence in full. At this point wedi will be a stand-alone company within the ARDEX group and will maintain their same contacts to their customers. ARDEX will move forward with our own products for shower systems through the acquisition of TiLite.
What has the process been like to build your brand and develop a team of professionals to service your customers?
This is a process that is always evolving. We took a grass-roots approach to this and made sure we had a full line of products to offer. In addition, we focused on installers who were true technicians and who were dedicated to their craft. We hired tile specific sales professionals and developed a full technical support team. Many of these people were former tile installers themselves. We provided strong field support which included intensive training and product demonstrations. We also offer jobsite training, and we developed the ARDEX Academy training programs in various locations in North America. We feel that the more installers work with our products, they will see the benefits of our systems and will help to drive demand through their distributors and suppliers. We also got active in the industry and joined the National Tile Contractors Association (NTCA), Ceramic Tile Distributors Association (CTDA) and Tile Council of North America (TCNA) and supported these leading trade associations.
What is your overall approach to training and education?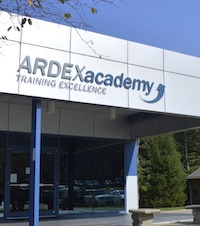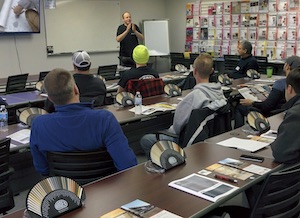 First, we support the efforts of the organizations like NTCA and Ceramic Tile Education Foundation (CTEF), as well as CTDA, Tile Contractors of America Association (TCAA), TCNA and others. Our focus is on installers who are dedicated to their craft. In addition to supporting your efforts, we offer jobsite training, distributor training, and we have seven locations of our ARDEX Academy operational now in the U.S. and Canada, and we offer webinars digitally as well. We focus on installation techniques and surface preparation and how to properly mix and install our products. We also promote the understanding and following of industry standards.
The video recently of a tile contractor demolishing a woman's bathroom in Colorado went viral, and ARDEX got involved with other tile contractors quickly to help turn this negative situation around. Tell us what led you down this road.
We all saw the video. At first, I thought it was a joke but the more it went viral, the more we realized it was a serious situation. Jason McDaniel, who owns Stoneman Construction and who is a good customer of ours in Portland, and an influencer on social media, reached out to our Northwest team and myself and said he wanted to help the homeowner out and get the bathroom renovated. This would help remove a negative perception of our industry and turn this situation around. We were happy to help support him in this effort. Several local installers joined our team and Jason and everyone worked together on this. Our distributor partner, The Tile Shop in Colorado Springs, also helped coordinate this process and supplied the tile and helped in design and product selection. We were happy to support this effort to shed a brighter light on our industry.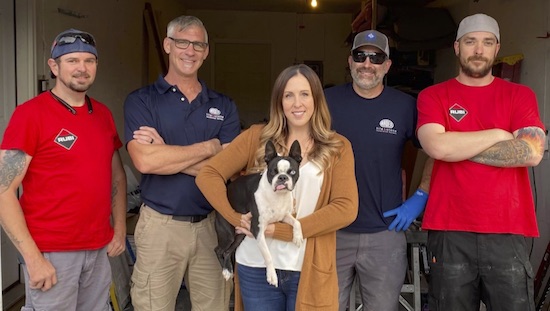 ---
(Ed. Note: read more about the Colorado Springs renovation project at TileLetter.com here: https://bit.ly/3qLc0JL and https://bit.ly/324YN45)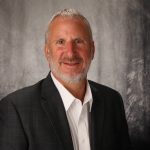 Bart Bettiga is the Executive Director of the National Tile Contractors Association and Publisher of TileLetter. Bettiga is a member of the Board of Governors of Coverings, one the largest tradeshows in North America. He has over 30 years of experience in the tile and stone industry and has served as the NTCA Executive Director since 2002. He is a well known speaker and author on ceramic tile and natural stone distribution and installation. He oversees the financial operations of the NTCA, TileLetter and the Ceramic Tile Education Foundation.