Inspired by the warm tones of the Mediterranean coast comes Sunlit Days, the newest collection by Silestone. Following the recent rebranding of Silestone, Sunlit Days represents the evolution of Silestone from the inside out, in terms of colorways, composition, and sustainability. 
The colors in this collection represent an immersive and sensory journey through light and color, embracing a bright color narrative that celebrates the nature found in the Mediterranean, inspired by human values and simple, yet profound ways of living. The five hues (Faro White, Cincel Grey, Arcilla Red, Cala Blue, and Posidonia Green) serve as a tribute to the way of life of real people who have found their true essence by the Mediterranean, by birth or by choice.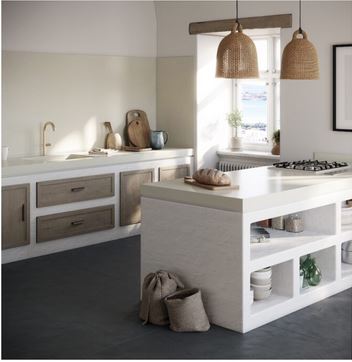 Faro White a pure white symbolizing purity, simplicity, and serenity – like the sun-drenched walls of the Mediterranean. Inspired by lighthouses, this color is characterized by its silky, smooth texture; a hymn for the senses, and for those with a love of life.
Cincel Grey is a fine-grained, silky grey – a balance between warm and cool that comes to life when bathed in light. It is neutral and versatile with a soft, soothing texture.
Arcilla Red celebrates the earthy red hue synonymous with the Mediterranean landscape. It delights the senses with a delicate texture that serves as a compelling contrast to the burst of color it brings to a space.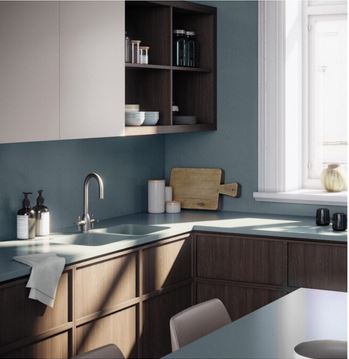 Cala Blue is a deep, sophisticated hue that instantly evokes thoughts of the sea, its breeze the infinite horizon. Its texture feels like the gentle caress of the Mediterranean waters.
Posidonia Green honors the blossoming plant that makes its home underwater along the channels of the Mediterranean. Energy, joy, and nature come together in this color with the power to surprise and hypnotize.
In addition to game-changing colors, Sunlit Days represents a new era in Silestone's sustainability efforts as it is its first-ever carbon-neutral collection. Additionally, all five colors are created with the new, exclusive HybriQ+® technology by Silestone. Its manufacturing process uses 99 percent reused water, 100 percent renewable electric energy, a blend of minerals and quartz, and a minimum of 20 percent recycled raw materials in its composition, while significantly reducing the presence of crystalline silica. With this new composition, the outstanding mechanical and technical performance and timeless beauty of Silestone remain intact.
Sunlit brings about the new evolution of Silestone and opens up limitless design and architectural possibilities with its five warm, colorful, and one-of-a-kind shades.