Young apprentices create and install colorful handmade mosaics that inspire, celebrate and honor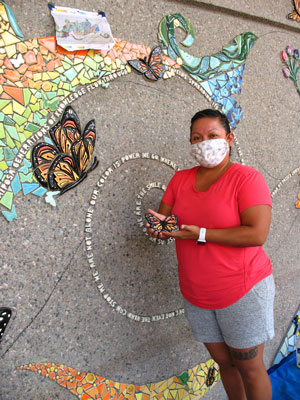 Back in 2015, TileLetter covered the Albuquerque ALMA (Apprenticeships for Leaders in Mosaic Arts) Summer Institute for the first time. It had been initially established in 1999 as part of the Mayor's Art Institute, under Mayor Jim Baca. Housed at the Harwood Art Center from 2008-2015, it afforded young people aged 16-25 from high schools, college, and the community the opportunity to conceptualize, design, plan, hand-make and glaze tiles, and install them in various sites around town as part of a paid summer apprenticeship.
Flash forward to 2020 – I revisited the ALMA (almatile.org) program, which is now its own non-profit, operating out of a new studio. Back in 2015, the mural was installed on the exterior walls of the Albuquerque Convention Center. This year, the program returned to the Convention Center with a mural of migrating Monarch butterflies that weaves words and imagery into a graceful swirl of color, shapes, and meaning along the East wall.
ALMA (which means "soul" in Spanish) is now operated by a handful of lead artists and three co-directors: Cassandra Reid (lotustileworks.com), Executive Director; Vanessa Alvarado (blubirdtileart.com), Outreach Director; and Margarita Paz-Pedro (paz-pedro.com), Operations Director. Alvarado took the lead on this project with expert consultation by Reid; Paz-Pedro handled the installation.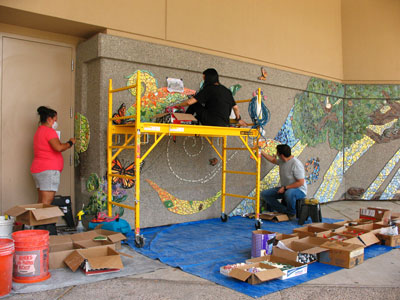 Paz-Pedro toured me through the jobsite one warm day in mid-July. She has a BFA in Ceramics from the University of Colorado at Boulder, holds a Masters in Art Education from UNM, teaches full-time high school art and ceramics at La Academia de Esperanza charter school in Albuquerque's South Valley, and does her own tile mosaics and functional wheel-thrown pottery – all while helping to lead ALMA. Her love for tile was ignited by her grandfather – who, after retiring as an engineer – became a "tile fanatic," Paz-Pedro said. "He bought scrap tile and mosaics, and tiled EVERYTHING in the house – walls, floors, garden – as a hobby."
Paz-Pedro started making tile in college, pieces she could hang on the wall that incorporated motifs from her Native and Mexican roots. When a teacher discouraged her, she lost momentum for a while until she rediscovered tile designs from pottery in 2009 that coincided with her teaching, and then her ceramic work started taking off. Through her involvement with ALMA, she's helped lead projects around Albuquerque and also in Las Cruces, N.M.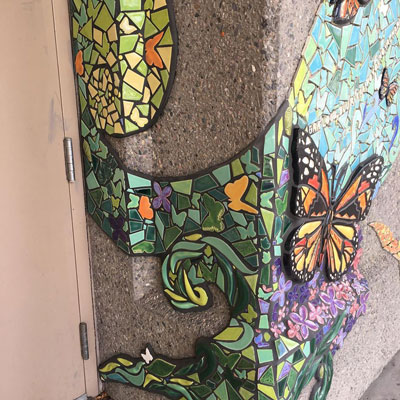 Poetic inspiration
The process for this mural began in February and involved a series of workshops led by local poet Jessica Helen Lopez that allowed apprentices to explore and envision themes for the project. Almost 320 clay letters spell out the poem that was developed in the winter, and the words wind through the mural as a graphic element. In this time of COVID, all initial work in March, April, and May was done via Zoom and Google Docs.
Then came the process of making tile and glazing it. Hundreds of butterflies, flowers, and geometric pieces, as well as signature Monarchs, were made of a sculpture clay by New Mexico Clay, and layers of glazes by Coyote Glaze, Spectrum, Mayco, Laguna and Amaco applied.
Again, COVID necessitated the purchase of cleaning materials and masks, the latter of which turned out to not be as onerous as expected. "At first masks were itchy, but wearing them for 1.5 months, and installing, they are almost second nature," said Atom Vigil, one of the apprentices working on the 2020 project.
When it came time to install the mural, apprentices worked from
6 a.m. to 1:30 p.m. to avoid the summer heat, which can get intense in the high desert, even though the jobsite was protected by an overhang.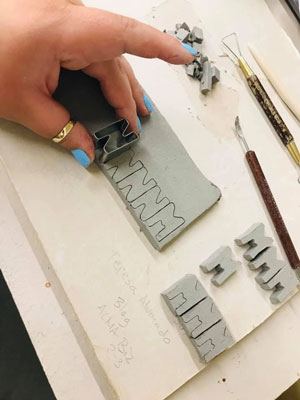 Inspired by ceramics
The five apprentices that worked on this project come from a wide range of backgrounds, all of whom were returning from past year's projects. TileLetter spoke with lead apprentices Tori Lucero, who is in her 6th summer with ALMA, and Vigil, who joined ALMA in 2018.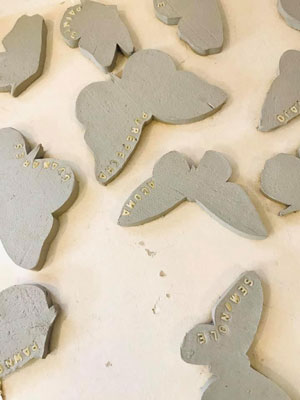 Lucero, 25, was recommended to this program by someone who knew of her passion for art. "I have a love for making ceramics," she said. She dreams of starting her own business. "The installation is my favorite part," she said. "It's very calming. "
Vigil, 20, came to ALMA on the recommendation of his ceramics teacher. He is currently studying art education at the University of New Mexico, and his main art form is making functional ceramics.
"This is a great summer job," Vigil said. "I love working with glazes to get different colors." He loves the installation as well. "It's one thing to see it on paper, and it's another to see it take shape." Vigil enjoyed the chance to put a personal touch in past murals, with personally-designed tiles.
In addition to Lucero and Vigil, apprentices Jacqueline De La Cruz, Jai Salazar, and Jacquelyn Helpa helped give life to this mural. Mosaics were installed with MAPEI Ultraflex LFT and grouted with C-Cure MP Sanded 924 grout.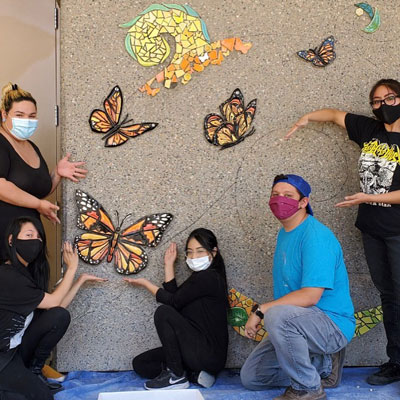 The "Migrating Souls of Wisdom" mural was completed on July 22. Inspired by the migration of Monarch butterflies from Canada through the U.S. to Mexico, it's also symbolic of "transcending borders," Paz-Pedro explained, honoring the four generations of butterflies that make the trip. Individual butterflies feature tiny letters that spell the names of Native tribes and four generations from the artists' own families.
This design spreads from last year's Healing into Harmony mural and incorporates the negative space of the concrete convention center wall as part of the design, versus the edge-to-edge murals the group has created in the past. It even incorporates curved tiles that follow the contours of the walls.
In her book, The Language of Butterflies, New York Times bestselling author and science journalist Wendy Williams observes that, "the language of butterflies is the language of color." That is truly the case with this ALMA mural, which uses colorful mosaics to convey a profound message of beauty and meaning – putting the "butterfly effect" into motion, with a single mural that can change lives of young apprentices, and those who stop to view and ponder this work when visiting downtown Albuquerque.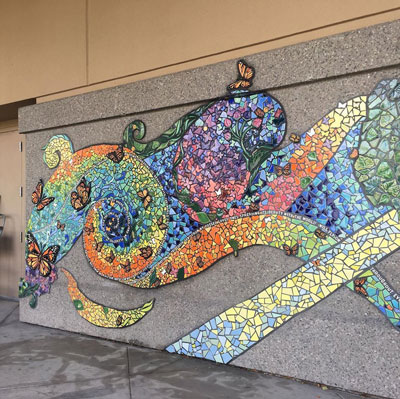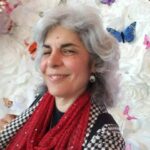 Editorial Director and Senior Writer for TileLetter and TileLetter ARTISAN
Lesley Goddin has been writing and journaling since her first diary at age 11. Her journey has taken her through a career in publishing and publicity, landing her the editor position of TileLetter and its special publications in 2006. Her goal is to educate, inspire, recognize and encourage those in the tile industry -- especially the tile and stone contractor. Other interests include the soft, purring marvels known as cats, labyrinth walking, drumming and percussion, and a range of spiritual, musical and artistic pursuits.