It's
LIVE!
CALL-FOR-ENTRY
"ART TILE AMERICA 2021
From Sea to Shining Sea"
REGISTER for details!
DEADLINE Oct. 20th 2021
Virtual Exhibition & Sale dates:
December 5-31st 2021
ART TILE AMERICA 2021 – From Sea to Shining Sea,"
a VIRTUAL EXHIBITION & SALE Honoring & Enhancing
the Visibility of Contemporary Tilework while Benefiting
Tile Heritage Foundation and the Participating Artists.
Sale of work during the Exhibition: 50% Artists 50% Tile Heritage
The FUNDS from this up-coming event will provide support for the Foundation's ongoing tile history archiving project as well as a comprehensive online index capturing the History of Ceramic Tile in the United States from the 1870s to the present day. A shout-out to Katia McGuirk for PROMOTING it, Joe Taylor for EDITING, Sheila Menzies for CURATING & MANAGING this Exhibition on behalf of Tile Heritage!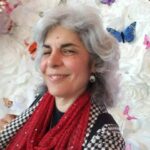 Editorial Director and Senior Writer for TileLetter and TileLetter ARTISAN
Lesley Goddin has been writing and journaling since her first diary at age 11. Her journey has taken her through a career in publishing and publicity, landing her the editor position of TileLetter and its special publications in 2006. Her goal is to educate, inspire, recognize and encourage those in the tile industry -- especially the tile and stone contractor. Other interests include the soft, purring marvels known as cats, labyrinth walking, drumming and percussion, and a range of spiritual, musical and artistic pursuits.