"Keep away from people who try to belittle your ambitions. Small people always do that, but the really great make you feel that you, too, can become great."

– Mark Twain
This week I learned two new words: "mudita" and "hopequesting."
Mudita means taking delight in the happiness, success and well-being of others; sympathetic vicarious joy.
Hopequesting, as you might imagine, is the opposite of doomscrolling – searching social media for posts, messages and videos that uplift you and make you feel good and connected to each other, or validated, and appreciated. You can benefit from others' posts or you can be the benefactor for others – sharing positive posts and messages that in turn lift others' spirits and generate hope and happiness, and – dare I say – even faith in each other. Yes, YOU have the power to do this!
Learning these terms, I was reminded of the many tile-related groups that populate the interwebs and social media in this industry. Yes, some posters offer harsh commentary to those looking for help with a challenge. And who doesn't like to look at failures, both as lessons of what to avoid or as an indulgence in tile-related schadenfreude?
But what I see mostly on social media is help and hope – whether it's podcasts from Luke Miller or Anthony Moses or videos from Jason McDaniel on Global Tile Posse or NTCA's Mark Heinlein lunchtime interviews on Facebook with prominent industry members. People come to learn and grow – and maybe there's some (hopefully) good-natured ribbing that goes with the territory – but these social media outlets are a way to develop community and support.
The other thing I see is people sharing their stellar, inspiring, mind-blowing work, whether that work is cutting-edge precision or visionary artistry. These tile artisans are showing what is POSSIBLE, and encouraging others to come up higher in their own work. There's "mudita" in action here, taking vicarious pleasure and joy in the work and excellence that others are sharing.
Occasionally someone puts themselves out there in terms of a struggle they've had or a personal challenge they've overcome. I've witnessed sympathetic outpourings from others with similar struggles. This kind of hopequesting inspired the Workplace Wellness section for September and part two in this issue as well. People who have lived in the darkness, chosen to walk towards the light, and in turn are lifting others up.
I'll be honest, over the last year or so, I've watched my feed change away from negatives, to more hopeful, joyful posts of art, photography, inspiring messages and the like. I like to think that TileLetter offers a printed version of hopequesting and opportunities for mudita. I hope you think so too and peruse this issue for the wealth of information, wisdom, and championing of people in the industry contained therein.
There's another twist on positivity I want to bring to your attention that is a little off the beaten path, but seeks to benefit the industry in a unique way. NTCA is dedicated to supporting missions of the Ceramic Tile Education Foundation and the Tile Heritage Foundation. We're also dedicated to elevating and recognizing tile artisans and artists for their outstanding and inspiring work. So, we combined all that in a novel fundraiser – the Tile Artistry Coloring Book – that gives you a chance to kick back and relax and appreciate beautiful tile art at the same time. Check out our news section for the deets and how to get a coloring book of your very own – or give them as gifts – and support these worthy organizations in the process.
After the very dark nights of the soul we have lived through the last couple of years, let this season be one of hope and joy – both in what you experience and what you radiate.
Blessings and happy holidays in whatever way you celebrate!
---
In the November Training & Education print story, we reported that Chris Rachel would be joining NTCA in 2022 as a trainer. In fact, Chris will not subcontract with NTCA at this time. Chad Jones will continue to help with set up and tear down for the training events in the first half of the year, and will begin as a trainer in the second half of 2022.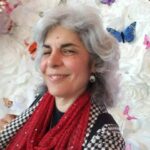 Editorial Director and Senior Writer for TileLetter and TileLetter ARTISAN
Lesley Goddin has been writing and journaling since her first diary at age 11. Her journey has taken her through a career in publishing and publicity, landing her the editor position of TileLetter and its special publications in 2006. Her goal is to educate, inspire, recognize and encourage those in the tile industry -- especially the tile and stone contractor. Other interests include the soft, purring marvels known as cats, labyrinth walking, drumming and percussion, and a range of spiritual, musical and artistic pursuits.