Templates, story poles help match the tile to the needs and flow of the space
By Ryan Willoughby, Hawthorne Tile
When you are deciding on a tile layout, it's a good idea to check with ANSI 108.02 section 4.3 "Tile Layout, A General Statement."
This document basically says we are to center and balance the area to be tiled, while both minimizing the amount of cuts and maximizing their size. Fundamentally these are the rules we follow, but in their definition and execution it can get quite subjective.
Having spent the vast majority of my career in the high-end residential market, some of my opinions may differ from someone in the commercial side of the business. That being said I feel pretty fortunate to have had a mentor who took extreme pride in layout and instilled the same in me. While maybe only other craftspeople and design professionals will truly appreciate all the thought and effort put into a great layout, I think everyone can feel the difference between a chopped up space and one that flows. If you don't take the time to really think it through and begin with a clear vision of the finished project, you will make mistakes and have some uncomfortable conversations with your clients.
Besides being able to share my philosophies on layout, writing this article gave me an excuse to reach out and discuss the subject with someone I've watched on social media, the NTCA's Oregon State Ambassador, Jason McDaniel. Jason has a really cool and unique approach to laying out some of his installs, but first I'll walk you through my process and then share a bit from our conversation.
Getting started with tile layout – square, plumb and level
My first course of action is to familiarize or re-familiarize myself with any detailed drawings for the project and identify what the architect or designer's vision for the space is. Next, I'd square up the space and locate any problem areas that will need to be discussed or fixed prior to install, such as an out-of-square room, or my wall tile tying into an out-of-plumb or level surface. Putting up perfectly plumb and level grids really accentuates these problems, and the smaller the tile, the more obvious it is. Someone may have a hard time seeing a 3/8" taper in a 24"x 24", but it's an entirely different story over the same distance with a 5/8" mosaic.
If you're going to be tiling a shower to the ceiling, you need to know if the ceiling is 3/4" out of level across the back wall. On floors, I snap a reference line off my longest or most visual run and find square from that by using "3-4-5" also known – to the more academic among us – as Pythagorean theorem. To be honest, these days I just use a laser square; it speeds up the whole process. On walls it's the same; find center, then plumb and level with either a spirit/bubble level or a laser.
Creating a story pole; 
envisioning the space
Next is creating a story pole. I'll lay my tile on the floor with the appropriate joint spacing, and do one of three things:
Write the full tile measurements down, or
Measure off of the tiles on the ground, or
With mosaics, make a true story pole marking a piece of lumber at each joint.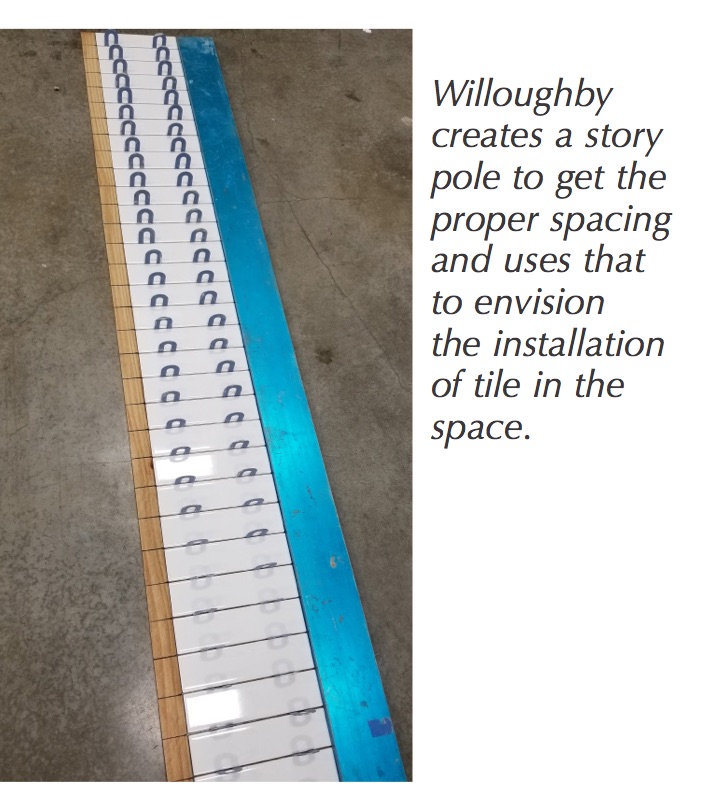 Once I have all this information it's envisioning the space and identifying the most visual areas. Do you want to "center" or "balance"? For floors: do I center the room itself, a threshold or hall, a kitchen island, a soaking tub, the shower, toilet? For walls: is it the space, a window, plumbing, start full here or there?
Our options are endless. Choose an approach to centering, and then work backwards from that first choice. You'll also want to ask yourself, "If I don't like the cuts I get in one place, what happens if I start somewhere else? What do I have control of?"
Niche sizes are typically nominal, as are height of the bench, pony wall, and curb. Looking at all of these things and being willing to do a little extra work will speak volumes to your clients and separate you from your competition. As Dirk Sullivan, Hawthorne Tile's fearless leader, likes to say, "Never pass up an opportunity to do something awesome."
The biggest mistake I see people making is getting locked into their first choice and not weighing all their options or passing on that opportunity to be awesome in lieu of saving 15 minutes. I've found making these suggestions to an architect or designer is typically welcome and appreciated.
The McDaniel solution: 
templates for elaborate installs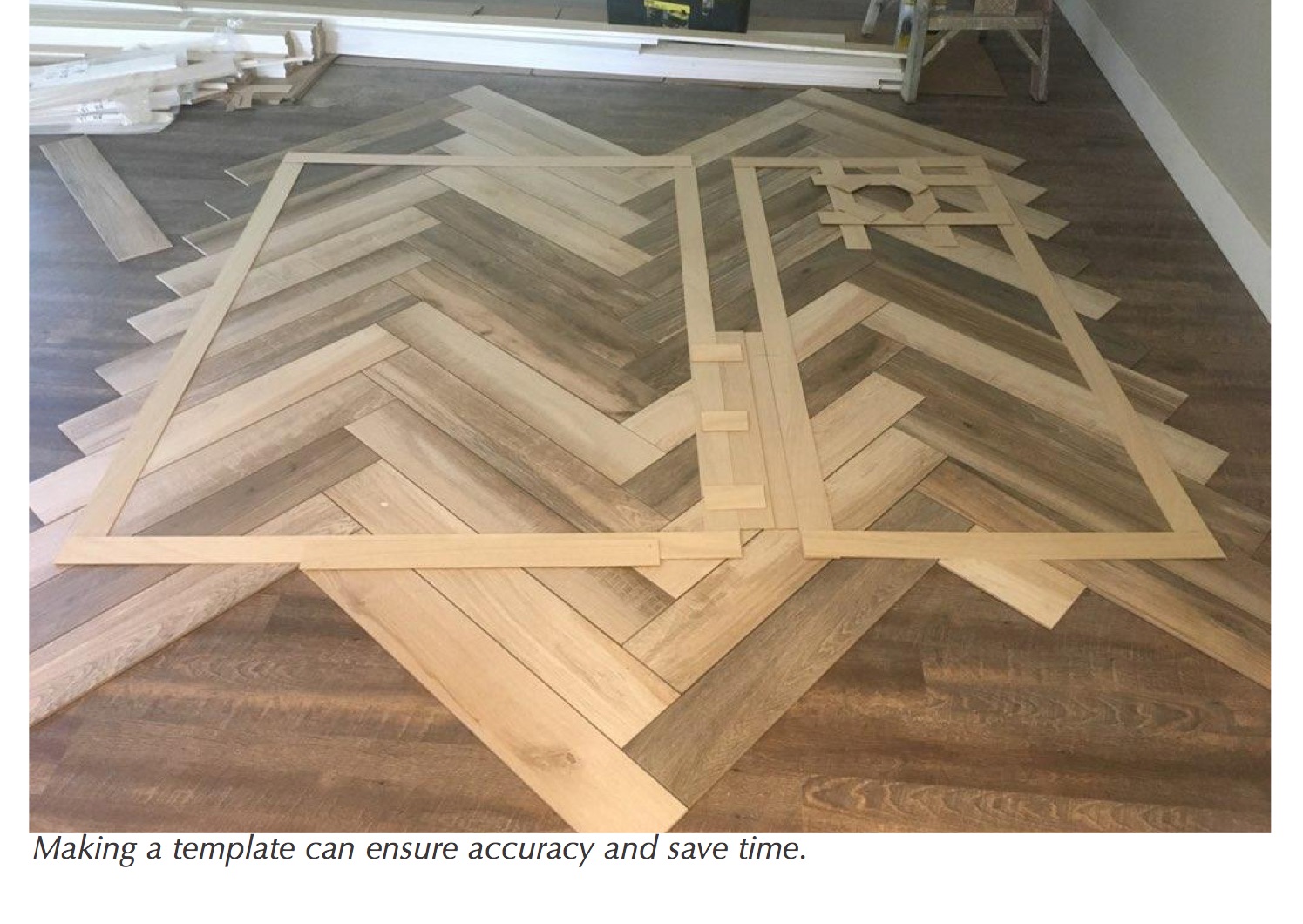 With the advancement of manufacturing technology we've seen all sorts of new shapes and patterned mosaic sheets become readily available. These more elaborate patterns can make it difficult to see what every cut will look like on a kitchen splash with multiple stopping points.
I saw Jason McDaniel of Stoneman Construction, LLC in Lake Oswego, Ore., making templates for these installs and thought it was a great idea. I gave him a call to talk to him about it.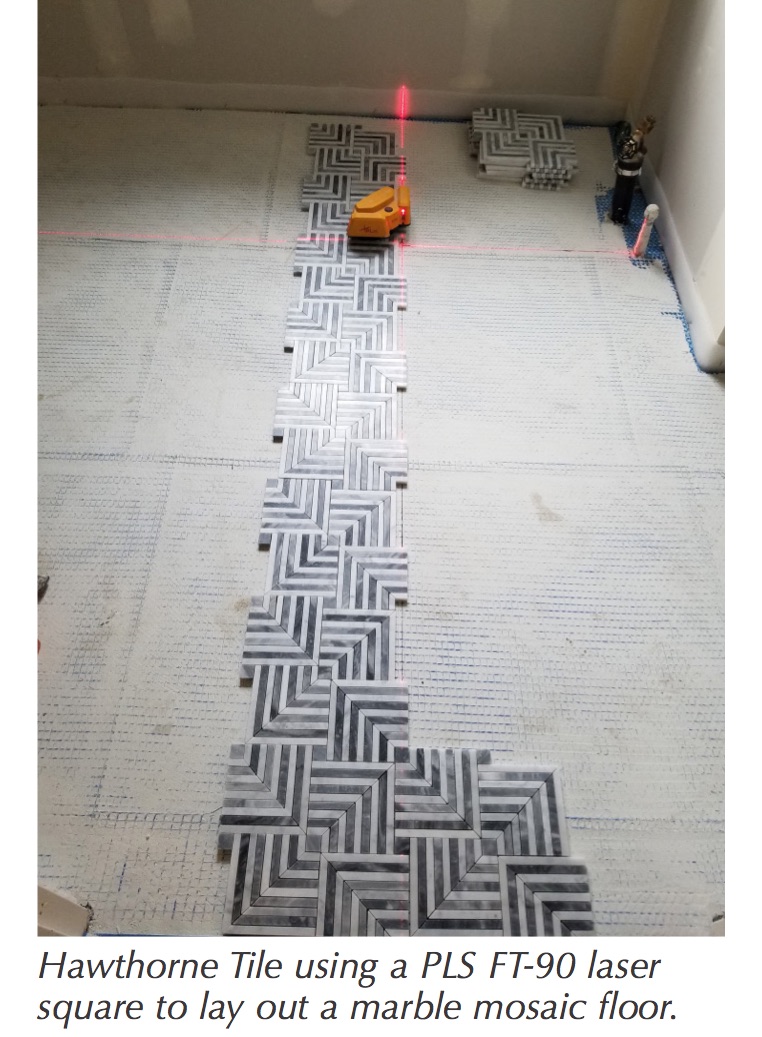 Jason has a background in solid surfaces and was comfortable with making templates. The first time he tried it on a tile install was while working on a large project, a beautiful home where he had already completed four bathrooms. He came to a backsplash that had many things to consider: a window, cabinets, and multiple outlets. He was setting a 1" x 3" marble herringbone mosaic.
He looked over the space wondering where to start. That's when it hit him – he made a quick template, laid the tile on the floor, was able to lay the template over the tile, and quickly see everything. He marked all his cuts, made his cuts, and had the backsplash set within a couple of hours. He saw in that moment that this was going to be something he'd be doing much more of in the future.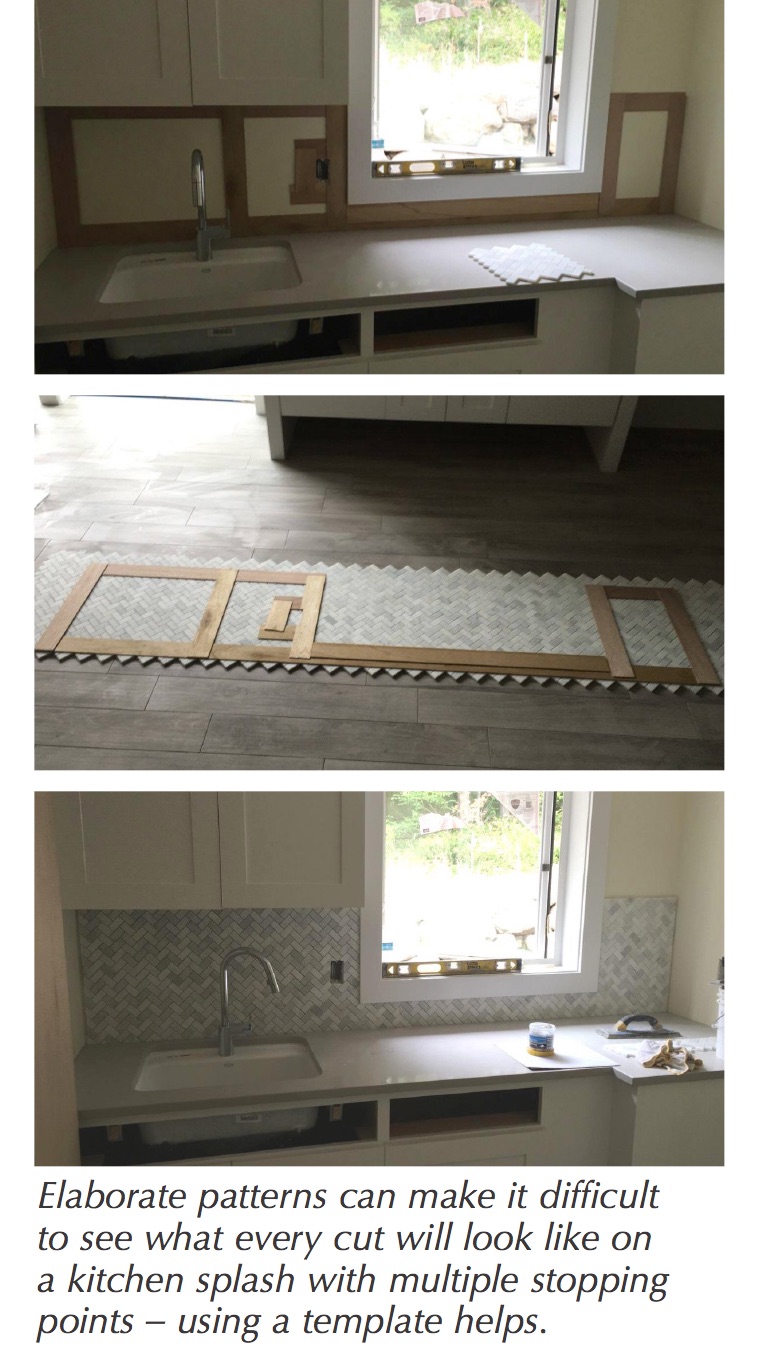 Jason shared with me other installs where this method really shines, like installing water-sensitive stones with epoxy or a rapid-setting thinset. You don't have to stop to take a measurement or go to the saw – just comb and go. Or when stopping by a job on your way home, you can make a quick template, lay out the tile at your shop the next morning, make all your cuts, and hand them off to your installer. When I asked Jason if he had any advice, he said, "'Centered' and 'balanced' are the terms most often heard when talking about layout. I lean more towards 'balanced' when laying out a space. Balanced doesn't always equal centered, especially with all the different shapes and sizes of product we are seeing these days." I couldn't agree more.