There are lots of great articles in this midsummer issue of TileLetter, from our cover case study by Merkrete of the renovation of the Naples Fire-Rescue Station, to the timeline by Schluter's Dale Kempster about uncoupling methods making it into the TCNA Handbook and upcoming uncoupling standard, to Donato Grosser's exploration of the industry from an independent distributor point of view, to the happy tale about NTCA Five-Star Contractor Rod Owen's involvement in the community and how bringing information about the tile trade to high schools has paid off in terms of his own hires. Not to be missed is the Member Spotlight on Carl "The Flash" Leonard, NTCA Education and Curriculum Director Becky Serbin's piece on the value of NTCA's Regional Training Events and the preview of our next big industry event – just three months away – Total Solutions Plus, this year scheduled for Nashville, Tenn.
But I also want to highlight a couple of especially compelling pieces that are on the pulse of what is happening in our industry right now. One is our news blurb about the May 23, 2019 Department of Labor acceptance of the NTCA National Guidelines for Apprenticeship. This is a huge step forward for our industry (with hats off to the tireless efforts of Becky Serbin in bringing this to fruition). The NTCA Apprenticeship Guidelines Program combines field experience with online learning and designated classroom training. It's designed to provide members an opportunity to attract new skilled labor into the ceramic tile industry. The program will offer guidance to NTCA members in developing their own tile finishers' and tile setters' apprenticeship programs. You'll learn more about this in our August issue, but it's vital news that needs to be on your radar screen now.
The other piece is by NTCA President Chris Walker, who has his finger on the pulse of the industry with his perspective on tariffs on tile from China and the anti-dumping/anti-subsidy investigation by the U.S. International Trade Commission (USITC). What are the pros and cons of these actions and how will they affect our industry down the road? Read this important letter and stay tuned in future issues of TileLetter for more information about how these developments will impact the tile industry and how different sectors of the industry are coping with them.
Got thoughts or comments to share about these or any other topics? Shoot me an email and let me know your perspective.
God bless,
Lesley
[email protected]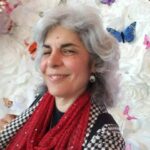 Editorial Director and Senior Writer for TileLetter and TileLetter ARTISAN
Lesley Goddin has been writing and journaling since her first diary at age 11. Her journey has taken her through a career in publishing and publicity, landing her the editor position of TileLetter and its special publications in 2006. Her goal is to educate, inspire, recognize and encourage those in the tile industry -- especially the tile and stone contractor. Other interests include the soft, purring marvels known as cats, labyrinth walking, drumming and percussion, and a range of spiritual, musical and artistic pursuits.