Maine manufacturer of industrial kneepads, ProKnee Corp. has transitioned production over to making face shields in response to the global shortage of Personal Protective Equipment (PPE) due to COVID-19 demands.
Whitefield, ME, April 13, 2020- The current outbreak of the respiratory disease, COVID-19 has inspired manufacturers across the US to urgently help expand the availability of general use personal protective equipment, otherwise known as PPE. ProKnee Corp., a USA manufacturer of custom-fit and all-purpose kneepads for the floor covering, roofing and general construction industries has expanded its PPE offering in response to the overwhelming need for protection of health care professionals and first responders throughout this global health emergency.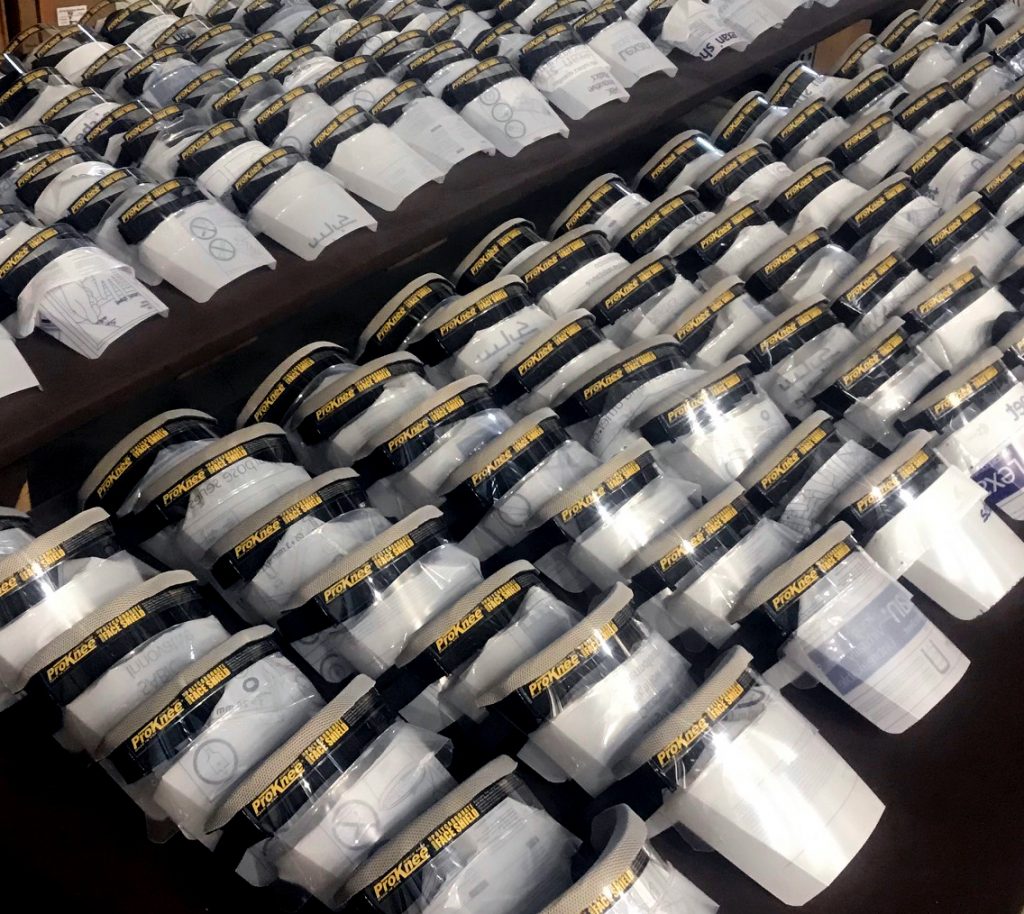 The problem is layered, with not only limited PPE available on the global market, but also limited resources available across the country to produce said PPE. After assessing its current inventory of parts for the Model 0714/0714E custom fit and AP16 All Purpose Kneepads, ProKnee sprang into action producing face shields.
"After securing a large batch of Lexan Polycarbonate sheets, I knew we had everything we needed to get started right away on a superior, reusable face shield," said Lee Richards, founder of ProKnee Corp. After 31 years of customer feedback and actual field testing of materials developed for direct skin contact, ProKnee's specialized materials were perfectly suited for the task at hand. ProKnee's face shield utilizes their soft poly woven elastic straps from both of our kneepad models, 0714 and AP16, as well as our wick-tech liner fabric, which is serving as an optional detachable wick guard/sweat band for added comfort and protection overhead.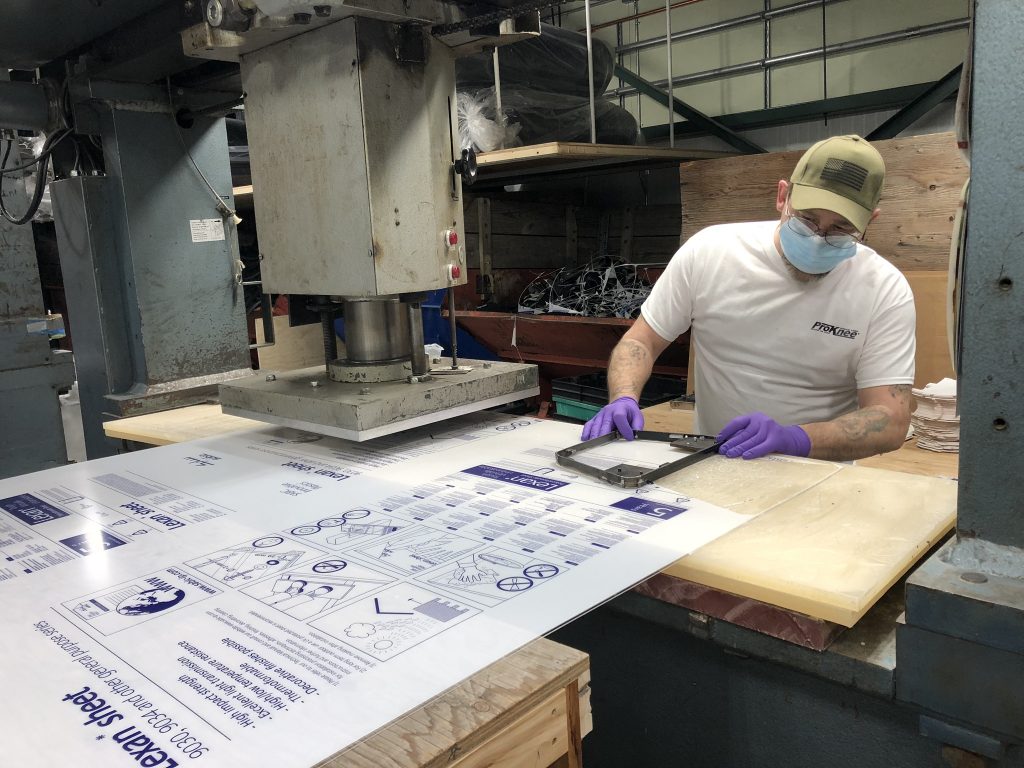 Additionally, the shield uses ProKnee's proprietary Smartlock® buckle to lock in the desired strap length for a secure and adjustable custom fit around the wearer's head. The 8" long shield, made of durable polycarbonate, provides crystal clear optics and fits over glasses and masks.
ProKnee turned around its production line in the matter of 3 days. The first prototype was finalized on April 6 with orders flowing in from across the state Maine the following day. Recalibrating production lines for the shields was in effect by Wednesday, April 8. Many first responders have been hard pressed to obtain personal protective equipment due to the massive PPE shortage and the observance of PPE for medical care professionals. Firefighters, policemen, nursing care facilities, funeral homes, emergency medical technicians, paramedics and correctional officers are just some of such first responders in need of PPE that ProKnee has been working with.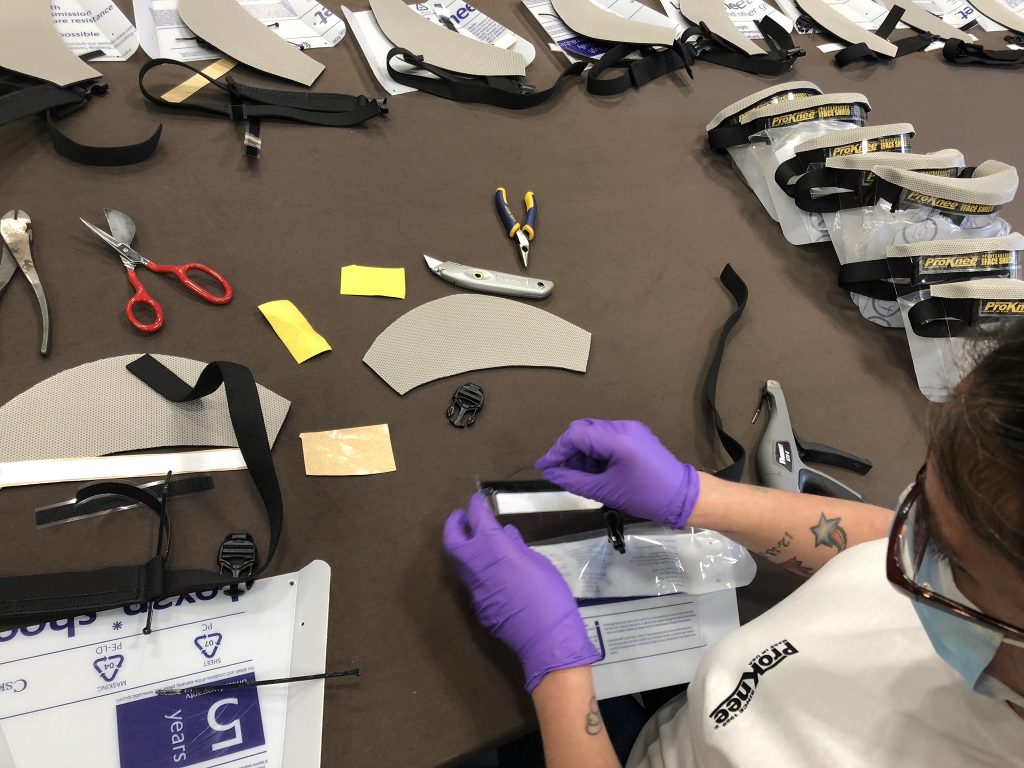 The intended use of ProKnee's COVID-19 Polycarbonate Face Shield with Poly Woven Elastic Straps & Smartlock ® Plastic Buckle is serving a medical purpose for the duration of the public health emergency/COVID-19. This product is not designed to provide an anti-viral or anti-microbial barrier.
Since 1989, ProKnee Corp. has been an American made manufacturer of personal protective equipment- custom fit knee pads specifically engineered for the floor covering, roofing and general construction industries and ergonomically proven to benefit the wearer through their patented designs. Learn more at www.ProKnee.com or phone 1.800.549.5018.