This is the month when the tile and stone industry converges on the Las Vegas Convention Center for the 2022 version of Coverings! Last year's show was a reunion of sorts, and I am expecting a similar vibe in Vegas this time around.
Coverings.com is your headquarters for all the deets on this show, from awards to receptions to educational programs to live demonstrations. And you know there will be a show floor bursting with the newest, cutting-edge products to explore as well. As always, the fine folks organizing Coverings have a few new things up their sleeves. One is the UNLV Student Outdoor Pavilion project that you can learn more about in the A&D Corner story in this issue.
Another show feature is an NTCA-centric event, in celebration of the association's 75th year that will take place during NTCA Awards Night after the show on April 7. The festivities will include the CTEF Award, TCNA Tile Person of the Year Award, NTCA Five-Star Projects of the Year, NTCA Tom Ade Scholarships, NTCA Tile Person of the Year and the NTCA 75th Anniversary video presentation. Learn more about the history of the association as Bart Bettiga interviews NTCA Executive Director Emeritus Joe Tarver in this issue's One-to-One!
While you are on your way to the show, enjoy the stories in this issue. LATICRETE's Sharon LaRiviere shares her wisdom about how contractors can effectively engage with social media for best results. In our Training and Education section, enjoy the first of our quarterly visits with Brad Denny, the new Executive Director of the Ceramic Tile Education Foundation (CTEF) as he muses about his role, the opportunities and the tasks that lie before him.
More wisdom from the CTEF is presented in our Technical story by Scott Carothers. Lippage is more than unsightly – it can be downright dangerous. Learn how to avoid it and keep your installs flush and level.
Wayne Olivier has been a bit of a tile nomad as he has moved his business around the country. But he has developed his skills, availed himself of education and training along the way, and has established himself as a certified, reputable tile contractor will a set of skills that spans from floating mud to installing gauged porcelain tile panels. And he gives back to the industry as an NTCA Ambassador. Meet Wayne and find out more about his journey.
Kurve on Wilshire balances contemporary function with organic form throughout its 23 stories of luxury rental space and 225,000 sq. ft. of tile that enrich the flowing high-rise. City Tile and Stone Tile of Van Nuys, Calif., partnered with Merkrete to provide tenants with reliable, graceful finished surfaces in a project that had to navigate through the early days of the pandemic. Read about how the design and construction team made the project work despite challenges in our cover story.
Hope to see you at one of the many events taking place at Coverings or on the show floor itself. Come on up and say hello!
God bless,
Lesley
[email protected]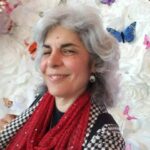 Editorial Director and Senior Writer for TileLetter and TileLetter ARTISAN
Lesley Goddin has been writing and journaling since her first diary at age 11. Her journey has taken her through a career in publishing and publicity, landing her the editor position of TileLetter and its special publications in 2006. Her goal is to educate, inspire, recognize and encourage those in the tile industry -- especially the tile and stone contractor. Other interests include the soft, purring marvels known as cats, labyrinth walking, drumming and percussion, and a range of spiritual, musical and artistic pursuits.