Interactive Space Showcases a Range of Designs for the Evolving Hospitality Industry
San Francisco, California / Crossville, Tennessee – Crossville, Inc. recently announced its partnership as the exclusive tile supplier for the new Hotel Design Lab in San Francisco, Calif. An innovative collaboration in hospitality design, the Hotel Design Lab is a project of the Newport Beach office of Gensler, the internationally renowned architecture and design firm. Hotel Design Lab features Crossville tile collections throughout vignettes in the 5,000 square foot space.
"The hospitality industry is changing rapidly and dramatically with the increased popularity of new lodging alternatives such as short term rentals, hostels, and boutique hotels. No matter the nature of a hospitality space, great design is imperative. That's why it's an honor to partner with Gensler in the Hotel Design Lab on this really innovative project," says Melissa Marney, regional sales manager with Crossville. "We're sparking new ideas with the people who make decisions about hospitality design."
Crossville joins a lineup of other fine vendors for this project (see full list by clicking here). The Crossville tile selections featured include:
* Fireplace surround and wall — Crossville's Filo gauged porcelain tile panels in the Argento color were installed for a clean look with fewer grout lines in addition to capturing a neutral yet bold color scheme. The large -format gauged porcelain tile panels provided the streamlined modern look for the fireplace surround
* Boutique bath floor — With sandstone-texture and striations, Crossville's Moonstruck Collection in Juno flows elegantly in the boutique bath perfectly complementing the warm wood tones of the vanity.
* Boutique corner bath floor — Porcelain tile displayed in distinct concrete visuals make a stunning impression with Crossville's Notorious Collection in Femme Fatale in the corner bath. Sized in the modular 24" x 36", this urban bath incorporates the modern chic styling of concrete with the top-notch performance specifications that only tile can deliver.
* Hostel (upstairs bath vignette) — Capturing the look of rich, urban styles, Crossville's gauged porcelain tile panels in Oxide, Bianco, highlights the walls of the upstairs bath providing a glimmer of weathered metal in the soft white tones in the large format thin gauge tiles. The floors are a custom-designed mosaic pattern featuring Crossville's Argent and Virtue collections.
Lorraine Francis, Lorraine Francis AIA, LEED BD+C, Gensler's regional director of hospitality interiors, states: "This was an amazing opportunity to partner with other hospitality industry leaders to provide an innovative venue for new gathering events and great design. We are honored to be part of this collaboration!"
"Our collaboration in HDL exemplifies our commitment to bold designs and the interior design community. There is no better way to inspire the design community about our product advantages than to showcase them in application," summarizes Marney.
For more information on Hotel Design Lab, visit hoteldesignlaboratory.com. For more information on Crossville products, visit crossvilleinc.com.
About Crossville, Inc.
Founded in 1986, Crossville Inc. is a U.S.-owned and operated manufacturer of award-winning tile collections for residential and contract applications. Its headquarters and manufacturing facilities are located in Crossville, Tennessee. Crossville, Inc. is a wholly owned subsidiary of Curran Group, a privately held holding company renowned for its core values of family, respect, partnership, integrity, and improvement.
An industry innovator, Crossville is the first U.S. tile manufacturer to achieve the following:
– production of large format tile on site,
– manufacturing of tile with certified recycled content,
– development the Tile Take-Back® Program for recycling fired porcelain tile,
– attaining of certification for waste recycling programs,
– earning of TCNA's Green Squared certification for all of its U.S.-produced tile lines,
– distribution of a complete line of porcelain tile panels (Laminam by Crossville), and
– designation as a net consumer of waste in the domestic tile industry.
For more information on Crossville, visit crossvilleinc.com.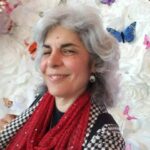 Editorial Director and Senior Writer for TileLetter and TileLetter ARTISAN
Lesley Goddin has been writing and journaling since her first diary at age 11. Her journey has taken her through a career in publishing and publicity, landing her the editor position of TileLetter and its special publications in 2006. Her goal is to educate, inspire, recognize and encourage those in the tile industry -- especially the tile and stone contractor. Other interests include the soft, purring marvels known as cats, labyrinth walking, drumming and percussion, and a range of spiritual, musical and artistic pursuits.