Versatile Tile Offerings Incorporate Patterns, Contrasting Colors, Varied Size Options
Crossville, Tennessee – Crossville Inc. has announced the launch of Retro Active 2.0, an extremely versatile through-body porcelain tile collection with fashion-forward colors, patterns, and size options. This domestically-produced line offers designers inventive solutions to create customized looks for commercial and residential projects.
Waldrep shares that Crossville's product development team envisioned Retro Active 2.0 collection as an answer to specifiers' ongoing need for go-anywhere surfacing solutions that transcend trends. By anticipating designers' needs now and into the future, the team opted to create this collection with through-body color in a spectrum of contrasting hues, as well as rectilinear size options to answer nearly any project challenge.
The collection's 13 colors, offered in unpolished or polished finishes, are Antico Taupe, Seal Taupe, Featherstone, Empress White, Snow Blind, Roasted Chestnut, Leaden, Mecurial, Phantom, Armor, Gulf Breeze, Racing Green, and Royal Navy. In addition, Retro Active 2.0 Pattern tiles, also offered in the 13 colors in a textured finish, work in tandem with the non-pattern tiles or on their own to give dimension to designs. From use in wainscoting, incorporated as accent or embellishment, or applied to add unique touches of texture, Retro Active Pattern tiles invite designers to create bold, new looks for walls and floors.
This comprehensive collection is available in seven field tile sizes: 3"x12", 4"x12", 4"x24", 6"x12", 6"x24", 12"x12", and 12"x24". To create fully finished looks, the 2"x4" mosaic, cove base with inside and outside corners, and bullnose are offered in each color, as well.
As with all products produced at Crossville's Tennessee manufacturing facilities, Retro Active 2.0 is responsibly made in the USA, contains a minimum of 4% pre-consumer recycled content, and is Green Squared certified. Retro Active 2.0 is recommended for interior floors, walls, and countertops, as well as exterior walls, in commercial and residential settings.
For more information on this collection, visit crossvilleinc.com.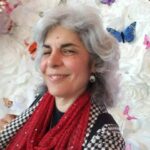 Editorial Director and Senior Writer for TileLetter and TileLetter ARTISAN
Lesley Goddin has been writing and journaling since her first diary at age 11. Her journey has taken her through a career in publishing and publicity, landing her the editor position of TileLetter and its special publications in 2006. Her goal is to educate, inspire, recognize and encourage those in the tile industry -- especially the tile and stone contractor. Other interests include the soft, purring marvels known as cats, labyrinth walking, drumming and percussion, and a range of spiritual, musical and artistic pursuits.