"But they are difficult things with which we have been charged." 

– RAINER MARIA RILKE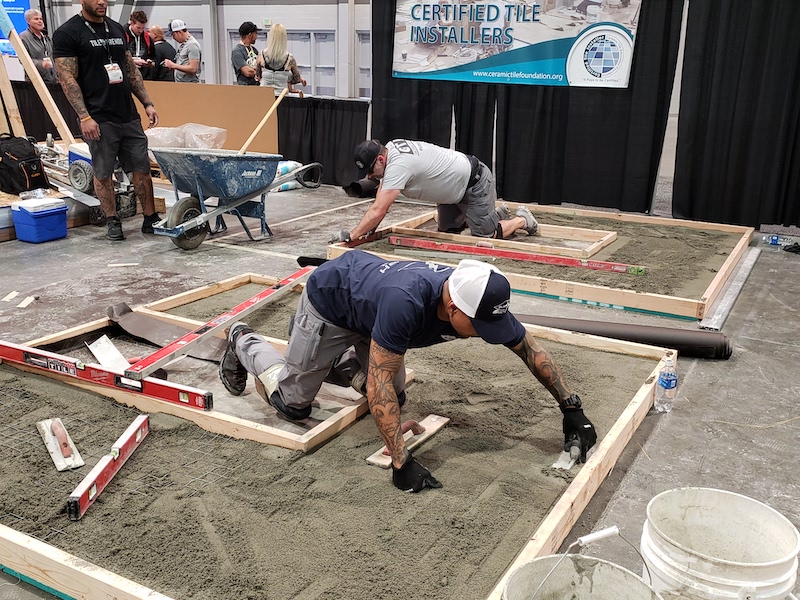 What started as a proposal for a friendly mud challenge competition at Coverings took a dramatic turn and resulted in four ACT credentials earned and some lessons learned along the way. The challenge morphed from a competition into an Advanced Certifications for Tile Installers (ACT) exam, conducted by the Ceramic Tile Education Foundation (CTEF) on the Coverings show floor. Stoneman Construction's Jason McDaniel from Portland, Ore., and Cutting Edge Tile's Carl "The Flash" Leonard from Florence, N.J., faced off against mud floors. Lima Tile's Joe Lima of Oroville, Calif., with Tile Trends' Mike Foster of Idaho Falls, Idaho, tested their mettle on mud walls. This was the first ACT exam for all the installers.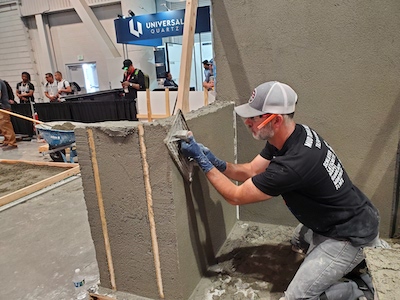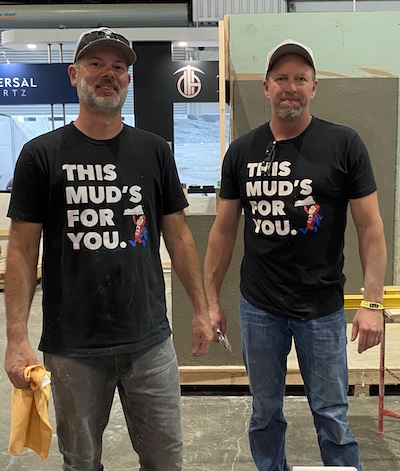 Foster was eager to test his skills on thick-bed walls. "I did not take any college courses, so when I saw this come up years ago in the TileLetter, I always told myself I would take the test to see if I had the knowledge to pass," Foster said. "When the Certified Tile Installer (CTI) program and ACT programs were first established, I reached out to my father-in-law Pete Steed and his brother William Bill Steed and talked to them about it. They both said to take the CTI and ACT and any other industry standard test available."
"To me it was important to my credentials," Lima said. "Having certifications really does separate you from the rest. I'm only aware of two people that have CTIs within a 100 mile radius in my area, but no ACT certifications." Lima will use his certifications to bid on upcoming jobs. "It really does separate you from the rest. I think clients appreciate that – it shows that you definitely have some skill and discipline."
Failures make perfect
Things were a little different for McDaniel and Leonard, who admitted they were not that experienced in thick-bed installations. "It was all new to Jason and I," Leonard said. "I've done mud floors years ago, but there were a lot of details we've never done before."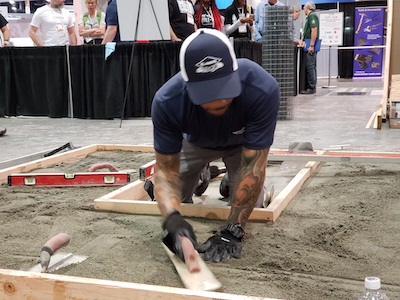 McDaniel and Leonard were positioned at side-by-side modules in the testing area on the show floor, speeding through the test in two hours instead of the allotted three – and both failed.
"We were beat up," McDaniel said. "I am not used to failing in tile." Both installers were intent on taking the test again – the very next day. The ACT rules allow that a candidate who fails can re-take the test immediately – as long as there was an evaluator available. And there was.
It required an extra module to supplement an existing module, and Foster – who, along with Lima, had just passed the mud wall exam – shopped for supplies that night to build the new module. CTEF's Scott Carothers came in the next morning at 5:30 a.m. to build the needed module. "This is a group of people that care so much about the trade and the message is – we all work together," McDaniel said. "This is a community that has each other's back."
The installers dug in the next day. Lupe Ortiz, Tile Coordinator of Local 3 California, and one of the ACT evaluators, offered copious instructions to McDaniel and Leonard about dos and don'ts and how to set up a screed. "I've only done slope-to-drain – never a dry-pack floor in my life," McDaniel said. "We both have the physical ability to work the screed and set up the lines. But we needed a little more knowledge."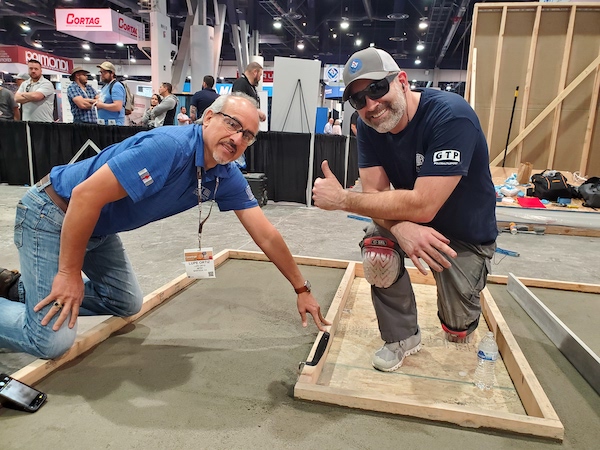 Leonard was hurting, working through the pain from arthritis in his hands and inflammation from carpal tunnel in his right hand, so he had to pack mud with his left. He worked more slowly, learning from Ortiz and failures from the day before. Though Leonard is known industry-wide as "The Flash," he admitted, "It ain't all about speed.
"I've done mud floors, but never with a floating wire," Leonard said. "We put tar paper and stapled wire, and did our screeds. That was a challenge for me. [Ortiz] told me how important it was to flatten my wire before I started. It was chicken wire, it has more memory. I saw how Lupe had a margin trowel with measurements – so I checked my depth as I went."
The value of failure
The big lesson from the experience was that failure isn't – it's not failure. It's a step towards success.
"We learned from failing," Leonard said. "It was a good thing. We learned so much from failing. Had we passed it, I don't think we would have learned the proper way. Failing was an honor. We came out stronger and better champions."
The second time, failure was not an option for McDaniel, but "a part of me was like – crap – I don't know if I can pass this test!" he said. "It was HARD. And Lupe had no choice but to be brutal with us – we had to do this to the letter. I was scared – and when I passed, I went outside and was crying. I really wanted it that desperately."
Which is harder? CTI or ACT?
The installers had varying opinions on which test was harder. Leonard noted that the skills that are tested in the CTI exam are things he was used to doing day in and day out. "It wasn't that the ACT exam was harder – it was that things were foreign to us."
The mental game was tough for McDaniel. "Mentally, the ACT was harder for me," he said, citing about two minutes of pure panic during taking his CTI exam. "I felt that way the entire three hours I was taking the ACT!"
Foster chimed in that for him, the CTI test was the bear, and he didn't pass the first time through. "I missed the layout and was frustrated with the outcome," he said. He flew to Vero Beach to retake the hands-on test – "which I passed – thanks John Roberts and JD McIntire."
Lima added, "For me this was much easier than the CTI test; I float every job I do. But the CTI test really is the hardest 25 ft. you'll ever do in a day. Your time management has to be on point for sure."
Testing under a microscope
The environment was a challenge as well. "Working under the stress of having a live audience – cameras and live audience and video," Leonard said. "We had to wear goggles, knee pads, and only one earplug [to observe safety guidelines]. It wasn't a friendly environment."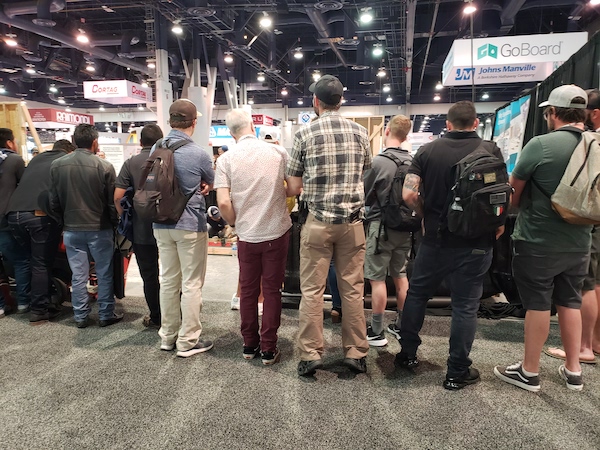 Foster agreed. "The only thing that worried me about the ACT was IT BEING AT COVERINGS IN FRONT OF A CROWD," he said. "I had not touched a hawk and trowel in six to seven years, other than playing with them at the Mud Event at Tile Trends! On test day I was not too concerned, as I had the chance to play helper to Jason and Carl the previous day."
But Lima was jazzed about the venue: "Man what a fun experience it was taking it at such a huge show!" he said. "The toughest part of the test for me was staying focused on the task at hand and not the 50 or so people watching. Coming into the Coverings show knowing you will be on center stage was a bit nerve racking, but once you start working it was just another day in the office."
Another stressor was a wee bit of braggadocio expressed on social media. "I was saying on social media I'm going to crush this test," McDaniel said. Leonard quipped, "I had the same feeling but I just shut my mouth. I've got nothing to prove to anybody. I just prove to myself and I just keep quiet."
But some vulnerability and open sharing is a good thing, according to Lima. He noted that he, Foster, McDaniel and Leonard all post in Facebook tile groups. "By doing this, we push each other to do better work. If it wasn't for these groups I would have probably hung up my trowel and moved to a different line of work; I was burned out. Since joining and seeing all the tile guys around the globe, I now have more of a passion to keep pushing on then I ever have. It was great taking this test side by side with them and I encourage others to do so as well."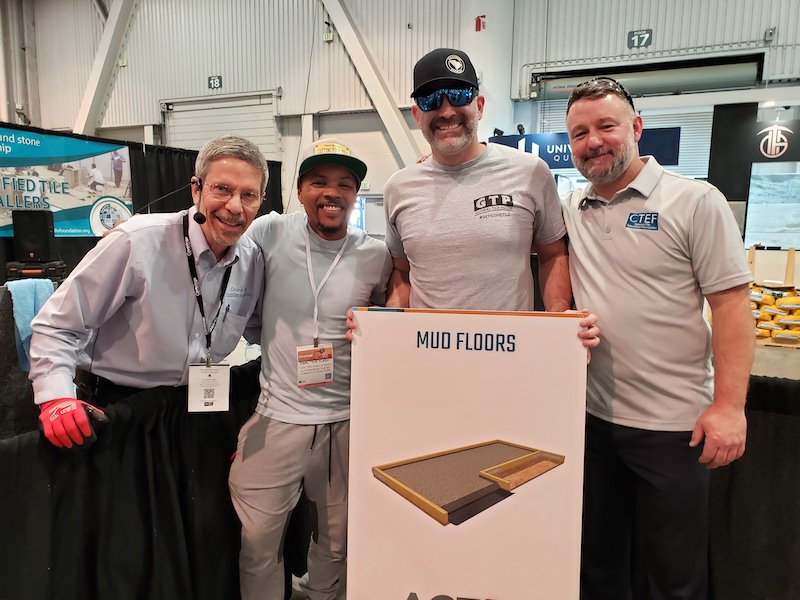 McDaniel and Leonard agreed that it would have been a good idea to prepare better. "We were busy at the time and didn't prepare the way we should have," Leonard said. "We should have watched some tapes, and dug in. It's almost like a fighter coming out of retirement thinking, 'Dude, I got it!' We didn't do the homework on our opponent."
All the new ACT certified installers wish to pursue further ACT credentials. "I'm excited to take the next step. I know what I'll do differently when I do the next part. Really just familiarize yourself – educate yourself – before you step into the ring," Leonard said.
McDaniel talked about an upcoming multidimensional event in Denver called TileStock that will have ACT exams, and he's scheduling his further CTEF evaluator training at the South Carolina headquarters. "If they have more ACTs next year [at Coverings], I would do it again," McDaniel said. "Probably not mud walls, but large-format tile or something like that." Muddawg Lima though, said he's eager to tackle mud floors next time around!
"We wanted to show people it's okay to run up against adversity – it's how you respond to it," McDaniel said. "We can fail this, and still come out on top."  
---
NTCA launches Thick-Bed Regional Training in Columbus, OH
The National Tile Contractors Association is launching a brand-new training module in its Regional Training program: Thick-Bed Installations. This program will debut at America's Floor Source in Columbus, Ohio on August 26, 2022.
Thick-Bed Installations Regional Training is open to NTCA members and other professional tile contractors and installers, with a class size capped at 20. Led by highly-qualified and experienced NTCA trainers and supported by a team of tile industry experts and partners, instruction will be given in both classroom and hands-on environments to address real-world tile system installation challenges. Attendees will learn how to use and apply ANSI A108 installation standards and TCNA Handbook methods.
The primary learning objective is to become familiar with the flexibility of dry-pack mortar beds to resolve a wide range of installation challenges and to achieve tile industry standard substrate requirements. Focus will be on thick-bed installations for floors and shower pans, using a variety of drain types and membranes, with additional instruction on wall installations.
Attendees should anticipate beginning the training day with a short classroom-type presentation followed by a full day of hands-on, attendee-involved instruction. Attendees will receive new skills they can apply to many types of tile installations and a deeper understanding of time proven methods, materials, tools, and techniques.
For details on this free program, to register, and to join the wait list for future Thick-Bed Regional Trainings, visit https://bit.ly/3ttWgeB at the NTCA Events Calendar website. Or read more information on the TileLetter website at https://bit.ly/3HUmcX2.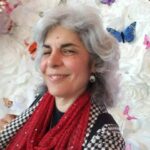 Editorial Director and Senior Writer for TileLetter and TileLetter ARTISAN
Lesley Goddin has been writing and journaling since her first diary at age 11. Her journey has taken her through a career in publishing and publicity, landing her the editor position of TileLetter and its special publications in 2006. Her goal is to educate, inspire, recognize and encourage those in the tile industry -- especially the tile and stone contractor. Other interests include the soft, purring marvels known as cats, labyrinth walking, drumming and percussion, and a range of spiritual, musical and artistic pursuits.