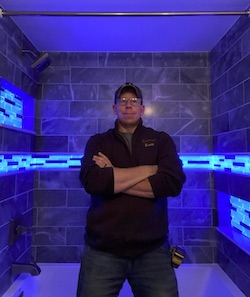 Robb Olson, Owner of Footprint Wood & Stone in Lakeville, Minn. (footprintwoodstone.com), runs a complete surface installation company for floors, countertops, showers, tub surrounds and backsplashes. Footprint provides old world craftmanship, reliability, and friendly service to residential, and commercial clients in the Twin Cities metro area.
In describing his company, Olson – who is the newest NTCA State Ambassador for Minnesota – references the two opening definitions for "footprint."
He said, "I like to believe that these two definitions sum up the core of what I am about as a flooring contractor and have helped me stand out in my clients' eyes. Just as a foundation and everything inside that footprint adds to the stability of a building, knowledge is the foundation that adds to the stability of a successful contractor. That's why I focus heavily upon continued education, training and product knowledge.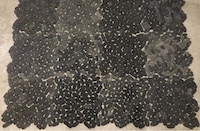 "The second definition hits closer to home for me because it's my goal to not only leave an impact on the homes I work in but to also create a good impression upon the lives of the families I work with," he continued. "Whether it's modifying a bathroom to fit the needs of someone struggling with a disability or creating a client's dream bathroom that they have been planning for years, seeing them smiling at the end of the project and having them refer me to their friends and family tells me I'm doing something right."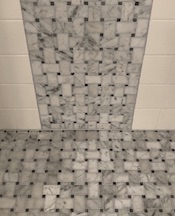 Olson has been a member of the National Tile Contractors Association (NTCA) for 3-1/2 years, "primarily to be able to take advantage of the education and training opportunities that they offer as well as to be able to have a voice in how the industry develops." Olson finds tremendous value in the NTCA Members Only Facebook group. "It's a great group where members can ask technical questions and get answers from other members, some of whom even have a hand in writing the installation methods within the TCNA Handbook."
Learning and getting information is important to Olson, who admits that before the rise of online tile forums and Facebook, other installers were extremely protective about technical tips and business strategies for fear of giving away their secrets to the competition. So knowledge was hard to come by during the first decade of his business in the early 2000s.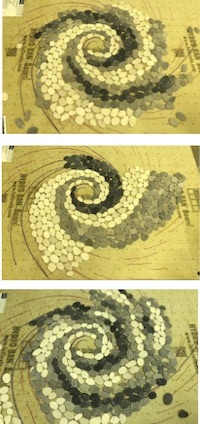 "I was so blown away by the wealth of information, sharing and general helpfulness when I found the tile forums and subsequently the Facebook groups, that I started and now run a Facebook tile group for the state of Minnesota called Minnesota Tile Collective," he said. "I started it four years ago for professionals in the local tile industry and we now have a great mix of installers, designers, salespeople, showrooms, distributors, and all the major tile manufacturers reps. It's been a great resource for many to share tips, and ask questions. Our vendors can promote upcoming sales and the reps can promote upcoming training events in our area."
Olson passed his Certified Tile Installer (CTI) exam in 2018, and has seen it benefit his business enormously. "In my area, there are no trade licenses or oversight for the flooring and tile industry so homeowners have a hard time knowing whether a flooring contractor is competent," he explained. "The CTI test is the only test that I can take that is judged by an independent third party to show clients that I understand and can demonstrate the principles for a long-lasting install. It's not required to take the test, but it highlights my skill set and shows my commitment to abiding by industry standards in an otherwise unlicensed trade."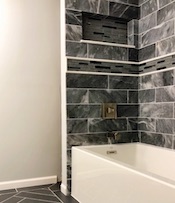 After 2020, repercussions from Covid are ongoing for Olson, but not in a negative way. "If anything, the rise in number of people working from home instead has led to a greater need for more or updated amenities," he said. "I've met many clients who decided to not travel and instead put that money towards home improvements. 2021 is shaping up to be a very good year."
Tile work brings Olson genuine satisfaction. "I enjoy creating; I love having the ability and skill set to take a blank area and a stack of raw materials and assemble them in a way as to create something beautiful, precise and long lasting," he said. "To be able to stand back at the end of the project and see what a dramatic impact my work can have on an area is pretty rewarding."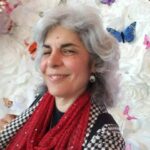 Editorial Director and Senior Writer for TileLetter and TileLetter ARTISAN
Lesley Goddin has been writing and journaling since her first diary at age 11. Her journey has taken her through a career in publishing and publicity, landing her the editor position of TileLetter and its special publications in 2006. Her goal is to educate, inspire, recognize and encourage those in the tile industry -- especially the tile and stone contractor. Other interests include the soft, purring marvels known as cats, labyrinth walking, drumming and percussion, and a range of spiritual, musical and artistic pursuits.