Dalton, Ga. — The Georgia Northwestern Technical College (GNTC) Whitfield Murray Campus opened here in 2019, but last week, the school celebrated a new program with a ribbon cutting ceremony for the 10-week Basic Floor Covering Installation Program at this location. In addition to curriculum and training provided by the Ceramic Tile Education Foundation (CTEF), National Wood Flooring Association (NWFA), and Certified Flooring Installers (CFI), the program is supported by Shaw, Mohawk, Engineered Floors and the World Floor Covering Association (WFCA). All students received a full scholarship from the Floor Covering Education Foundation (FCEF) for the ten-week course.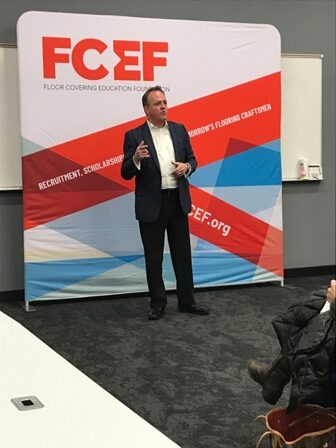 The FCEF website explains that "This 10-week program is designed to introduce students to the four major types of flooring materials and basic installation skills needed to succeed as a flooring craftsman. The program will be held at Georgia Northwestern Technical College's Whitfield Murray Campus in Dalton, Ga."
A training program summary on the site notes that the "program introduces students to the flooring installation industry and equips them with the skills needed to perform carpet, resilient, hardwood, and tile installations. For carpet installation, topics covered include carpet installation tools, proper use of tools, installation of track strips and cushions, measuring and estimating, identifying, cutting, and seaming various types of carpet materials. From there, students move on to resilient flooring topics, including resilient flooring types, moisture identification, cutting, adhesives and grout, dead zone and floating floors, and measuring and estimating. For hardwood surfaces, students will gain knowledge and skills in nail, glue, and floating installation, as well as buffing, staining, sealing, and finishing surfaces. When learning tile installation, emphasis is placed on safety tools, substrate prep, layout, tile cutting, mortar, and grout application. A modeled real-world lab environment is utilized to reinforce and apply learned skills and techniques. Upon successful completion of training, students will gain meaningful employment and receive a Floor Covering Education Foundation (FCEF) Basic Flooring Installation Certificate of Completion from Georgia Northwestern Technical College (GNTC)."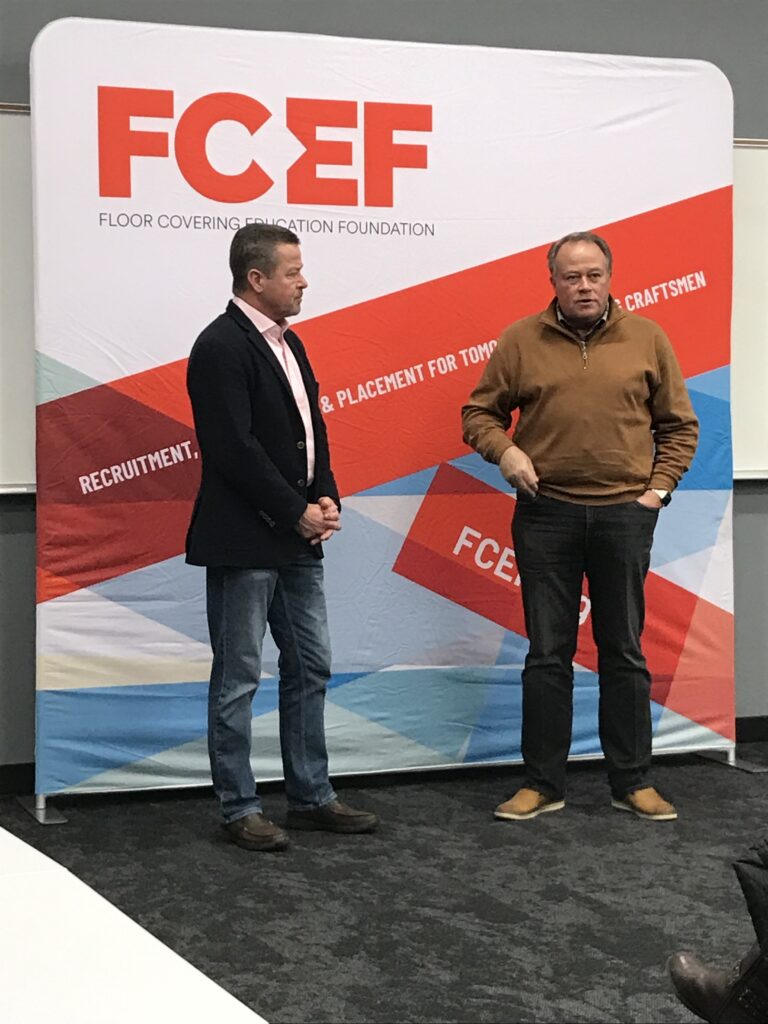 Becky Serbin, Education and Curriculum Director for the National Tile Contractors Association (NTCA) , attended the ribbon-cutting ceremony on behalf of NTCA and the Ceramic Tile Education Foundation (CTEF).
"This class was learning about self leveling underlayments (SLU), with an ARDEX rep on hand to help teach for the day," Serbin said. CTEF has submitted course content for the 2-week tile installation portion of the course.
Dave Garden, a Certified Flooring Installer (CFI) Master Installer, is taking the lead in instructing the course for the first two cohorts of this class, and is working to help secure a permanent teacher for the college. Garden is also certified with the National Wood Flooring Association (NWFA).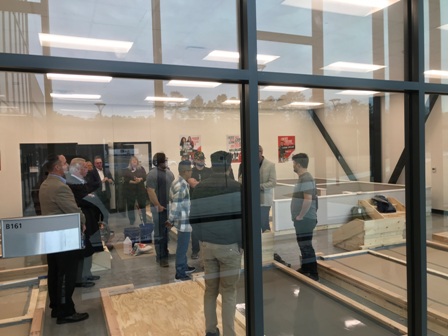 Currently, there are two cohorts planned for training, with schedules as follows:
Cohort 1 (Spring Semester): January 10 – March 18, Monday – Friday, from 8:00 am – 2:30 pm
1 Week of Introduction to the floor covering industry January 10th – 14th
2 Week of Carpet January 17th – 28th
2 Week of Resilient January 31st -February 11th
2 Week Hardwood February 14th – 25th
2 Week Tile February 28th – March 11th
1 Week Review and next steps March 14th – 18th
Cohort 2 (Summer Semester): May 16 – July 22, Monday – Friday, from 8:00 am – 2:30 pm
1 Week of Introduction to the floor covering industry May 16th -20th
2 Week of Carpet May 23rd – June 3rd
2 Week of Resilient June 6th – 17th
2 Week Hardwood June 20th – July 1st
2 Week Tile July 5th -July 15th
1 Week Review and next steps July 18th – July 22nd
For local coverage of the school and this new class, click here. For more information, go to FCEF's dedicated webpage here.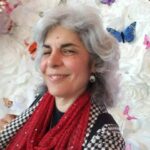 Editorial Director and Senior Writer for TileLetter and TileLetter ARTISAN
Lesley Goddin has been writing and journaling since her first diary at age 11. Her journey has taken her through a career in publishing and publicity, landing her the editor position of TileLetter and its special publications in 2006. Her goal is to educate, inspire, recognize and encourage those in the tile industry -- especially the tile and stone contractor. Other interests include the soft, purring marvels known as cats, labyrinth walking, drumming and percussion, and a range of spiritual, musical and artistic pursuits.