We envision a world where all women can support their families, and seniors can stay in their homes their whole lives.

Hope Renovations' vision
Hope Renovations' Founder and CEO Nora E. Spencer started doing her own home repairs when employed in HR at Lowe's corporate headquarters, eventually expanding her hobby to work with contractors and tradespeople. It was rewarding, but she noticed there was a dearth of women in the trades. 
Ten years later she left corporate life and pursued an MSW from University of North Carolina.

"While interning at a local homeless shelter, I met many women who were completely capable of doing this type of work," Spencer writes on the company website
(hoperenovations.org). "But when I would mention the trades as a potential career path, the answer I often got was, 'Nobody ever taught me how to do that stuff. I always figured it was a man's job.'" The wheels started turning.
During coursework, she discovered that aging-in-place is the fastest growing segment of the construction industry, but labor for small scale work is often tabled in favor of bigger, more lucrative construction projects.
She made a decision to meld the two – equip women with skills to pursue well-paying construction jobs and provide seniors with "a dedicated workforce to complete the repairs and renovations needed to stay in their homes. And, as a bonus, develop a workforce that will help trades employers fill their jobs and get their work done, ultimately helping our economy. It's a win-win-win."
And so in 2020, Hope Renovations – headquartered in Chapel Hill, N.C. – was born!
There are two concurrent programs for the Triangle area of North Carolina:
The Women's Trades Training Program provides hands-on training through an industry-recognized curriculum developed by
the National Center for Construction Research & Education (NCCER), as well as placement assistance into construction trade. The current cohort has seven women.
The Aging-in-Place Repair & Remodel Program benefits seniors and adults with disabilities with small and mid-sized repairs, modifications and renovations they need to stay in their homes for the rest of their lives.
Stats for the programs include:
Trainees worked for 162 people over 55 years old since 2021
Trainee personal confidence increased from 6.6/10 to 8.5/10
42 out of 61 graduates are continuing in the trades (69%)
55 bathroom accessibility renovations have been completed
All employed graduates are earning more than $15/hour
Recruiting women
Kat Reach, Director of Construction Operations for the 501(c)(3) organization, said trainees come to the program through public informational sessions, and through partner organizations. Recruits are "looking for a change of career in an industry that provides a living wage doing work they feel excited about pursuing in a field that has a huge demand for skilled labor."
Trainees receive a stipend to go through the 15-week full-time program, so they don't have to sacrifice an income. They learn the basics of construction skills: carpentry, plumbing, electrical, HVAC, construction math, construction drawings, drywall, and accessibility modifications. "Tile setting is covered during the on-the-job learning portion of the training program when the trainees come out on site with our construction crew, which specializes in aging-in-place renovations for adults 55+," Reach said. "Tub-to-shower conversions are our 'bread and butter,' and tiling is a key part of the work we do with those projects."
The goal is for trainees to be hired by a local construction employer or enter a paid apprenticeship program or continue education in the trade trainees are most passionate about. Hope Renovations helps trainees network with employers and tradespeople, make connections with community colleges, nurture resume building and interviewing skills and provide career coaching.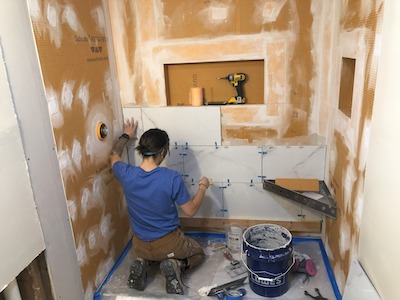 Enter iQ Power Tools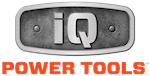 The powers that be at iQ Power Tools, manufacturer of premium power tools with integrated dust collection systems, thought these programs were a stellar ideas.
"Our firm has taken great strides to support education programs within the construction industry," said Jim Mackall, iQ Power Tools President. "From masonry to landscaping, tile to stone, we believe that investing in these trades is not only an investment for our organization…but also, one for the communities in which these organizations serve."
To provide support, iQ made a major donation of its unique products to Hope Renovations.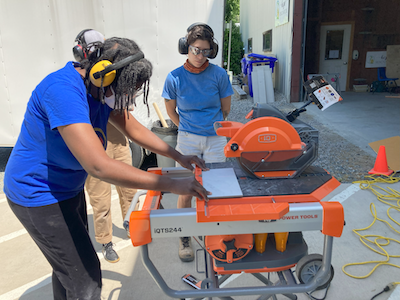 Making the connection
Bryant Figueroa, iQ's Marketing & Creative Director, said iQ met Spencer in 2022 at the International Builders Show in Orlando. "The organization was making great strides within their community. And with its two-fold cause, we clearly wanted to get involved. Clearly, the teaming of a women's trades training program and an aging-in-place repair and remodel program is brilliant."
Spencer – who was recently named National Association of Home Builders "Woman of the Year 2023" – exclaimed, "I was obsessed with iQ's dustless tile saw, and really excited to reconnect with them again at the Builders Show in Vegas. "In fact, that was one of the first things our Director of Construction asked me when I got back…'Did you get us one of those tile saws?'"
Not only did Hope Renovations receive one of "those tile saws," but they were presented with two iQTS244 10″ Dry Cut Saws and an iQ426 HEPA Cyclonic Dust Extractor.
iQ provides dedicated training support
Figueroa added, "It's not just about donating tools. It's about the training aspect of it, as well." iQ's Vince Hollis delivered the equipment personally, followed by an engaging and most professional equipment training session. For some of the trainees, this was their first time working with a tile saw.
"The wonderful gifts from iQ are real-game changers for our organization," stated Reach. "Not only are we able to save time and money passing those savings to our seniors; we are concurrently providing a safe work environment from the hazards of silica, for our team and the homeowners."
"Teaching is imperative to our industry as a whole," Mackall said. "If we can help offset some of the costs for these organizations, communities and students, it becomes a win-win for everyone.
"iQ Power Tools recognizes that students who work with innovative, safe, and efficient tools during their studies, will be motivated to demand these very same products during their forthcoming careers," he concluded.