Precise-cut stone tiles offer easy installation and versatile arrangement options to create dramatic walls indoors and out
Hand-selected for texture and color,
Island Stone
 natural stone
Strip Cladding
 tiles combine an endless arrangement of options to create the beauty of a solid stone wall. Each perfectly rectangular tile is precision-cut with the utmost attention to detail, allowing for easy dry-stack application without a grout joint. Strip Cladding installations transform simple indoor or outdoor spaces into exotic, contemporary settings."Each stone is simple in its own form—unique and handpicked, then hand-cut by our team of specialists," explains Paul Sepulveda, National Sales Manager for Island Stone. "Strip Cladding's true magic is revealed in combination, as the tiles form a wall of dimension and movement that changes subtly with the light, catches the eye, and immediately sets the home or hospitality environment apart."
Strip Cladding comes in a Natural face or Marble Craftline, a chipped face that produces a rugged texture in linear form. The Natural face tiles are available in Himarchal White, Sandstone Mint, Golden Slate, Copper Quartzite, Silver Quartzite, Himarchal Black, and Volcano Grey Marble.  Meanwhile the Marble Craftline surface colors are comprised of Rice White, Bali Cream, and Exotic Sands. But whether in the natural or rugged texture, the tile surfaces reflect light, enriching the color of the raw material. Each tile measures 2" by 11 3/4", with a depth of 3/8".
Island Stone's Quarried Stone Cladding includes 14 exotically colored and textured stone variations that open a new dimension to designing modern surfaces.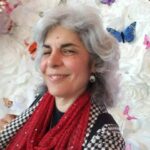 Editorial Director and Senior Writer for TileLetter and TileLetter ARTISAN
Lesley Goddin has been writing and journaling since her first diary at age 11. Her journey has taken her through a career in publishing and publicity, landing her the editor position of TileLetter and its special publications in 2006. Her goal is to educate, inspire, recognize and encourage those in the tile industry -- especially the tile and stone contractor. Other interests include the soft, purring marvels known as cats, labyrinth walking, drumming and percussion, and a range of spiritual, musical and artistic pursuits.