Technology enhances
surfaces, realism

Though any good tile exhibition will present a range of product from the tiniest mosaic to sprawling slabs, Coverings '19 was rife with products that ran 12 x 24 and larger. The new "standard" popular size is now 12 x 24 in fact, but we're seeing a range of 24 x 48, 28 x 48 and larger formats coming into vogue. 
Digital printing techniques get more and more sophisticated, with "sinking ink" applications that allow the decoration to penetrate into crevices, veining, nooks and crannies, producing an even more authentic appearance. 
Following is a range of products that celebrate the new large sizes, slab product or setting materials that are necessary to create an installation as beautiful and durable as the products themselves.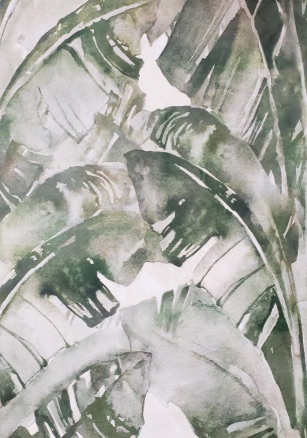 Cotto D'Este – The company's 3.5mm Kerlite Wonderwall line offers digitally printed graphics on rectified porcelain that measures 39 x 39 up to 30 x 118 slabs. A range of graphics from flowers to forests to jungles (pictured) to gentle geometric designs and more are available.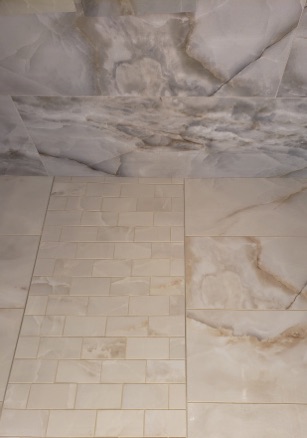 Milestone's Onyx comes in matte and polish in five colors and 12 x 24, 24 x 24 and 24 x 48 rectified color body porcelain. The High Definition Graphic imparts a sense of depth that is rare in matte products. With 40% recycled content, this Italian tile is made in the USA in Clarksville, Tenn.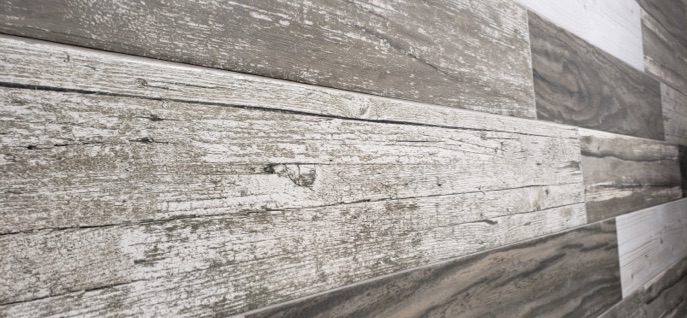 Vitromex – Made of Vitromex's red-body CeraCore+ ceramic body in a new 7 x 40 plank format, Barque gets its inspiration from the rough, weathered wooden planks of a ship ("barque" in Spanish). In Chestnut Brown and Ember Grey (pictured), the planks have a range of variation within the box for a highly natural effect.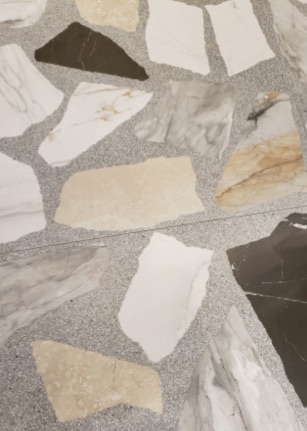 Vives – The Resort collection features a wide range of nominal designs and patterns and sizes. The Nikoi series comes in nominal 48 x 48 and 8 x 48 rectified formats.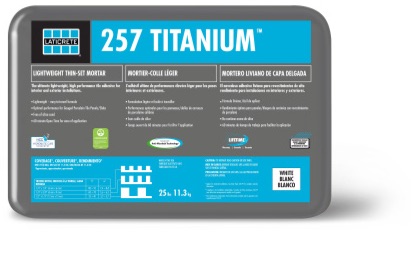 LATICRETE – 257 Titanium is the ultimate, lightweight one-step, polymer fortified, thin-set mortar that is ideal for the installation of gauged porcelain tile panels/slabs (GPTP) as well as for interior and exterior installation of ceramic tile, porcelain tile, stone, quarry tile, pavers and brick. Plus, it is free from silica sand.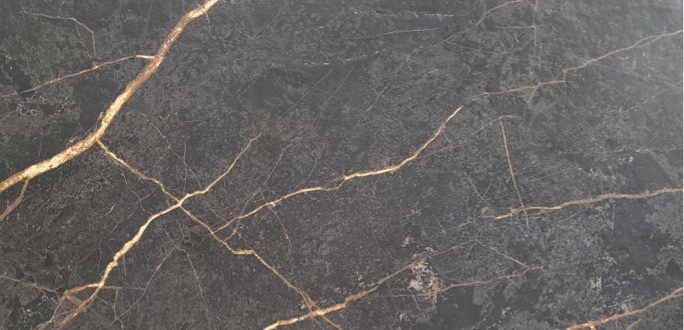 Ariana – Epoque in the Ariana brand offers stunning effects in six marble varieties and five sizes including 12 x 24, 24 x 24 and 24 x 48. All sizes come in natural finish and the two largest sizes also are available in lappato/honed. 
Marazzi's Merona features a new 8 x 40 plank format in four colors with Stepwise anti-slip technology. It's shown with Basalto on the fireplace surround, which comes in large sizes up to 24 x 48.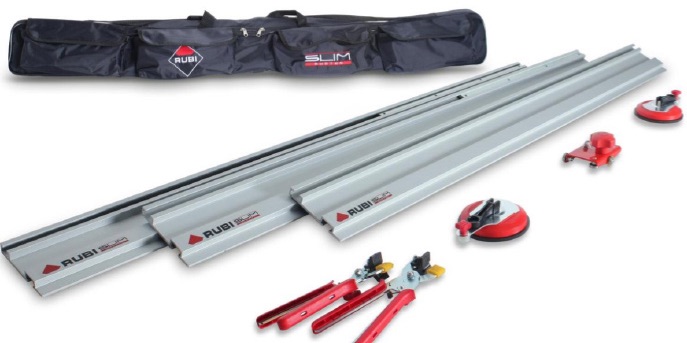 Rubi Tools – Manufactured in Barcelona, Spain, the Rubi Slim System offers a scoring rail, sturdy table and nippers for work with large-format tile and gauged porcelain tiles. It's designed specially for porcelain tiles on the market of up to 9.84 ft by 3.94 ft and between about 1/8" and 3/8" thick.
The set consists of: three 43.30" aluminium guides, one scoring wheel with a Ø 7/8" tungsten carbide roller guide, two breaking pliers, two suction pads and a reinforced nylon carrying case.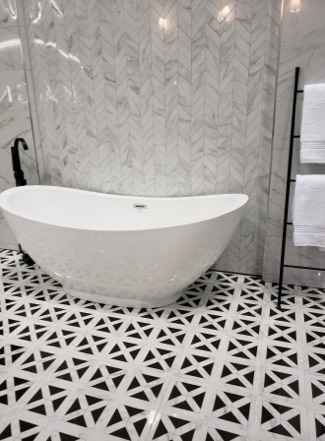 American Olean – Ideology, a new stone look-alike porcelain, comes in 24 x 48, 24 x 24, the ever-popular 12 x 24, 4 x 12 planks, herringbone accent and 24 x 24 black and white polished decorative accent. Shown is Carrera marble; it also comes in vein-cut Calacatta and Lasa.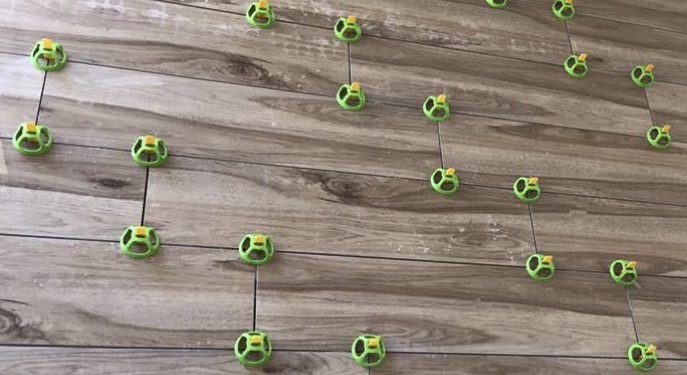 Miracle Sealants – Recently purchased by Rustoleum, Miracle Sealants' Levolution lippage control system has a reusable cap that applies pressure to all four tiles that meet at a corner. The adaptable profile can be broken off and customized to the needs of the installer.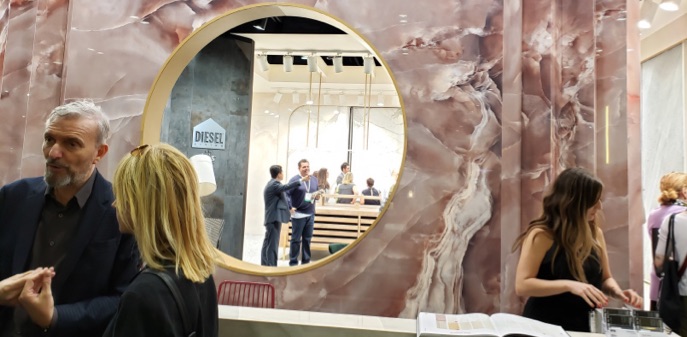 Iris – A stunning example of the power of large slabs was the Iris booth that featured 120 cm x 60 cm (nominal 48 x 24) Onice Malaga gauged porcelain tile panels in a mesmerizing display of cuts and angles.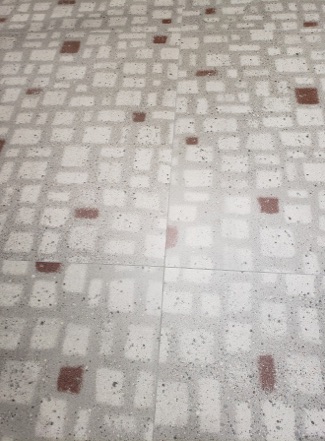 Leonardo – Overcome is a new 48 x 48 terrazzo-look full-body porcelain. It features a digital dry decorating technique. Available in 24 x 48, 24 x 24 and 12 x 24.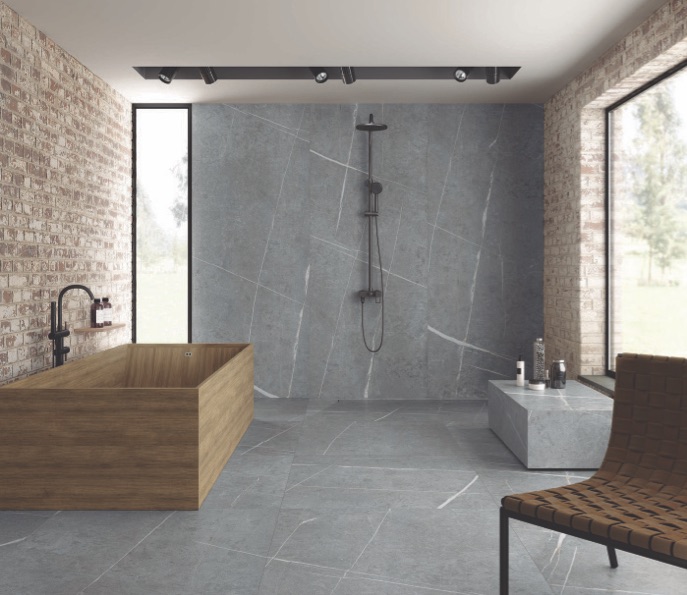 Inalco – Senda, in the SLIMMKER line, features grey brushstrokes of color on a gentle stone-like relief texture porcelain tile. Delicate, versatile and with a magnetic appeal in 6mm thickness, sizes range from nominal 40 x 40, 40 x 99, 60 x 60 and 60 x 118.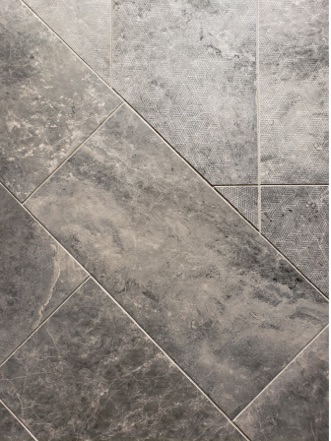 Florida Tile – Modtique
HDP color body rectified porcelain floor and wall tile comes in three colors in 8 x 48 planks and 12 x 24, 24, x 24 and 24 x 48 formats. This U.S.-made tile is inspired by European Antique stones in modern colors. 
Crossville – Large-format Alaska has a matte terrazzo look with a shimmering fleck that adds interest and depth. The line has five versatile colors ranging from light to dark in 24 x 48, 24 x 24, and 12 x 24 field formats, with two mosaic options, bullnose and cove base trims. Alaska will be released later this year.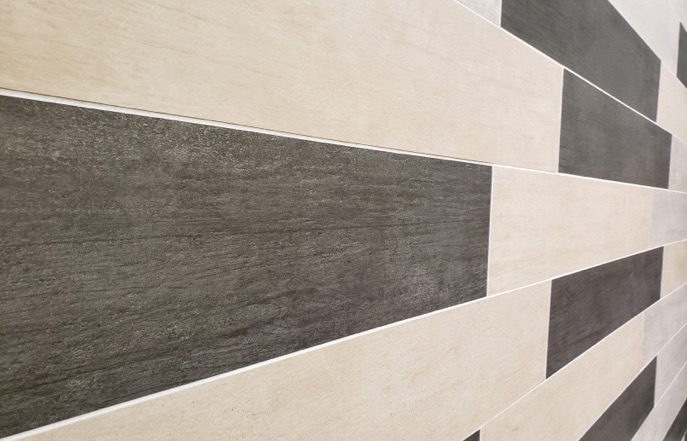 American Wonder Porcelain – U.S- made Avaro porcelain planks come in 6 x 48 and 8 x 48 lengths in Dove Grey, Natural Beige and Dark Timber. The factory also offers Asher porcelain in matte and lappato in 8 x 48, 12 x 28, 12 x 24, and 24 x 48. Asher has Traction Enhance Technology which actually increases the DCOF when water is applied.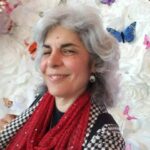 Editorial Director and Senior Writer for TileLetter and TileLetter ARTISAN
Lesley Goddin has been writing and journaling since her first diary at age 11. Her journey has taken her through a career in publishing and publicity, landing her the editor position of TileLetter and its special publications in 2006. Her goal is to educate, inspire, recognize and encourage those in the tile industry -- especially the tile and stone contractor. Other interests include the soft, purring marvels known as cats, labyrinth walking, drumming and percussion, and a range of spiritual, musical and artistic pursuits.