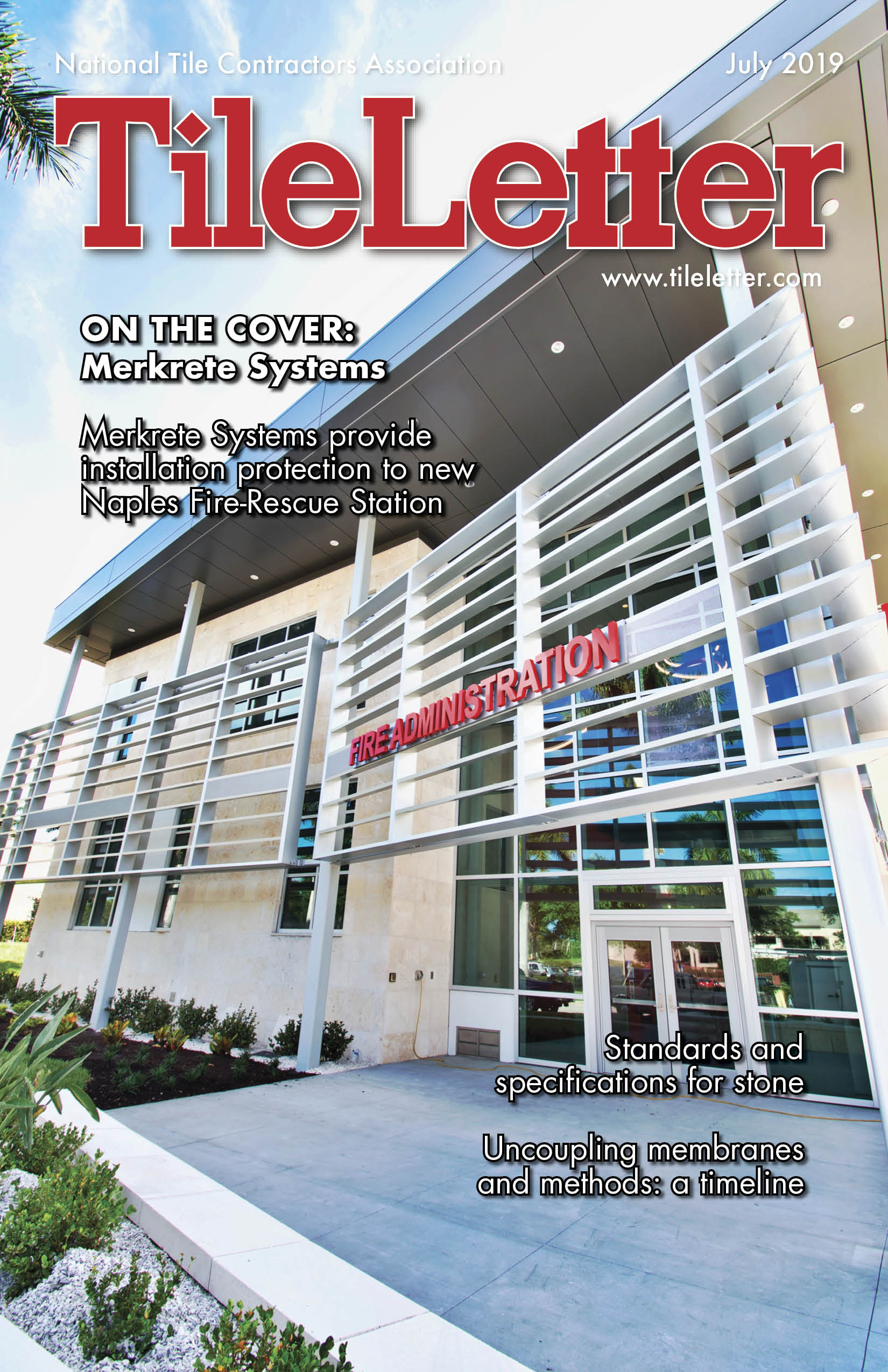 Rescue is one of the most important functions of every fire department. From day one in recruit school, firefighters are trained that life safety is the number one priority. It is a job responsibility that requires continual preparation.
It was not too long ago that mentioning rescue in the fire service meant that someone was typically saved from a fire. Today, rescue comes in many forms, which include responding to vehicular crashes, hazardous materials incidents, and a host of other rescue scenarios such as swift-water, ice, confined-space, structural collapse, or any situation that requires removing someone from harm's way. 
There are some basic premises that apply to all these potential events and some special preparations for the unique challenges that they may present. Time is critical in rescue situations to contain fires, and transport victims of fire and serious injury incidents to appropriate facilities within a specific time-period or potentially face negative outcomes. Whether it's police officers, firefighters, first responders, or 911 dispatchers, many dedicated Americans work long hours, and often in difficult conditions, to make sure that when someone is in need, they are there to help.
Naples opens new fire-rescue station and emergency ops center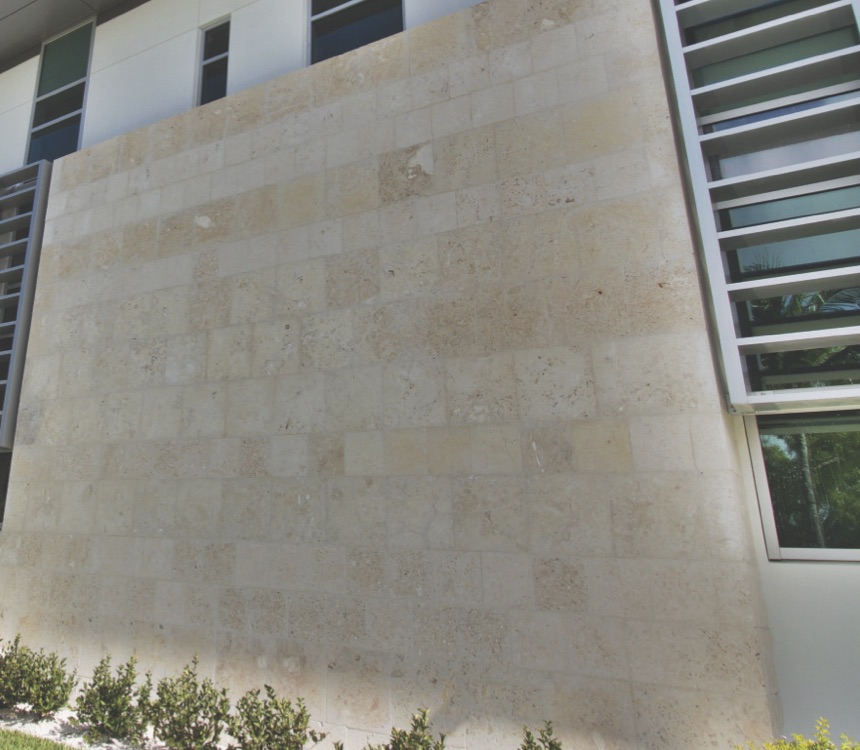 The Naples Fire-Rescue Department received a massive upgrade last May with the new Fire Station No. 1. The first visible sign began on August 14, 2016 involving the demolition of the old Fire Station No. 1 at 835 Eighth Ave. in Naples, Fla. The razing took about 30 days, clearing the way for a new $6.5 million, two-story, 22,600-sq.-ft. fire station, administrative headquarters and state-of-the-art emergency operations center. 
The new building exceeds FEMA 100-year flood zone levels, has the ability to withstand Category 5 hurricane wind levels and is also the most cost-effective way to get operations and administrative staff all under one roof. This new fire-rescue station will provide critical infrastructure to the city of Naples and will meet the city's public safety demands for at least 50 years.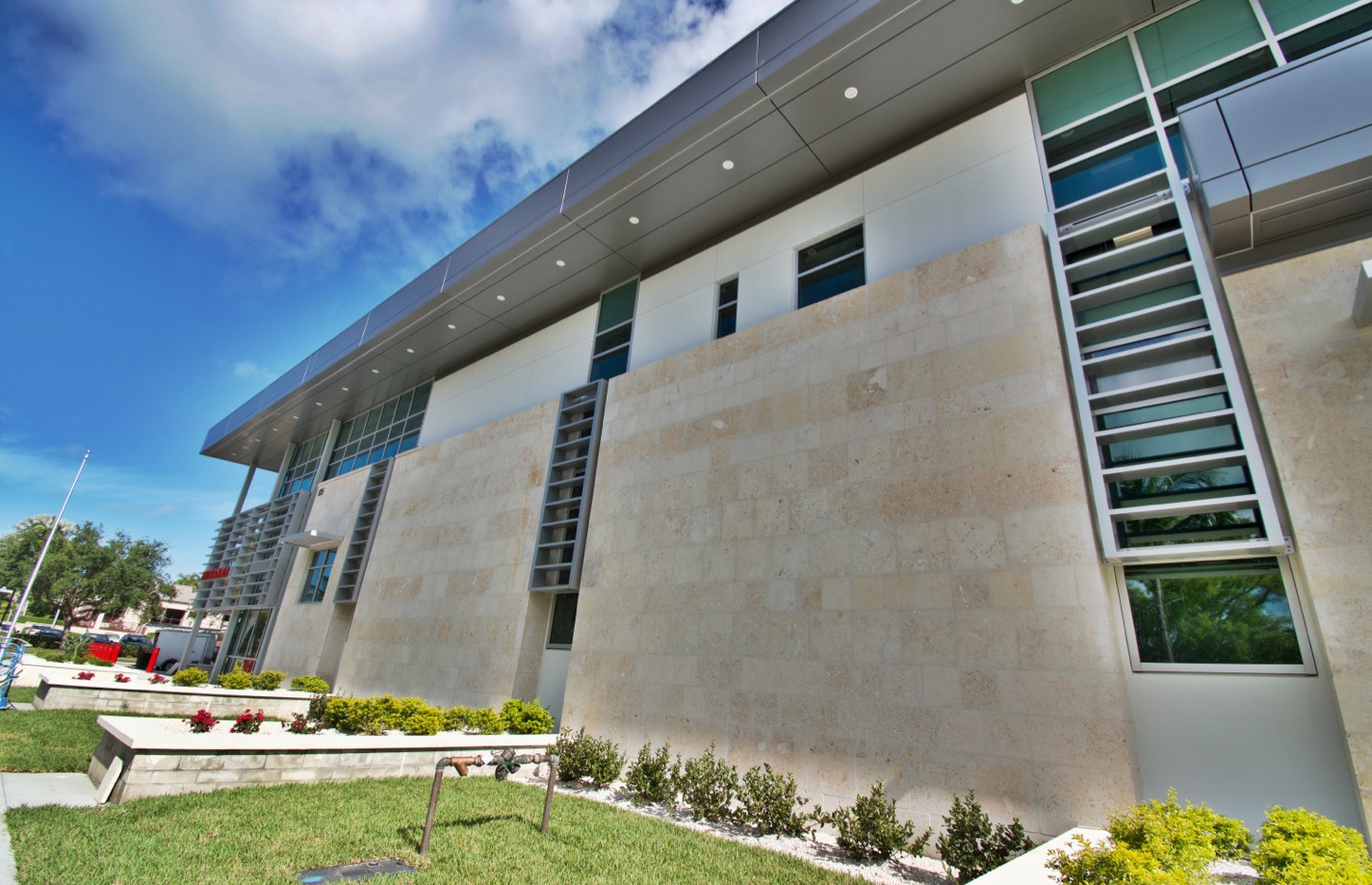 Developed in collaboration among Manhattan Construction, Creative Stoneworks and Architects Design Group, the new building includes three and a half apparatus bays and associated apparatus support spaces, Battalion Chief office, bunk, and restroom. It also contains general facility functions such as kitchen, dining, report writing, physical agility, dormitories, restrooms, showers, and equipment storage spaces. Fire administration is located on the second floor and includes an Emergency Operations Center and multipurpose room.
Vision and
functionality
come together
When Creative Stoneworks was approached by Manhattan Construction to supply the high-performing materials they required, Creative Stoneworks knew they would need a trusted and top-quality installation system to comply with the high-standard building codes and ensure a job well done. Upon reviewing the scope of the project, all answers pointed definitively to Merkrete, the leader in waterproofing, crack isolation and setting materials technology. 
Creative Stonework's tile installation on the exterior of the new Naples Fire-Rescue Station consisted of approximately 10,000 sq. ft. of 24 x 24 x 1.5 inch Coral Stone. 
A hurricane-proof solution secures the deal
John McIntyre, Technical Sales Representative and Tim O'Hara, Territory Sales Representative from Merkrete submitted a complete installation system including Merkrete Hydro Guard SP-1 waterproofing, crack-isolation and air-barrier membrane, and 855 XXL LHT Mortar, a high-performance setting mortar, providing excellent non-sag characteristics for vertical stone applications in exterior conditions. This sole-sourced Merkrete installation system was submitted and approved by the architectural and design team at Architects Design Group, and the Merkrete team was available as a resource for the project to answer any questions or address concerns relating to the installation system as recommended from Merkrete.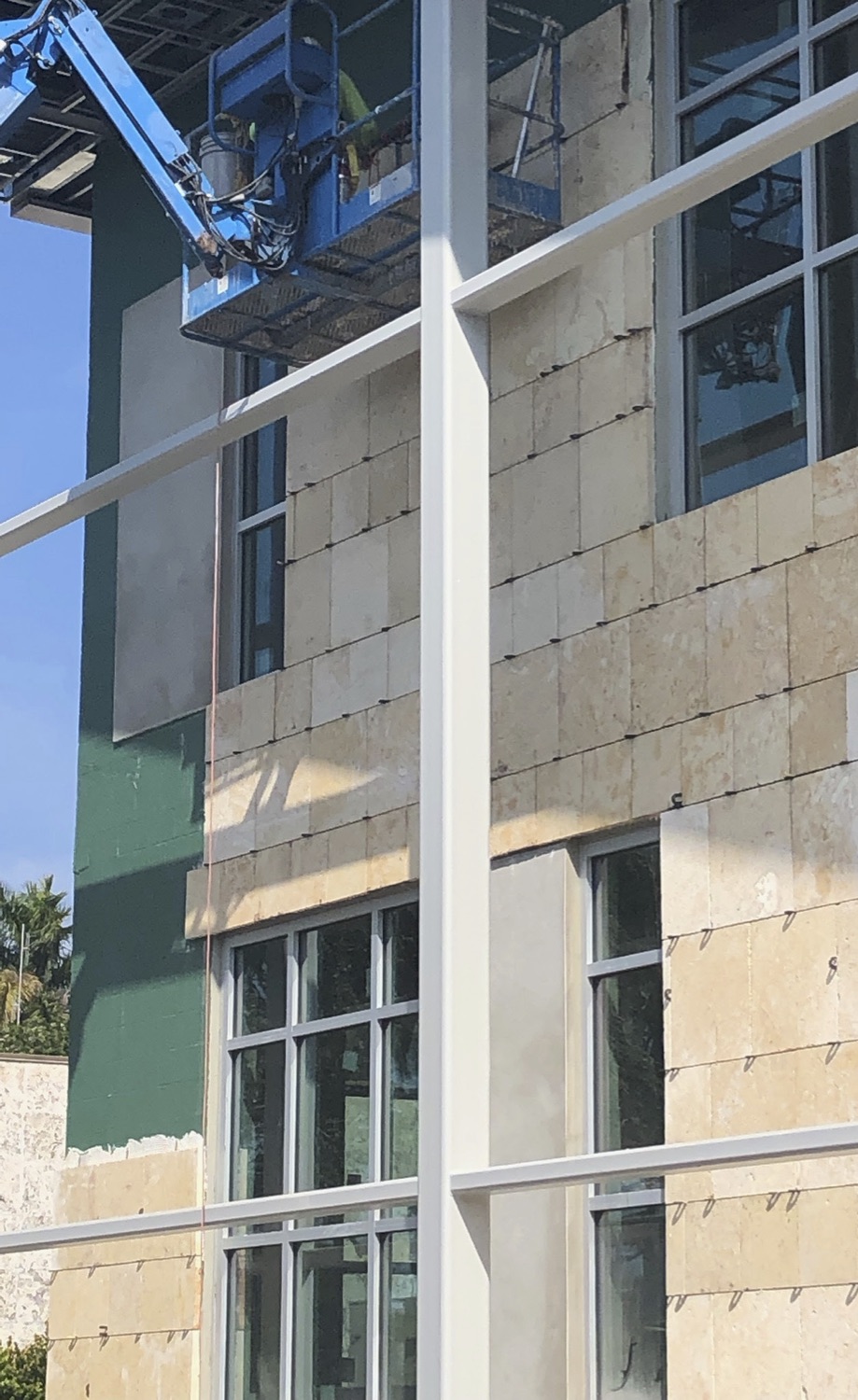 The specifications called for crack-isolation, waterproofing and air-barrier on the exterior parts of installation to meet the new FEMA FIRM map elevations, as well as updated code that required wind and impact-resistant design.
Combined with an aggressive project schedule, work began using Merkrete Hydro Guard SP-1. The liquid-applied, fast-drying Hydro Guard SP-1 combines crack isolation up to 1/8" and a waterproof system to enable crews to prepare the substrate for setting tile at a faster pace. Hydro Guard SP1 contains excellent elongation, adhesion and high-strength properties providing a 100% waterproof membrane that prevents the transfer of substrate cracks to the finished ceramic or stone tile surface. "Merkrete's liquid membranes have been a staple in the industry for many years and we rely on its performance," said Eric Gubelman, Creative Stonework General Manager.
There is no doubt that setting these large tile and stones on a vertical surface presents their fair share of installation challenges due to the tight tolerances used to maintain the beauty of the tile and overall aesthetic of the installation. So, selection of the setting material is critical, especially when installing large-and-heavy tile (LHT). LHT Mortars are not for leveling or truing the substrate, instead they are intended to help fill the irregular space between the tile and the underlayment. 
Merkrete proved the perfect match for a specific challenge again, considering the strength of the mortar it called for. "We used large-and-heavy natural stone, which requires a mortar with a super-high bondability that can handle the weight of the panels," says Gubelman. John McIntrye adds, "Merkrete 855 XXL is a high-performing, multipurpose, polymer-modified setting adhesive for installing extra-large-format porcelain, ceramic tile and natural stone for both floors and walls, and can be used as thin or medium bed setting adhesive for stone. Merkrete proved it could hold its weight allowing Creative Stoneworks the versatility they required."
Creative Stoneworks' preferred mortar is MERKRETE's 855 XXL LHT Mortar for these types of applications. "The smooth and creamy material makes for easy spreading, especially when speed is a factor," says Gubelman. 855 XXL LHT Mortar works great for both floors and walls and offers high strengths and flexibility.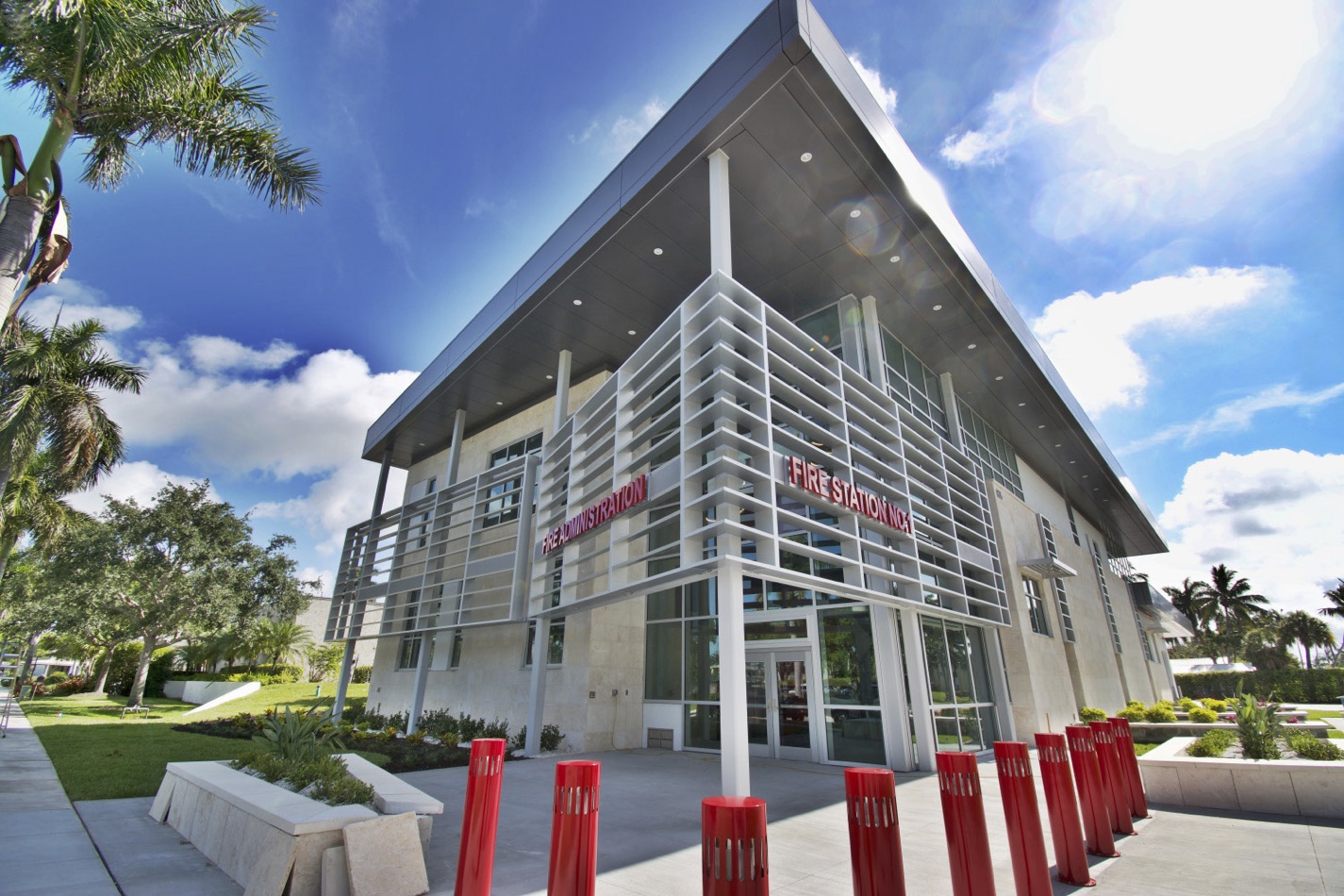 Broad reach supports
responsiveness
It was critical that Creative Stoneworks chose a company who would be able to get the products delivered when required and the job completed on time. Merkrete is a member of ParexGroup, one of the largest companies and a worldwide leader in tile setting materials, façade finishes and technical mortars, established in 22 countries with 68 manufacturing plants and over 4,100 employees. "Merkrete was perfect for this project's requirements, because we have plants and distribution centers all over the country, so our turnaround time and ability to get products from our Haines City, Fla. location to the job site were no problem," says O'Hara. 
The Naples Fire-Rescue Department moved into its new home on May 1, 2019 to proudly protect and serve its community. Many thanks to all police officers, firefighters, first responders and military personnel who dedicate their lives to provide comfort and safety to all of us!