February 15, 2022 (Exmore, Virginia) …..New Ravenna, America's premier designer and manufacturer of mosaics for residential and commercial installations, is pleased to present Heyday™ by Cean Irminger, the third edition of her KIDDO collection. The 11 designs are handcrafted in Virginia of stone and Glazed Basalto™. The materials in the collection have been honed, polished, and tumbled to create varying textures. Several designs are accented with metallics, including brass and "Aurum," which is Basalto Orvieto with a hand-glazed 24k gold overlay. Heyday is a reconnection to the innocence of childhood in joyous color and classic black and white.

Cean Irminger, New Ravenna's creative director, says of her new designs, "Heyday is a love letter to the enduring delights of childhood. The worldwide shutdown that began in the spring of 2020 was a time fraught with anxiety and stress, but along with these heavy hurdles there was an unexpected nugget of joy: the time spent with my family that I would not have had otherwise. Quite suddenly, my husband and I became our daughters' sole teachers, playmates, and confidantes, and we scrambled to find ways to teach and engage with our girls. We spent our newfound quality time going back to the basics. We wandered into nature to find inspiration, read comics together, tie-dyed whatever white bits of cloth we could find, and played simple games that never go out of style. It was amazing to see that these same activities that I loved decades ago and that brought me such a wonderful dose of nostalgic comfort were just as important and special to my daughters, and it made me think about the things we never grow too old to appreciate. Together, we discovered beautiful sights in nature like the dances of fireflies or the phases of the moon, we worked together to keep a balloon from touching the ground, and we set up dominoes just to knock them down. This collection captures those innocent moments of play and awe, providing a portal out of the mundane, stressful duties of adulthood into the simple magic of childhood."
Memories that transcend our youth are found in the irresistible overlapping shapes of Balloonacy, slap happy Dominotion, and in Dottie, the original Ben-Day comic book dots. The textiles represented in Crewel World, Granny Squares, and To Dye For transport us to an imaginary world of embroidered animals, the nostalgic comfort of cherished baby blankets, and the giddy surprise when a rainbow of tie-dye is unfurled. There is endless fascination in the night sky, from chasing fireflies in Night Lights, to rhythms of the waning and waxing moon in Phase to Phase. The leap from the childhood favorite Snakes and Ladders to classic Greek Keys is resolved by geometric reptiles in Snakey 7 1/16″ and 5″ Garter Snakey. In the majestic Behemoth, the humble moth is elevated to a kaleidoscopic medallion of vibrant wings.
Irminger uses multiple finishes to create unexpected texture. The inclusive geodes of Glazed Basalto capture the feel of a cratered moon in Phase to Phase. Glazed Basalto squares are tumbled to create the illusion of woolen crochet knots in Granny Squares. In Night Lights, all the material is honed except for the phosphorescence of the fireflies, achieving a diffused atmosphere with a pop of polished Aurum. The honed "Cosmos" field in To Dye For replicates the rumpled feel of a freshly unwound piece of tie-dye cloth. In Crewel World, layered "Tatami" mosaic stalks accent a honed background, emulating an embroidered woolen stitch weaving through a field of linen twill.

The mosaics in Heyday can be installed on walls and floors, indoors and out. New Ravenna mosaics are available at showrooms throughout the United States, Canada, and Europe. www.newravenna.com  #757.442.3379
####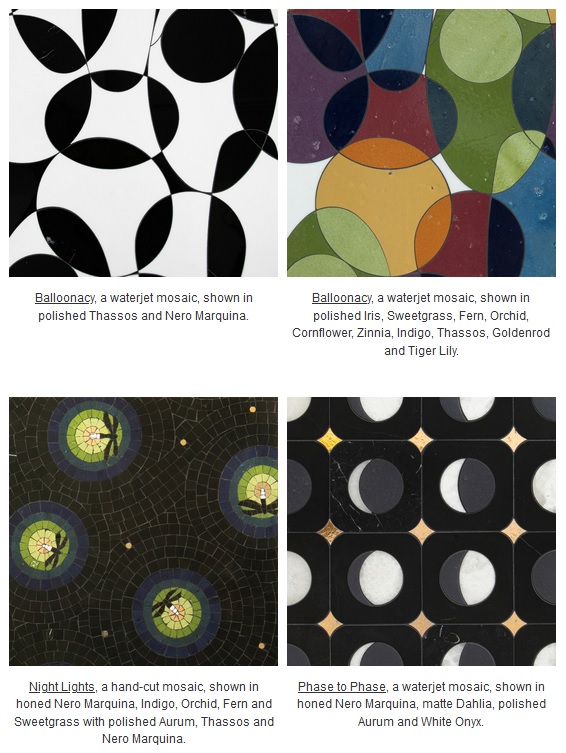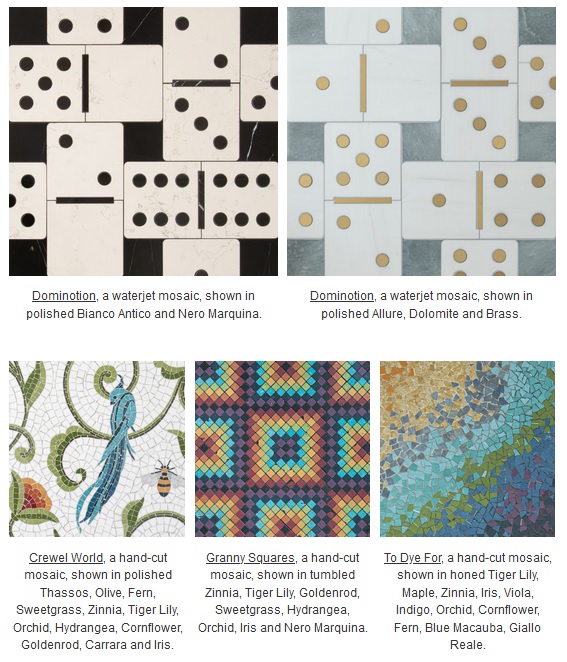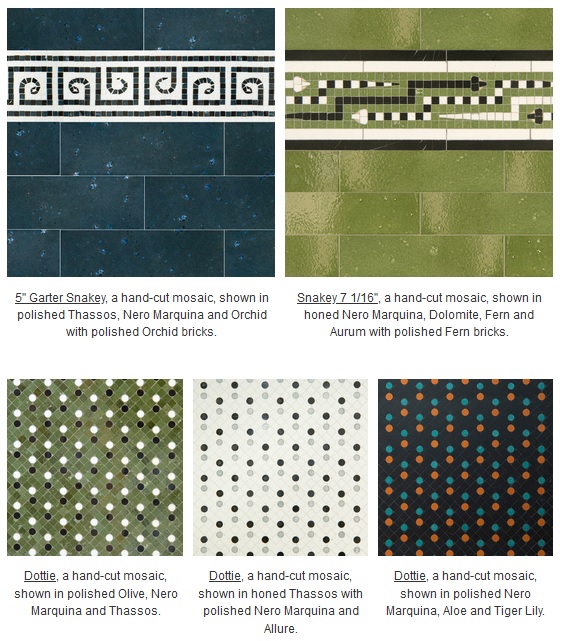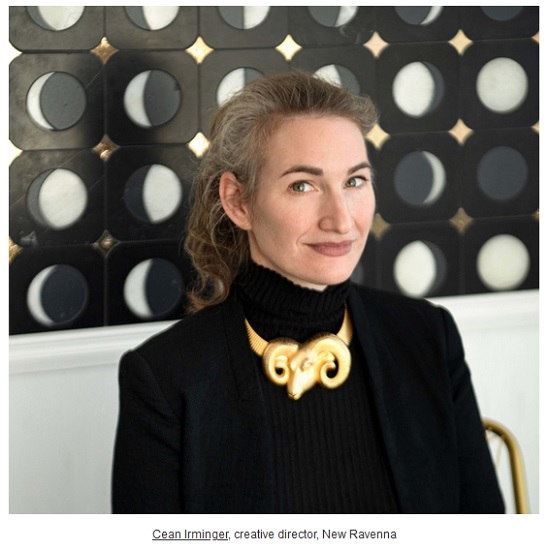 ---
New Ravenna is America's premier designer and manufacturer of custom stone and glass mosaics for both residential and commercial installations. The handcrafted mosaics are fashioned into decorative borders, murals, fields, and medallions. Mosaic materials are polished, tumbled, honed and cut to create distinctive styles, subtle shade variations and textures. The installations are custom works of art in mosaic tile, which often incorporate the designs of architects, interior designers and their clients.
New Ravenna mosaics are found in homes, restaurants, hotels, casinos, and businesses around the world, and are available for purchase through designer showrooms across the country and internationally. top photo: Behemoth, a waterjet and hand-cut mosaic, shown in honed Orpheus Black with polished Nero Marquina, Ming Green, Kay's Green, Cornflower, Orchid, Periwinkle, Travertine Noce, Red Travertine, Tiger Lily, Goldenrod, Botticino, Giallo Reale, Thassos, Afyon White, Carrara, and Saint Laurent. (47″ in diameter)