Making an open-and-shut case for award-winning law-firm project
In April 2023 at the Coverings Expo in Orlando, NTCA announced its Five-Star Contractor Projects of the Year. The NTCA Five-Star Project of the Year Awards are a testament to the dedication, skill, and collaboration of the tile installation industry's top professionals.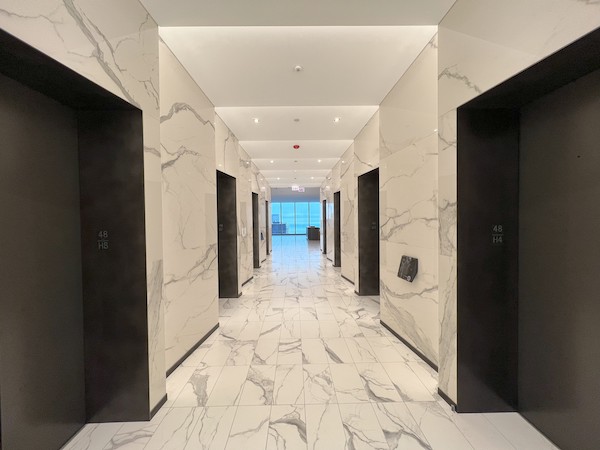 One of these winners, Trostrud Mosaic & Tile Co., Inc. (Wood Dale, Ill.) was awarded the NTCA Five-Star Project of the Year Commercial Grand Prize for its extraordinary work on a confidential high-end law firm project. The project involved the meticulous installation of 11,000 sq. ft. of 12"x24" tiles for a complex conference and reception floor. The team's exceptional collaboration, innovation, and dedication to perfection earned them the prestigious award. The project is detailed in this video: https://youtu.be/Gr9xKKCIoTY
In April 2022, Trostrud embarked upon a fourth-floor build-out for a global law firm in a new Chicago skyscraper. The scope of work involved three typical floors. Each had an elevator lobby with 12″x24″ porcelain floors and 5'x10′ gauged porcelain paneled walls. But the challenging floor consisted of 11,000 sq. ft. of a 12″x24″ floor tile, a custom mural, and three feature walls of vented LED lit panels.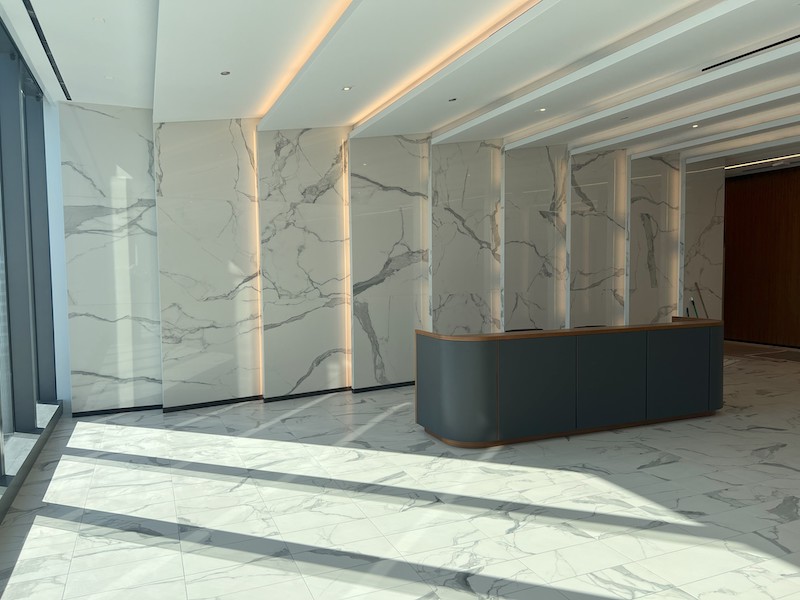 Challenges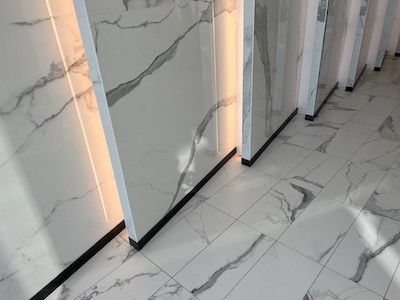 As you can imagine, a project of this magnitude and scope had its share of challenges. For starters, in a scope review with the general contractor and architect, Trostrud learned the actual tile size was to dictate the entire layout of the conference and reception floor.
"We spent an excess of 40 man-hours assisting the project foreman in laying out 11,000 sq. ft. of 12″x24″ floor tile, including all movement joints," said Brad Trostrud, President of Trostrud Mosaic & Tile Co., Inc.
During the floor tile layout, Trostrud was asked to help the underlayment contractor set the elevations. Trostrud explained, "The general contractor wanted to save money by pumping self-leveler to flatten floors to meet our required floor flatness." But after a week of pumping, Trostrud was "informed" that it was to take over floor prep for all its sub floors.
"This required detailed planning on how to set our elevations," Trostrud said. "Some spaces had to be level due to millwork requirements, and many surfaces [had to be] pitched on a tile joint to create flat planes to keep elevations at a minimum." What's more – the slab height varied in excess of 3″.
All surfaces were set with laser-guided tracks of trowelable patch, and were then filled in with patch to create a tileable substrate, Trostrud said. "Then all surfaces were either level or dead flat, changing only on selected grout joints."
Reworking the custom mosaic mural
After Trostrud provided a dry layout of the clear plastic-mounted mosaic, the architect was unhappy with some of the color groupings. "Our foreman began a 'nip-and-tuck' type surgery, modifying some of the elements of the mural," Trostrud said. "With close collaboration with the architect, we finally received the thumbs up and we executed the
installation."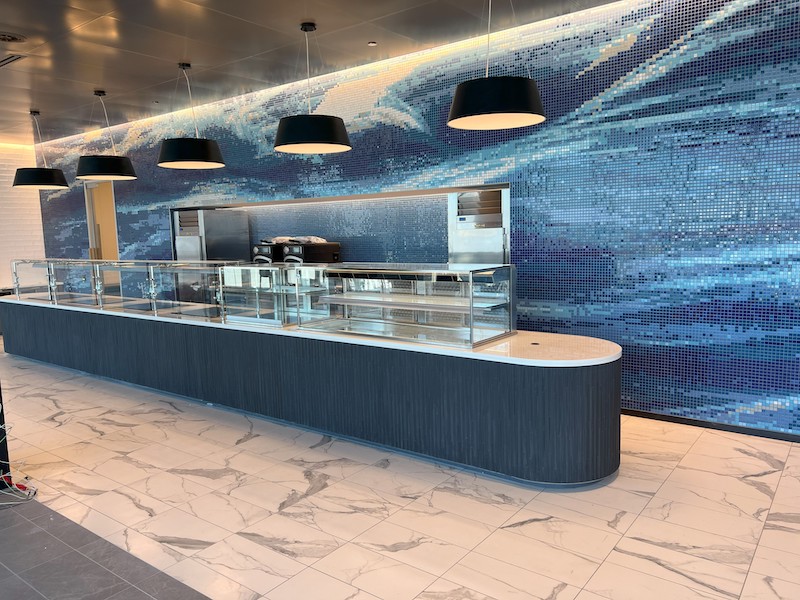 Perfecting the panels
For the panel feature walls behind the reception desk and at the elevator wall, Trostrud assisted the design team with various details on the panels, the junction between the tile surface and the sheet-applied ceiling, adding Schluter Finec at the panel out-corners.
Trostrud said, "The volume of mitering was overwhelming. We own a Sigma miter box and have done some limited mitering in the past with mixed results. I figured there must be a better diamond blade than the standard 3.5″ we had previously used. After many inquiries, we purchased a Monolith, Red Lines, Squadro Blade. Wow, what a difference! With this new find, the panel installation went uneventfully smoothly."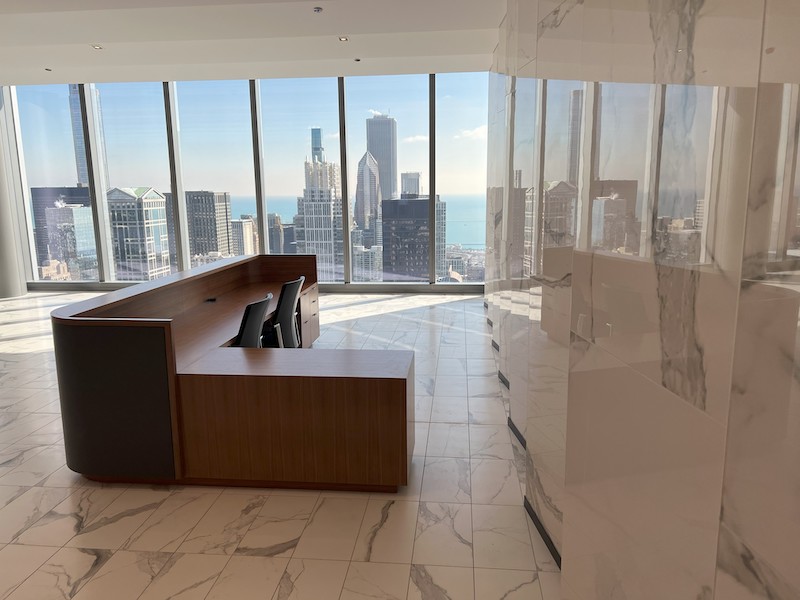 ---
Products used in this award winning installation:
Setting Materials
MAPEI Products
Ultra Flex LFT Thinset Mortar
Aquadefense Waterproofing & Anti-Fracture Membrane
Ultraflex LFT Rapid
Type | – Wall Adhesive
Ultracolor Plus FA Grout
Kerapoxy CQ
Mapesil T Silicone Sealant
Primer L
Primer T
Planibond EBA Primer
Mapesand Coarse
Planipatch
Planipatch Plus Latex
Bostik Products
Hydroment Vivid – Heron Blue Grout
Tile
Artaic
EMIL Group
Florim
Mutina
Suppliers/Distributors
Ceramic Technics 
Stone Source
Tile Bar
Virginia Tile Company
---
The NTCA Five-Star Contractor Member network of top-tier professionals in the tile and stone industry enjoys exclusive benefits and resources, including educational programs, marketing opportunities, and recognition for outstanding work. Visit the NTCA website to learn more about becoming an NTCA Five-Star Accredited Contractor at https://
www.tile-assn.com/page/ntca-five-star-accreditation. Learn more about all the NTCA Five-Star Contractor Project of the Year winners at TileLetter.com or https://tinyurl.com/NTCAFiveStarAwards.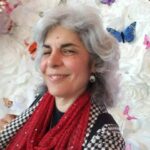 Editorial Director and Senior Writer for TileLetter and TileLetter ARTISAN
Lesley Goddin has been writing and journaling since her first diary at age 11. Her journey has taken her through a career in publishing and publicity, landing her the editor position of TileLetter and its special publications in 2006. Her goal is to educate, inspire, recognize and encourage those in the tile industry -- especially the tile and stone contractor. Other interests include the soft, purring marvels known as cats, labyrinth walking, drumming and percussion, and a range of spiritual, musical and artistic pursuits.