Las Vegas, Nevada — NTCA had a strong presence at The International Surfaces Show (TISE) at Mandalay Bay here, last week, taking the opportunity to conduct meetings, recognize outstanding members and craftspeople, and conduct presentations and demonstrations to instruct and educate. Volunteers and staff greeted visitors at the booth and signed up new members.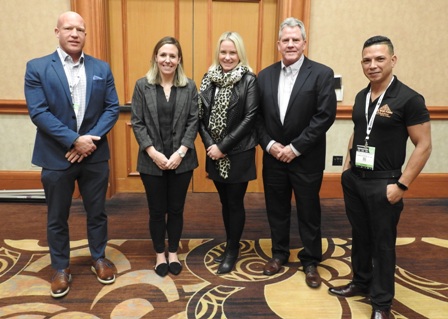 NTCA board meeting:NTCA conducted its board meeting Monday prior to the opening of the show, welcoming a number of new members. These included Brendan Sheehan, Dan J. Sheehan Company, Region 3; Ivan Herrera, The Miami Floors, Region 4; Taryn Fischer, Fischer Tile & Marble, Region 11; Jimmy Reed, Rock Solid Tile, Region 12 (absent due to flight delays). New manufacturer member Hilary Frank, Dal-Tile LLC; and distributor Brian Combs, Louisville Tile & Stone were also in attendance.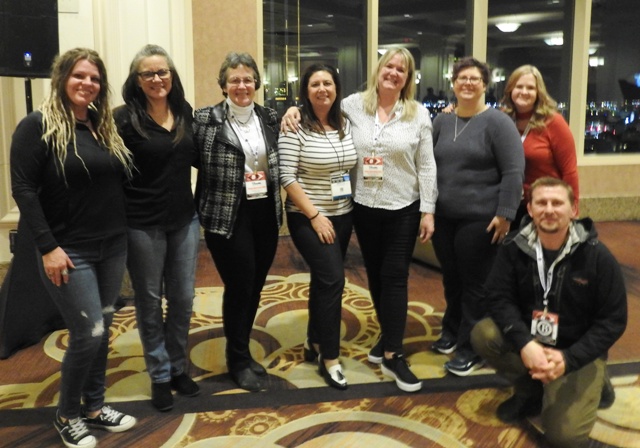 Women in Tile: A small group of women – and a supportive cadre of men – attended the Women In Tile planning meeting Monday evening. This group is focused on lifting up and elevating women in the industry – at all levels and in all roles – while positioning the industry and the trade as a welcoming place for young women considering a career in tile. Included in this group were Angie Ré, Unique Mosaics; Shannon Huffstickler, Schluter Systems; Kathy Case, Quantify North America, Inc.; Amber Fox, NTCA; Elizabeth Lambert, Lambert Tile & Stone; Jennifer Blumer, EJ Flooring and Valerie Mourelatos, Mourelatos Tile Pro. Trask Bergerson and his son Rogue of Bergerson Tile, Stone & Cabinets , as well as Timothy Steudeman, Built On Integrity, joined in to listen and be in support of the mission.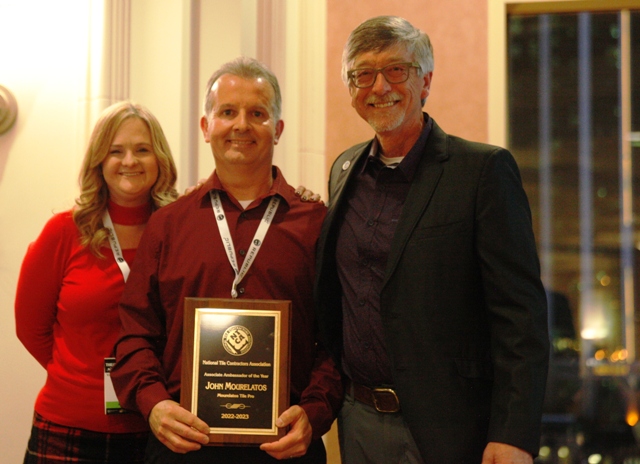 Ambassador Reception: The NTCA Ambassador Reception took place Monday night, providing recognition and gratitude to the nationwide network of NTCA Ambassadors, who provide support at NTCA training events and help educate local contractors and communities in standards-based tile installation. NTCA Training Director Mark Heinlein and Schluter's Shannon Huffstickler announced the Ambassadors of the Year. John Mourelatos of Mourelatos Tile Pro, Tucson, Ariz., was named Contractor Ambassador of the Year, and Terry Hall of ARDEX was named Affiliate Ambassador of the Year in absentia, due to flight delays.
Also recognized at this ceremony were the two NTCA Tile Setter Craftspersons of the Year. NTCA President Sam Bruce awarded the recipients: Triniti Vigil of J&R Tile, San Antonio, Texas in the Commercial category, and Gabriel Cortez of Heritage Marble and Tile, Mill Valley, Calif., in the Residential Category.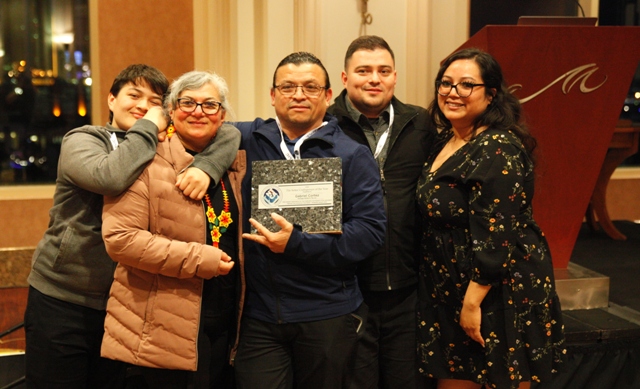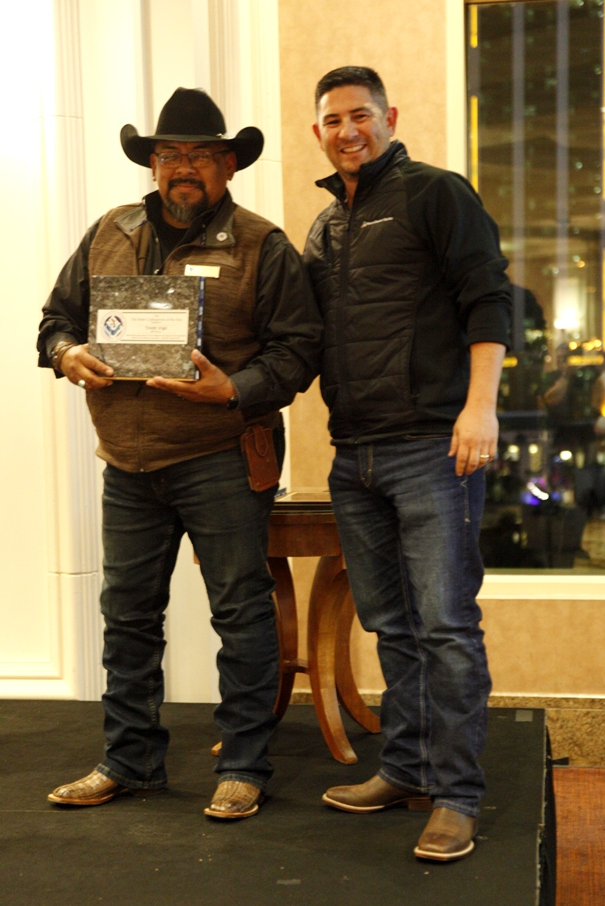 Bruce said the NTCA Tile Setter Craftsperson of the Year Award is his favorite industry award. "It's the foundation of what we do as an industry," he said. "Without skilled and talented craftspeople, our industry wouldn't be where it is today. As a tile contractor, our sole purpose is to install tile. The NTCA Tile Setter Craftsperson of the Year Award is my favorite award in the industry because it recognizes the fundamental aspects of what we do."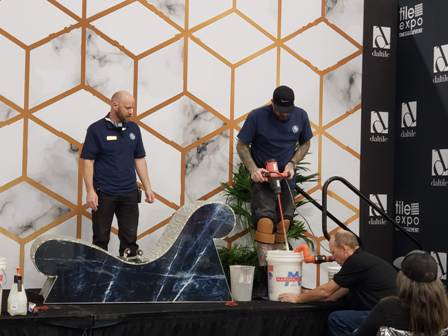 NTCA/CTEF events: NTCA trainers conducted three days of classes that explained the intricacies of mud beds, mosaic installations and thin-bed installs, paired each day with a demo that put the classroom learning into practice. Veteran NTCA Technical Trainer Randy Fleming shared the TISE LIVE TILE EXPO Stage and LIVE DEMO Stage with newbie trainers Keith Barnett and Chad Jones for the program.
At the neighboring CTEF booth, Academic Director Scott Carothers conducted a "boot camp" for aspiring CTI Evaluators; and four contractors took the CTI test.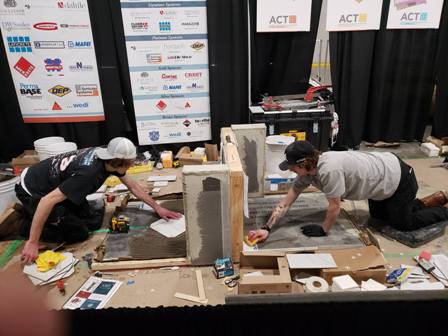 NTCA Emerging Leaders Program: The first meeting of the NTCA Emerging Leaders Program took place Wednesday morning at TISE. Firestarter's Wally Adamchik guided the 16 participants — all under 40 — through the findings of their DISC evaluation that revealed insights into personality and work style. The goal is to deepen personal awareness of communication style and optimal ways to manage – and be managed – based on participant's own tendencies as well as understanding those of those they manage.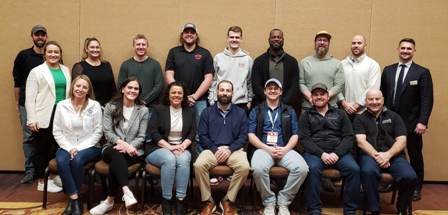 Megan Giberti, Senior Manager of Pro Education, Floor & Decor, did a lot of research on the program to "really know what [she] was getting into," she said. She appreciated the personalized testing of strengths and weaknesses and personality style. "It's not a check the box leadership program," she said.  Learn more about this program in March TileLetter!
Special thanks to NTCA's Amber Fox and The Floor Academy's Kyle Hedin for contributing photos for this story.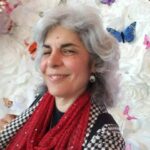 Editorial Director and Senior Writer for TileLetter and TileLetter ARTISAN
Lesley Goddin has been writing and journaling since her first diary at age 11. Her journey has taken her through a career in publishing and publicity, landing her the editor position of TileLetter and its special publications in 2006. Her goal is to educate, inspire, recognize and encourage those in the tile industry -- especially the tile and stone contractor. Other interests include the soft, purring marvels known as cats, labyrinth walking, drumming and percussion, and a range of spiritual, musical and artistic pursuits.