Albuquerque, N.M. — The Rosalie Doolittle Fountain, which has graced the entrance to the Botanic Garden here since 1996, is set to be demolished. This ceramic tile treasure was designed, created and installed by tile artist Shel Neymark.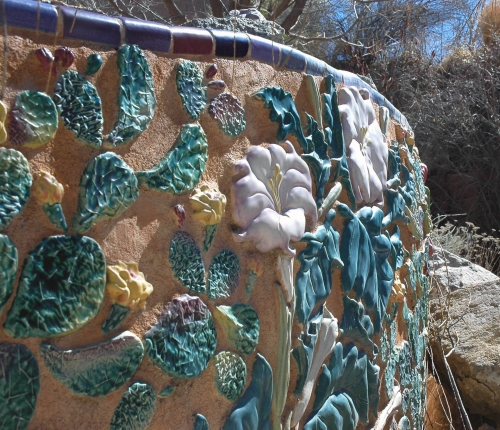 The fountain was inspired by works of Gaudi at Parc Guell, Sagrada Familia and around Barcelona, with influences from Seville and the Alhambra. It depicts a New Mexico wild garden with native flora such as Sacred Datura, and Cholla cactus, as well as flora from cultivated gardens. It incorporates the sense of water flowing down the mountain to New Mexico, with the bottom of the fountain covered with colorful Cottonwood shimmering through the water as if they have fallen into the pool.
Neymark developed a new frostproof clay for the fountain and conducted extensive glazing tests. Over 4,000 ceramic Cottonwood leaves were made. The area is lively and colorful, inviting interaction from people facing each other on the bench, and a stunning, vibrant, unforgettable entrance into the garden. Volunteers helped Neymark build the piece after friction with the BioPark director over a design issue that resulted in the director forbidding city crews to do any more work on the fountain.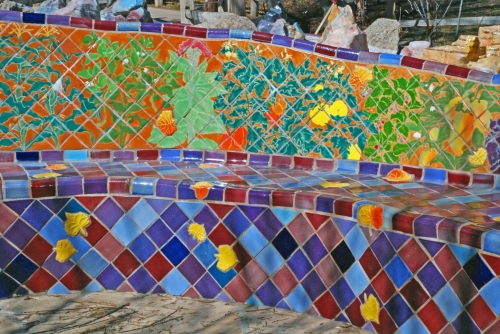 According to a presentation Neymark made this year (see video at https://youtu.be/J9DQhoYelqQ ), this friction continued during its construction and amidst pleas for maintenance in the intervening years. When restoration of the purple trim on the fountain was needed – and Neymark offered to do it for free — the Arts Council voted against Neymark restoring it. The subsequent repairs disrupted the graceful edges of the fountain that allowed smooth flow of water as designed.
On February 15, 2023, the ABQ Arts Board will vote concerning tearing this iconic piece down.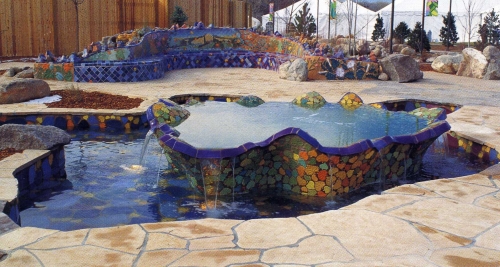 To express your support for the preservation of the fountain and its upkeep, contact the Albuquerque Arts Board by Wednesday February 15 at [email protected].  
The public can attend the meeting of the Arts Board. The meeting is as follows:
Public Art Program
Wednesday, February 15, 2023
4:00 – 6:00 p.m.M.T.
City Hall, Department of Municipal Development
DMD Conference Rm 7096
One Civic Plaza
Albuquerque, NM 87103
If you have a disability and need an accommodation in order to participate in this public
meeting, please contact Sherri Brueggemann by email [email protected]
The public can also attend the Arts Board meeting on Zoom: https://cabq.zoom.us/j/4236341396
You can learn more about Neymark, view his work and this fountain specifically here: https://www.shelneymark.com/public
See a local news report on this fountain: https://www.kob.com/new-mexico/board-to-vote-on-future-of-fountain-at-abq-biopark-botanic-garden/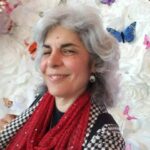 Editorial Director and Senior Writer for TileLetter and TileLetter ARTISAN
Lesley Goddin has been writing and journaling since her first diary at age 11. Her journey has taken her through a career in publishing and publicity, landing her the editor position of TileLetter and its special publications in 2006. Her goal is to educate, inspire, recognize and encourage those in the tile industry -- especially the tile and stone contractor. Other interests include the soft, purring marvels known as cats, labyrinth walking, drumming and percussion, and a range of spiritual, musical and artistic pursuits.