On November 12, 2021 the Court of Appeals for the Fifth Circuit granted a motion to stay the COVID-19 Vaccination and Testing Emergency Temporary Standard  (ETS) that was published on November 5, 2021. This decision has led to suspension by the Occupational Safety and Health Administration (OSHA) of any and all activities to implement or enforce the ETS until "further court order."
The ETS, which applied to employers with 100 or more employees  company-wide provided options for compliance that would have permitted employers to decide to either mandate vaccination for all employees (except those with a legally protected exemption) or require unvaccinated employees to undergo weekly testing.  According to details released on October 28, 2021, employees who could be vaccinated but instead chose the testing option could have been required to pay for their tests, while employees who demonstrated a legally-protected reason precluding vaccination — such as a medical condition or a sincerely held religious belief —  could have had their employer pay for testing costs. The ETS would have required employers to provide paid time off for workers to get vaccinated and paid sick leave for employees to recover from any side effects associated with receiving the COVID-19 vaccine. Finally, regardless of the reason for remaining unvaccinated, the released details indicate that the rule would have require all unvaccinated employees to wear masks indoors and when in close contact with coworkers.
Another chapter in this embattled issued took place on November  15,  when the Associated General Contractors of America (AGC), the American Road & Transportation Builders Association (ARTBA) and the Signatory Wall & Ceiling Contractors Alliance (SWACCA) filed a petition for review of OSHA's new COVID-19 vaccination mandate, claiming that the rule will cause workers to flee large companies to seek employment at smaller companies not affected by the rule. The petition claimed the ETS will impact large construction companies and result in fewer people being vaccinated in the sector. The associations filed their petition in the U.S. Court of Appeals for the Fourth Circuit. The petition notes that OSHA exceeded its statutory authority to promulgate an Emergency Temporary Standard, and otherwise failed to comply with the Occupational Safety and Health Act.
A statement on OSHA's website said "While OSHA remains confident in its authority to protect workers in emergencies, OSHA has suspended activities related to the implementation and enforcement of the ETS pending future developments in the litigation."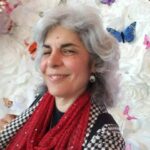 Editorial Director and Senior Writer for TileLetter and TileLetter ARTISAN
Lesley Goddin has been writing and journaling since her first diary at age 11. Her journey has taken her through a career in publishing and publicity, landing her the editor position of TileLetter and its special publications in 2006. Her goal is to educate, inspire, recognize and encourage those in the tile industry -- especially the tile and stone contractor. Other interests include the soft, purring marvels known as cats, labyrinth walking, drumming and percussion, and a range of spiritual, musical and artistic pursuits.