In this issue of TileLetter dedicated to celebrating and recognizing women in our industry doing amazing things, we chose to present a gallery of projects by several female tile setters, who also happen to be NTCA members. Enjoy the artistry, craftswomanship and installation excellence in these projects.
---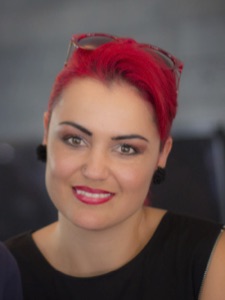 Chanel Carrizosa,
Icon Tile & Design, LLC
Kirkland, Wash.
You can read more about Carrizosa and her experience taking the Certified Tile Installer exam in this issue's Training and Education feature.
Her amazing work spans a variety of projects, but this commercial project by Icon Tile & Design was for the Associated General Contractors (AGC)'s lobby. "We had to wrap three elevators with 5' x 10' 6mm gauged porcelain panels, and install 6" x 47" planks on the floor," Carrizosa said.Of course, no project is without challenges, and this was no exception. For the AGC lobby, the slabs were too big to fit in the elevators so Icon had to cut them in half. "We did not have book-matched panels, but I took the time to try and connect all the veins like a puzzle," she said.
In addition, the subfloor conditions were significantly out of tolerance, and the elevator thresholds made it even more difficult to get them to a manageable level.
But Carrizosa said, "We were able to solve the issues with some help from our friends Mick Volponi – who has a wealth of information on gauged porcelain panels – and ARDEX rep Shaughn Lee Capua, who knows commercial projects very well."
The result is a stunning and beautiful installation.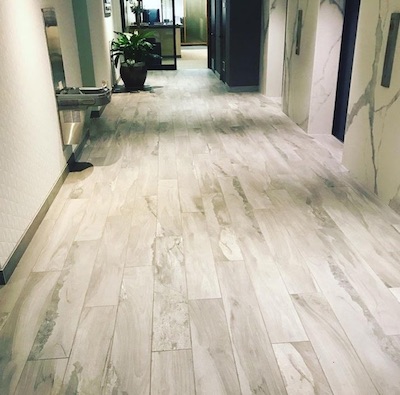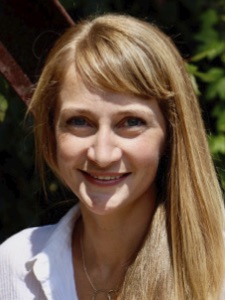 Rachel Cahalan
Tile by Rachel, LLC
Springfield, Va.
Tile by Rachel tackled this gorgeous herringbone backsplash, a project with a very tight deadline to set Catania Blue 6" x 12" ceramic tile from The Tile Shop.
"The biggest challenge for the project was time," Cahalan said. "The tile was delayed and I had a limited number of days, so I brought in a rapid-setting mortar. Rapid-setting mortar is fantastic, until you have a chipped tile that has already been set. I now have absolute confidence in the superior bonding strength of MAPEI Rapid Setting Tile Mortar. I love the colors this client selected, the clean, pronounced grout joints, and always, working with a fun pattern," she explained.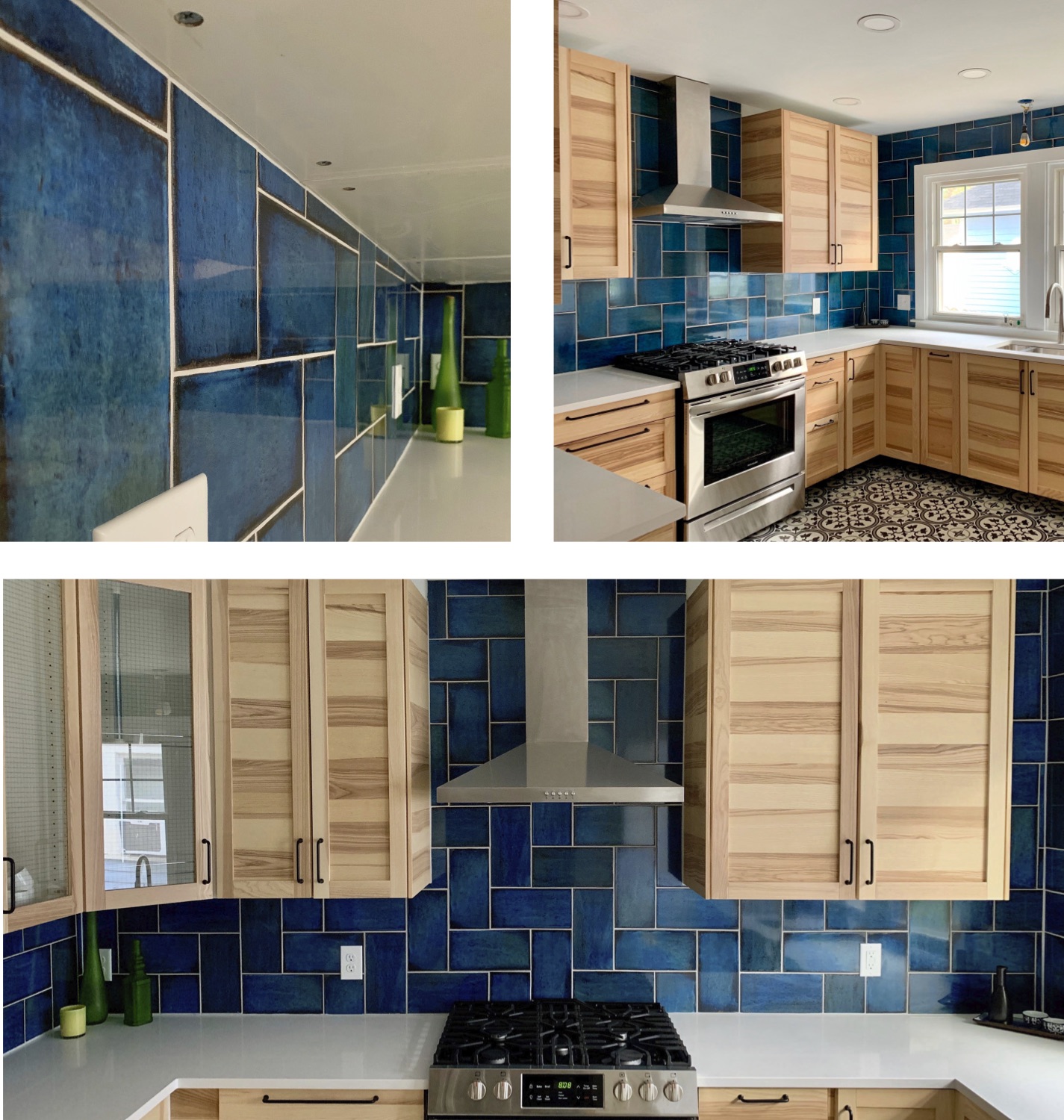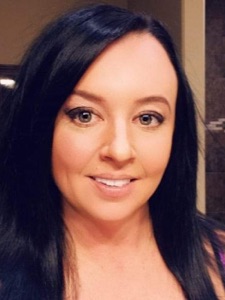 Jaime Martin
Meadowlark Tile, LLC
Dickinson, N.D.
Sometimes it's hard to decide between two favorite projects. So Jaime Martin of Meadowlark Tile sent two of her favorites.
The first project is a pebble scribe over curb and under tub. "This was a challenging project because it was my first time scribing tile with a grinder," Martin said. "I loved that I got to have free rein with creativity."
Her second project incorporated LED lighting from Backlit Tile Co., in a shower installation. "This was a real challenge installing lights that wrapped around all four walls and through two niches."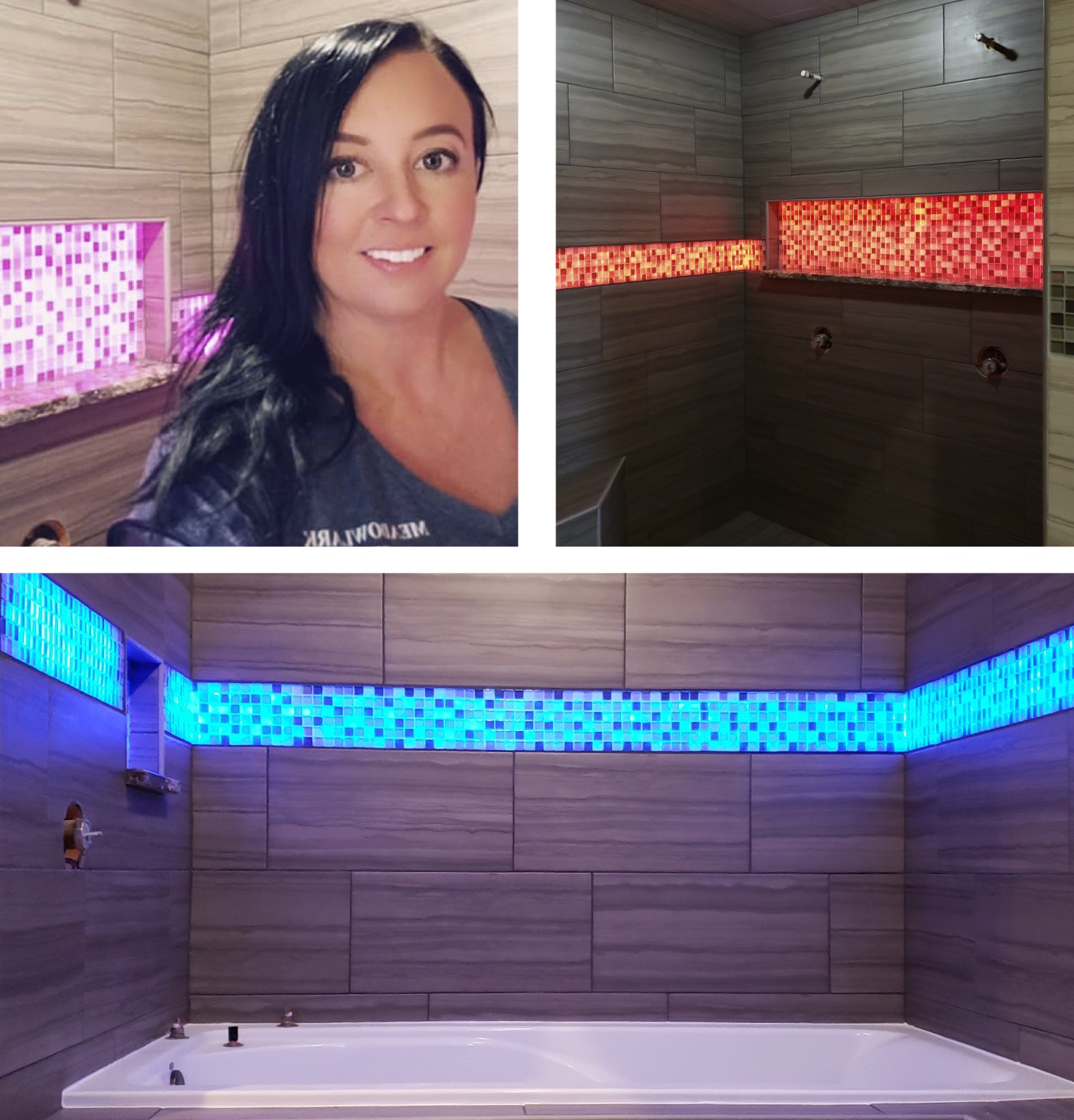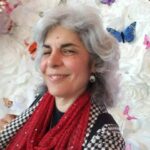 Editorial Director and Senior Writer for TileLetter and TileLetter ARTISAN
Lesley Goddin has been writing and journaling since her first diary at age 11. Her journey has taken her through a career in publishing and publicity, landing her the editor position of TileLetter and its special publications in 2006. Her goal is to educate, inspire, recognize and encourage those in the tile industry -- especially the tile and stone contractor. Other interests include the soft, purring marvels known as cats, labyrinth walking, drumming and percussion, and a range of spiritual, musical and artistic pursuits.