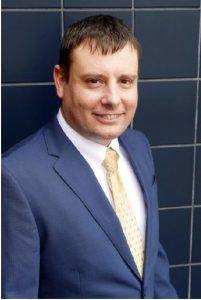 (Anderson, SC)— The Tile Council of North America (TCNA) announces Ryan Marino, TCNA's Standards Development and Research Manager, has been named a Coverings 2020 Rock Star recipient. Coverings Rock Stars — an Emerging Leaders Program — honors the best and brightest young talent in the tile and stone industry.
Mr. Marino has been engaged in ceramic tile industry research and standards development for nine years. He served three consecutive terms as Chairman of the ASTM C21 Committee on Ceramic Whitewares and Related Products, manages the TCNA Tile Technical Committee, and is actively involved in the ISO TC189 and ANSI A108 Committees. Additionally, Mr. Marino speaks regularly at industry events, contributes to industry publications, and is a key stakeholder and participant in countless other industry standardization initiatives.
"Ryan has spearheaded several standards development initiatives that have had a direct, positive, and major impact on the ceramic tile industry, in addition to benefiting consumers," stated Bill Griese, TCNA's Director of Standards Development and Sustainability Initiatives. "Developing new standards and achieving major revisions requires vision, innovation, ethics, and a focus on the needs of the consensus body. Ryan brings all these skills together, as well as technical excellence and a profound consensus-building ability."
"We are extremely proud of Ryan and all that he has accomplished for the tile industry and TCNA," added Eric Astrachan, TCNA's Executive Director. "Throughout his career, Ryan's leadership and strengths in project management, research, and innovation have made him an invaluable asset to tile industry standardization initiatives."
TCNA congratulates Ryan on this important and well-deserved industry award.