Three amazing artists
In this Gallery feature, we bring you the work of three Pacific Northwest artisans – Lisa Bustamante from Troutdale, Ore., Brett Stern from Portland, Ore., and Keith Gorham from Vancouver, B.C. Each one of our artisans had a completely unique style and approach to their tile art. One thing they have in common – they all bring more color and beauty into our world. – Lesley Goddin,

[email protected]
---
Custom Mosaic Creations Goes Commercial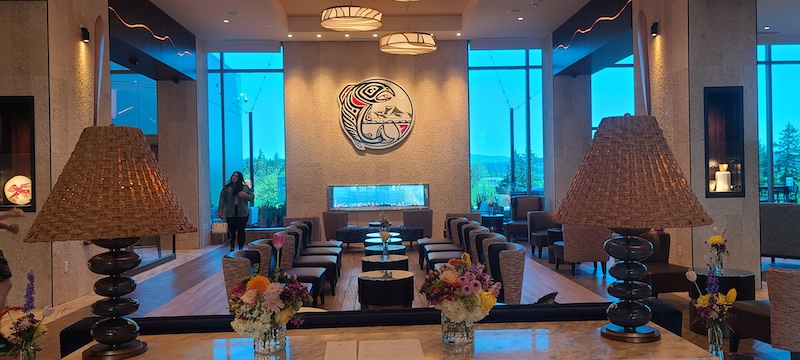 CID-Award winner Lisa Bustamante of Custom Mosaic Creations, Inc., Troutdale, Ore., is renowned for her custom stained glass backsplashes, vanity tops, transom and sidelight windows and other creations that combine heart with art, reflecting what her clients treasure in her works. This NTCA Member also adds backlighting to many of her mosaics, adding a whole new dimension.
But when Howard S. Wright Construction and the Cowlitz County Tribe in Ridgefield, Wash., reached out to Bustamante, Bustamante's heart swelled with pride at her very first commercial commission. The new ilani Hotel was opened adjacent to the existing casino, and tapped Bustamante to create a 6′ diameter mosaic medallion as the focal point of the lobby.
The inspiration for the medallion came from the Cowlitz Indian Tribe – The Forever People – which wanted its logo replicated in mosaic.
Bustamante cut and shaped the stained glass pieces with a Gryphon wet band saw, turning to a ring saw for a few more intricate cuts. She had a 2″x.25″ thick brass ring fabricated to serve as a frame for the piece. 
Because tile artisans are a generous and supportive bunch, Bustamante reached out to Lee Callewaert, master tile artisan of Dragonfly Tile & Stone Works in Milwaukee, Wis., for his expertise in premounting large pieces of mosaic onto Schluter KERDI fabric with LATICRETE 257 Platinum thinet to make the installation easier.
Bustamante numbered each piece on mosaic tape for easy install, then supervised and assisted the onsite tile setter with the installation. "Everything went well with the install and it looks incredible to this day," she said.
Bustamante's medallion and art was featured on the Artist's Corner segment of KGW's Hello Rose City! TV interview show in May. Watch here! https://tinyurl.com/KGWHelloRoseCity.
And this is a link to Bustamante's YouTube channel. https://tinyurl.com/CustomMosaicCreations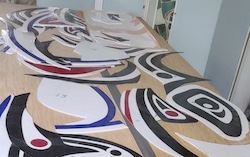 ---
Dazed & Glazed in Portland, Ore.

Back when Brett Stern lived in New York, he made a no fewer than eight visits to the Moravian Pottery and Tile Works (now The TileWorks) in Doylestown, Pa. That – and the fact that his mother is a potter – filled him with fascination about tiles, since he was a child. He worked in traditional ceramics for over 25 years and used Covid time to develop a process of fusing a thin veneer of glass onto a ceramic tile surface. Each tile pattern is individually designed and handmade, and features an array of vibrant, swirling, pulsing, flowing colors.
"My design beliefs are that objects have greater intrinsic value when they are handmade and they should always be brightly colored," he said.
Stern creates 6″x6″ tiles and groups of 25 (arranged on 30″x30″ boards) in his Portland, Ore., studio that can be scaled-up for interior spaces with large-format installations in a range of commercial and residential settings. 
Stern installs the UV-resistant tiles using standard ceramic tile mounting methods, and uses 100% renewable resources to fire his kilns.
Stern is opening his Dazed & Glazed studio at 322 SE Morrison Ave/MLK, Portland, Ore., to the public on two weekends in October. Find out more about Stern at www.brettstern.com, dazedandglazed.com or view a quick video of his studio at https://www.youtube.com/watch?v=uf6SO-ujDcs.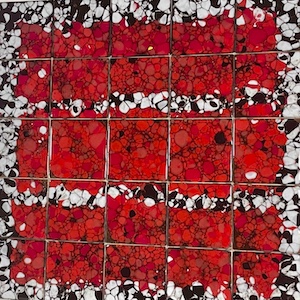 ---
Creating Fantastic Forms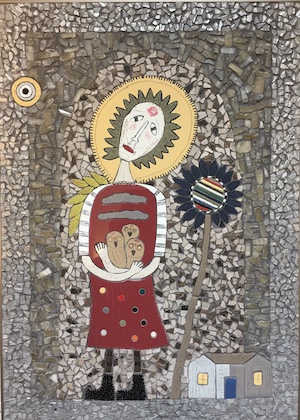 Vancouver, B.C.-based tile artist, Keith B. Gorham, has a vibrant and vivid imagination that he expresses in a range of mosaic tile creations. "Most of my inspiration comes from many angles," Gorham said. "I enjoy reading fantasy, which I think is reflected in my pieces." He is also inspired by graffiti, viewing art in general, and talking with other artists.
Gorham cuts ceramic tile with the ring saw – and sometimes with nippers – into phantasmagorical and highly-detailed scenes of various sizes. Currently, Gorham and nine other local artists are having a show at a community center in Drumheller, Alberta, from December to February, and he has been approached by his local library to display there as well in 2024.
Materials Gorham uses include plywood or, 1/2″ wedi board substrate with Schluter edging as a frame. He favors ARDEX X5 thin-set mortar, with CUSTOM's Prism grout in natural grey. View more of Gorham's work on Instagram @bnkprofiles – and several pieces at the Leighton Art Center in Calgary, until November 21: Symbiotic, Funkey-Fungeye, Nomadic, and Surprised by Serendipity.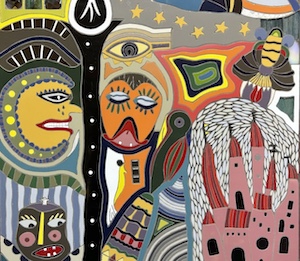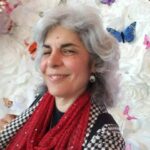 Editorial Director and Senior Writer for TileLetter and TileLetter ARTISAN
Lesley Goddin has been writing and journaling since her first diary at age 11. Her journey has taken her through a career in publishing and publicity, landing her the editor position of TileLetter and its special publications in 2006. Her goal is to educate, inspire, recognize and encourage those in the tile industry -- especially the tile and stone contractor. Other interests include the soft, purring marvels known as cats, labyrinth walking, drumming and percussion, and a range of spiritual, musical and artistic pursuits.