Tools, trims, equipment and accessories are all important aspects of getting the job done efficiently and effectively.
Equipment developments have given us saws that offer dust containment features that keep workspaces cleaner and lungs healthier; new mixer technologies that make mixing materials less messy and more efficient; and streamlined machines that can do double duty such as combining cutting and edge profiling into one compact piece of equipment. Drilling technology has also engineered harder bits to cut through tough materials smoothly, cleanly and quickly.
In terms of profiles and accessories like shower shelves and drains, new coatings and materials provide a blend of longevity and aesthetics for the finishing touch on a project.
---
Amanda Henke
Marketing Manager
Blanke Corp.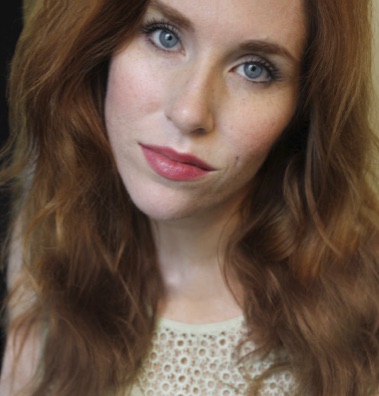 Since they were first introduced, tile trims have functioned at a relatively basic level by protecting tiled edges from damage and providing a smooth transition to other flooring. This year has marked a change for many as cleanliness and sanitation have become an even greater priority in our daily lives, and the industry has risen to meet those demands. The visual appeal of tile is longstanding, but its hygienic appeal makes it an even more attractive choice for both commercial and residential installations. Tile trim manufacturers have answered with tile trims constructed with even greater quality with more easily cleaned materials and shapes, which in short translates to even more lasting, damage-free tile installations.
Peggy Hueler
President
Ceramic Tool Co.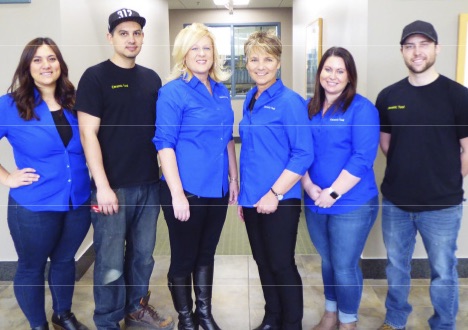 Ceramic Tool Co. has been a supplier of metal trims for over 35 years. In that time, we have seen our fair share of changes and advances to the industry. Along with all of you, we are weathering the impact of the COVID-19 pandemic and through that, technology has proven to be one of our greatest assets.
CTC has always worked in person, in the office, but in March we had to shift to remote working. Thanks to technology, we have been able to maintain our high standard of customer service while making this transition. Laptops, cell phones and [Microsoft] Teams meetings have all contributed to keeping us connected. We were able to make the changes seamlessly and continue to serve our customers with quick, reliable, and informative solutions for flooring trims.
Sarah Hurtado
Marketing Communications Manager
iQ Power Tools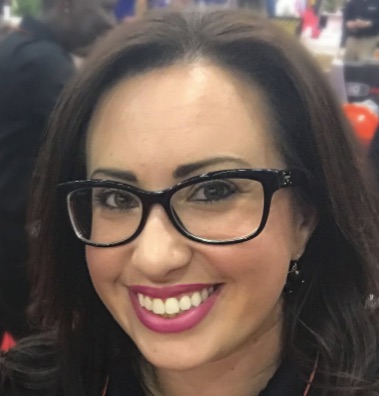 Dust creates two main pain points for contractors; it makes a mess and is unhealthy to breathe in. Eliminating the dust and slurry saves time spent on clean up while ensuring good lung health for contractors and those around them. With safety, efficiency and cleanliness top of mind, contractors should absolutely demand tools that increase efficiency and ensure safety. Cost-effective dust collection systems are good for both bottom lines and work environments. We should be striving for clean workspaces that protect our current workforce while encouraging the next generation workforce to join a trade that is safe and clean. Dust containment is the future of construction and we are just at the beginning.
Steve Sprung
Product and Marketing Manager
Russo Trading Company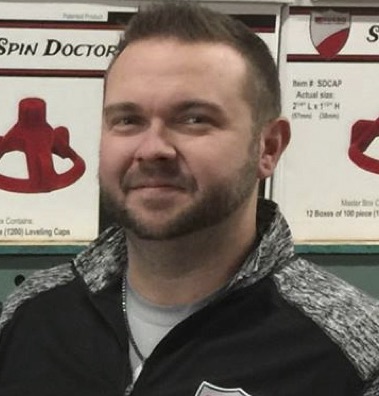 As we see advancement in high-performance setting materials, there is also an increase in focus on mixing technology. Things like water quantities and RPMs of the mixing paddle are more important than ever. Tool manufacturers around the world have noticed this and have started to enhance the way we do things every day. From variable-speed mixers, water-dosing devices, dust containment, and different style paddles for different materials, the days of the drill and egg-beater style mixer are slowly fading away. The revolution in this segment is giving installers the ability to mix at the exact RPM recommended by the setting material manufacturer, and perfect water quantities for consistent mixes, not to mention taking safety into account at every turn. Your mortars and grouts are changing for the better – don't you think your mixing tools should as well?
Sean Gerolimatos
Director of Research and Development
Schluter Systems, L.P.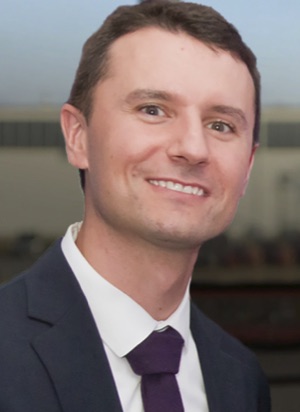 A recent trend in profiles and other accessories such as shower shelves and drains has been to expand the range of finishes available on these products. The technological challenge has been to find coating materials and methods that look great and meet the demands of their end-use. The overriding goal is to provide new aesthetic options for tile installations. Installers are using many different hard surfaces in installations and porcelain tiles that can be made to look like almost any material, so the range of finishes has had to expand to support these looks.
Scott Lebedz
Partner
Scodd Industries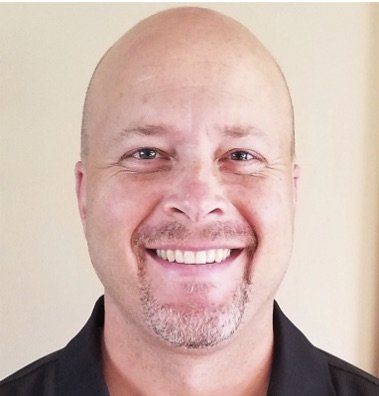 We have seen a trend toward harder porcelain tiles along with even harder materials like crystalized glass being installed and the need for these harder surfaces to be drilled into. To efficiently drill holes into these harder materials, you need higher quality drill bits with better carbides and specially designed tips. Most of the standard carbide spade bits that have been used in the past cannot efficiently drill into these surfaces. By going with the proper drill bit, you can save a significant amount of time and money drilling into these harder surfaces. Having the proper tool enables you to properly estimate the installation time and that may be the difference in winning and losing a bid.
Francesca Bedini
Marketing Manager
Ferrari & Cigarini SRL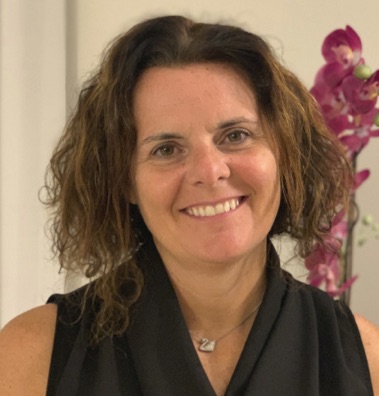 When it comes to cutting or edge-profiling, the industry is demanding more streamlined solutions that save time. Generally, workshops either have to use two separate manual machines (one for cutting and one for edge-profiling) or rely upon external service companies, with an incredible loss of time. There is an effort to develop automatic belt machines able to carry out in a single passage – and with just one movement of the piece – both the cutting and the profiling of the skirting. Compact design of this equipment also saves space in the workshop, meeting the needs of ceramic, marble and stone workshops, with small to medium weekly production needs.
Carlos Delgado
Social Media and Marketing Specialist
RUBI TOOLS USA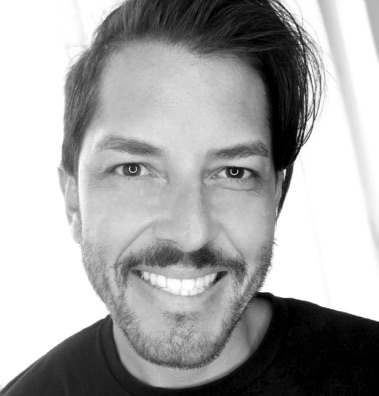 Leveling systems are undergoing a revolution, just like tile spacers in the past. The basic principle of any leveling system for tile installation is pressing the highest piece, until matching its position with the adjacent tiles, thus obtaining a substantial improvement of the surface flatness. The items to accomplish this easy task have been redesigned and improved under the RUBI brand.
---
Blanke Corp.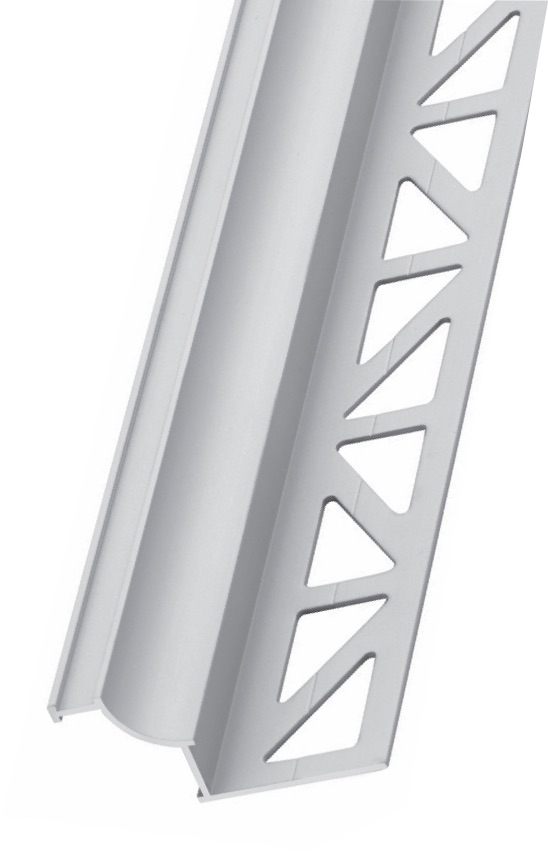 In Blanke's ongoing pursuit to exceed the needs of tile professionals, the company continues to meet tile trends head-on. BLANKE COVE is Blanke's newest profile that meets at the intersection of design and function. The cove-shaped profile is not only the perfect solution for attractive tiled wall-floor transitions, it is also simple to clean, repels dirt and water thanks to its sloped shape, and meets hygienic requirements of many commercial industries. BLANKE COVE is also perfect for residential tile jobs and is available in bestselling anodized aluminum finishes and stainless steel for installations that require more rigorous maintenance. blankecorp.com
Ceramic Tool Company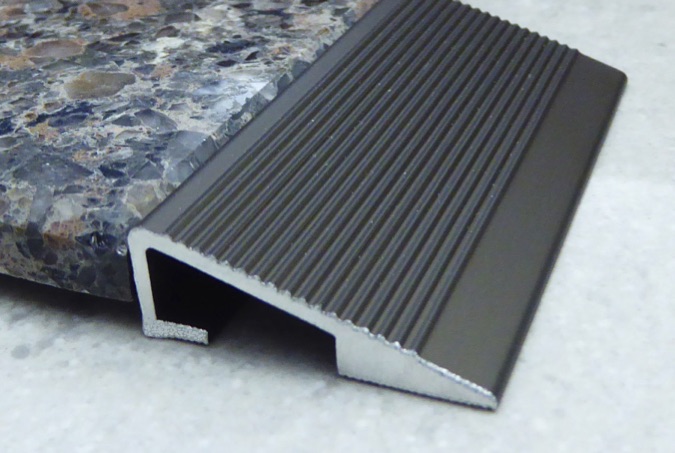 There is a trend towards multiple types of flooring combined in one layout – tile next to wood next to stone. But with different types of flooring come different heights, and different edges. The CTC Tranz was developed to easily navigate the installation challenges presented by varying heights in the same floor layout. With no anchoring leg, you can set with construction adhesive or mechanically fasten. And because it is available in multiple beautiful finishes, the transition doesn't interrupt the original tone offered by the designer. ceramictool.com
European Tile Masters (ETM)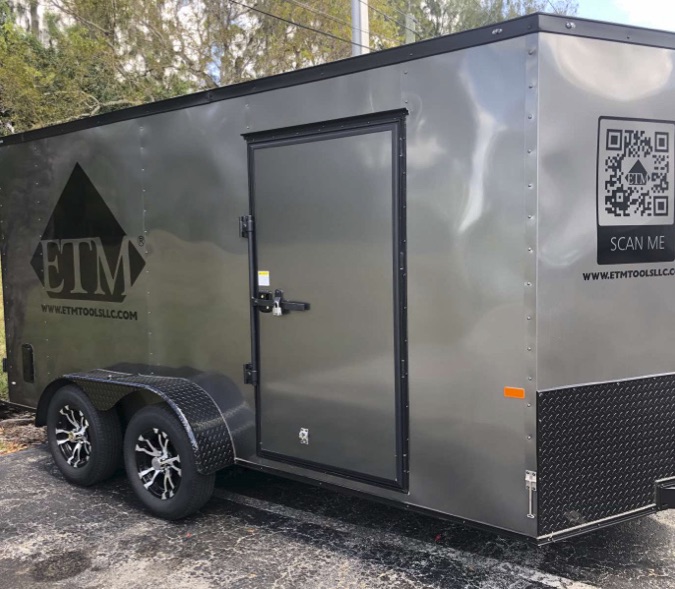 The ETM trailer is designed for the tile professional that is focusing on the GPTP. The trailer contains all the tools and equipment necessary to transport, fabricate and install full-size porcelain panels/slabs. It is engineered to hold 13 pieces of 63"x126"x1/4" tiles. All tools are the highest quality and made in the U.S.A. It allows for the fastest tool set up and teardown ever. The trailer is a complete installation system that is needed for walls, floor and countertop for onsite hassle-free fabrication. etmtoolsllc.com
Ferrari & Cigarini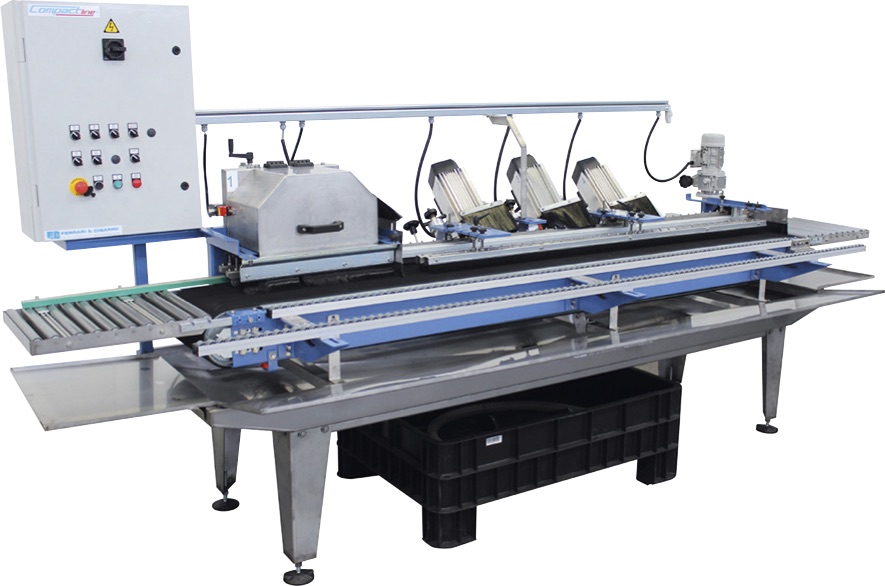 The new MVB AMINEUS is an automatic machine able to carry out both the cutting and the profiling of skirting pieces, doorsteps and window sills, with bullnose and half bullnose edges, in a single passage and with just one movement of the piece. Alternatively, it can make 45° mitering for production of kitchen and bathroom top and steps. MVB AMINEUS makes the production of high-quality elements possible on ceramic, gres porcelain, marble, granite and agglomerate materials, in a fast and simple way, with just one automated compact machine. ferrariecigarini.com/en/dettaglio.php?idprod=288
iQ Power Tools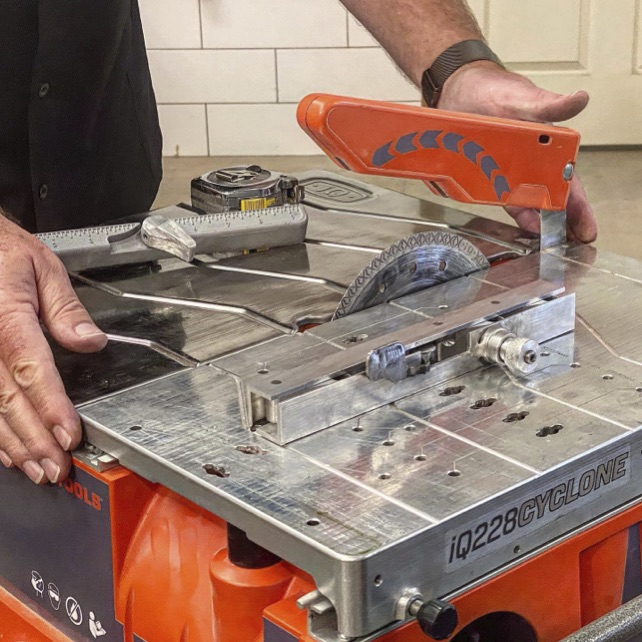 Innovation is in the DNA at iQ Power Tools. One of iQ's signature innovations is its use of cyclonic filtration – the use of centrifugal force to filter out particles. iQ harnesses cyclonic technology and takes it up a level. Introducing the iQ228CYCLONE, 7" Dry Cut Tile Saw. Like its predecessor, the iQTS244, the iQ228CYCLONE has a fully-integrated dust collection system, which has been tested to capture 99.5% of dust via its Four Cyclone Filtration System, meeting OSHA's silica standard. The 35-lb unit utilizes a vacuum system with four cyclones to separate debris, which then collects at the bottom of a 5-lb capacity dust tray for simple disposal. The cyclonic airflow also keeps the blade cool. There is no longer a need to cut with water. No slurry. No dust. Available at iqpowertools.com
Lackmond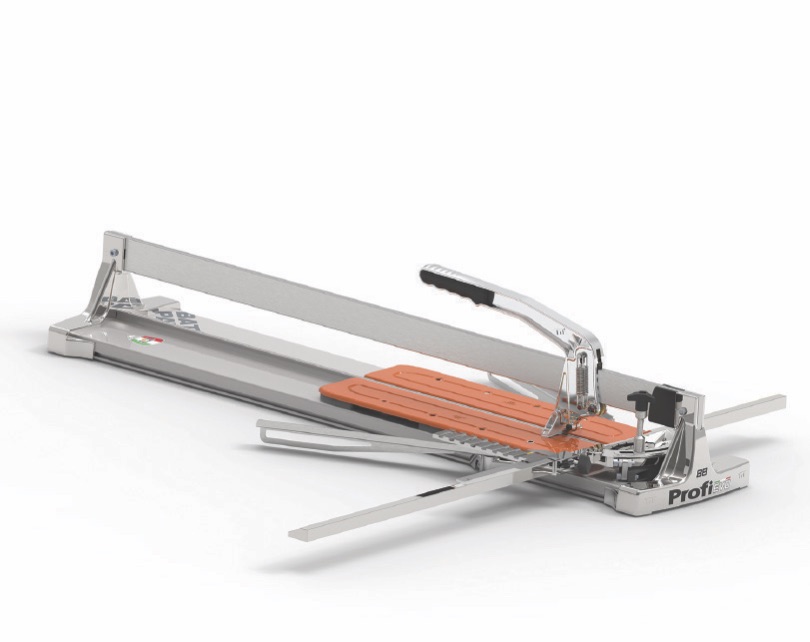 The next revolution in manual tile cutters is here – the Profievo. These Italian-made, single-bar style manual tile cutters are available in sizes ranging 18 – 64". Maximizing strength while minimizing weight leads to the most portable and powerful cutter on the market today. The Profievo is equipped with:
Aluminum magnetic foot with rubber protection to avoid scratches.
Sliding aluminum trolley with adjustable ball bearings provides a smooth and accurate cut.
Support board features four special springs to guarantee rapid separation for an excellent finish.
Fully-adjustable goniometer for square cuts with quick reading ability for straight cuts and diagonal cuts.
New side extensions support large-format tiles.
For more information, visit lackmond.com
MK Diamond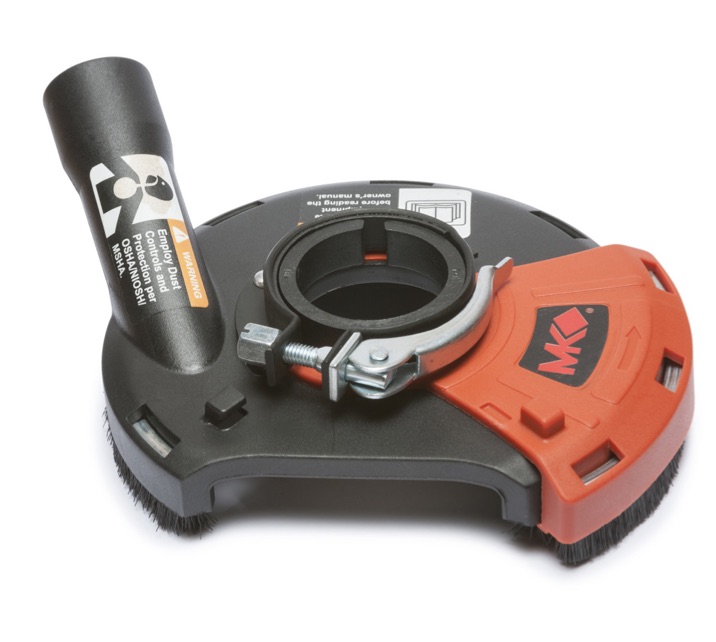 The MK Diamond 7" and 5" Swing Shrouds are for surface grinding dust control, when cleaning, leveling spots, removing epoxies, urethanes, paint and other coatings on concrete. The shrouds are made from an "abrasive resistant" plastic to prevent wear from the grinding process. The swing nose of the shroud easily flips to the side for grinding against walls and edges. The Swing Shrouds can be used with any dust containment system, thus reducing risk of respiratory problems and saving time during clean up. The 5" and 7" shrouds are easy to install, and are designed to fit most popular grinders. All of the adaptors necessary to fit these models are supplied. MK Diamond Products, Inc. has been American-owned since 1868. mkdiamond.com
MLT

MLT has created a unique lippage control system. The bottom of the system has a toothed shape that is designed for improved encapsulation in the mortar. The strap is removed by pulling straight up to minimize any damage to adjacent tile compared to methods that require kicking or hitting with a mallet. The cap is removable for cleaning or repositioning. In addition to that, the two-piece strap allows for tighter joints and reduces waste making it a greener option. Reach out to MLT at [email protected].
Noble Company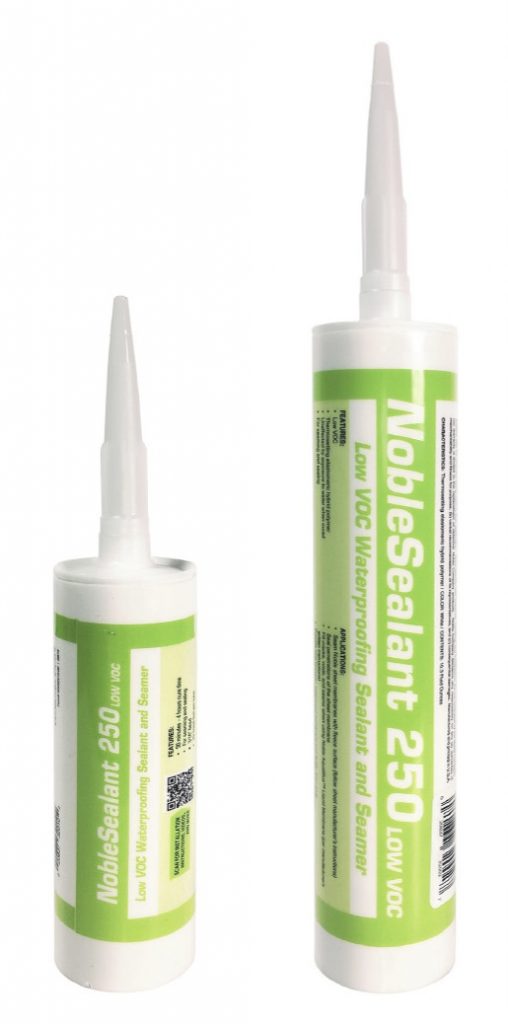 For two decades, NobleSealant 150 has been an integral part of one of the tile industry's premier waterproofing systems for use in wet areas. NobleSealant 150 offered a level of seaming, sealing, bonding, and adhesion that was unequaled by competitors. Noble Company now offers the "nextgen" advancement. NobleSealant 250 (available in 10.3 oz. and 5 oz. tubes) flows from the caulk gun with greater ease, and tools easily when applied to critical seams, overlaps, penetrations, and drain details. Most significantly, this sealant allows for water/flood testing in wet areas within two hours as part of a Noble Company system of waterproofing. noblecompany.com
Pearl Abrasive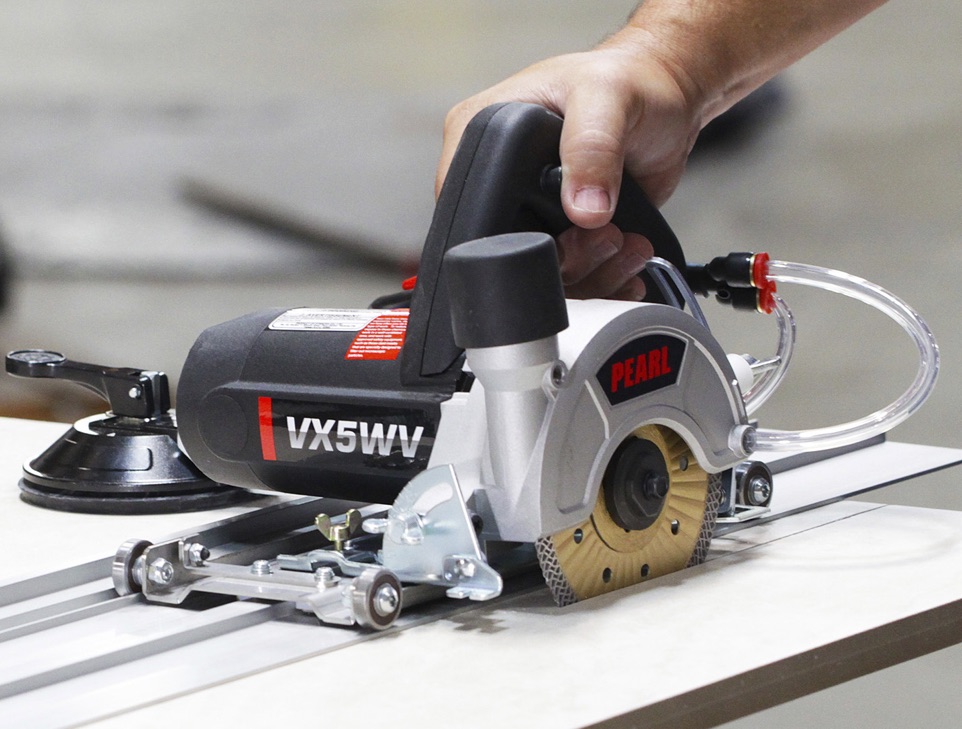 Introducing the Pearl VX5WV™ 5" portable handheld saw for wet or dry application. This popular saw has a powerful 11 amp motor with over 4cm depth of cut when using a 5" blade.
Perfect when cutting all types of tiles, hard porcelain, natural stone, and masonry, it also accepts contour cutting blades for fast, safe radius cutting. Miter cut? No problem with this saw, as it has a built-in adjustable guide to allow for cutting at any angle between 0˚ to 45˚. Lots of accessories available such as railings, carriage, suction cups, and clamps available. pearlabrasive.com
PorcelainPlus Speedbit

The PorcelainPlus Speedbit is a high-performance carbide drill bit specifically designed for drilling quickly and efficiently through hard surfaces such as porcelain tile, crystallized glass, granite, marble, quartz, glass, and other hard surfaces. Internal test results show the Speedbit drills more than 3X times as many holes and more than 2X as fast as other carbide bits. Check out more info and a short video of the Speedbit in action at porcelaindrillbit.com. BOGO on first order!
Progress Profiles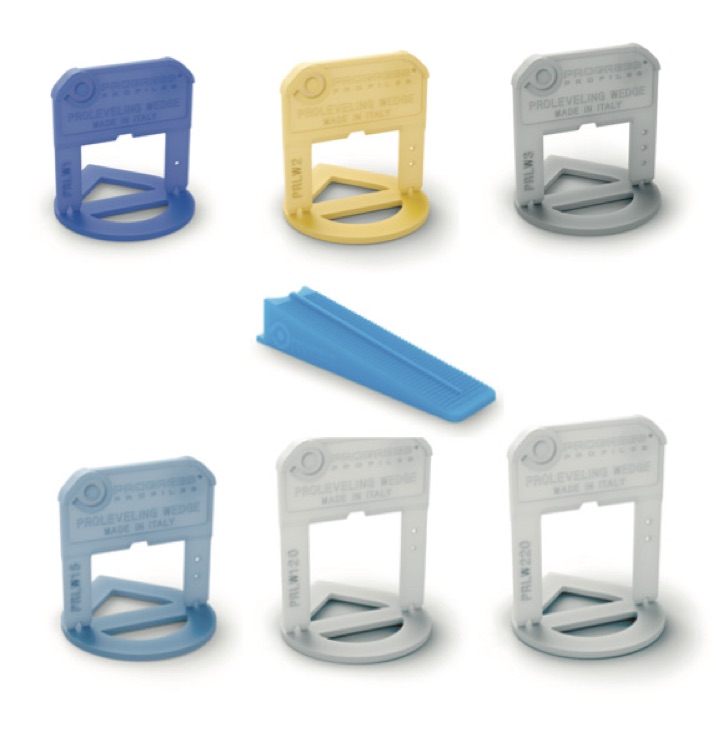 Proleveling Wedges System for tiles is composed of three elements: wedge, leveler and pliers. The levelers are available for grout lines of 1/1.5/2 and 3 mm and are suitable for tiles with thickness from 3 to 12 mm and from 12 to 20 mm. The wedge, with a length of 90 mm and a width of 22 mm, is inserted during installation inside the leveler. When pliers are applied, complete flatness between adjacent tiles is achieved. progressprofiles.com
Raimondi SpA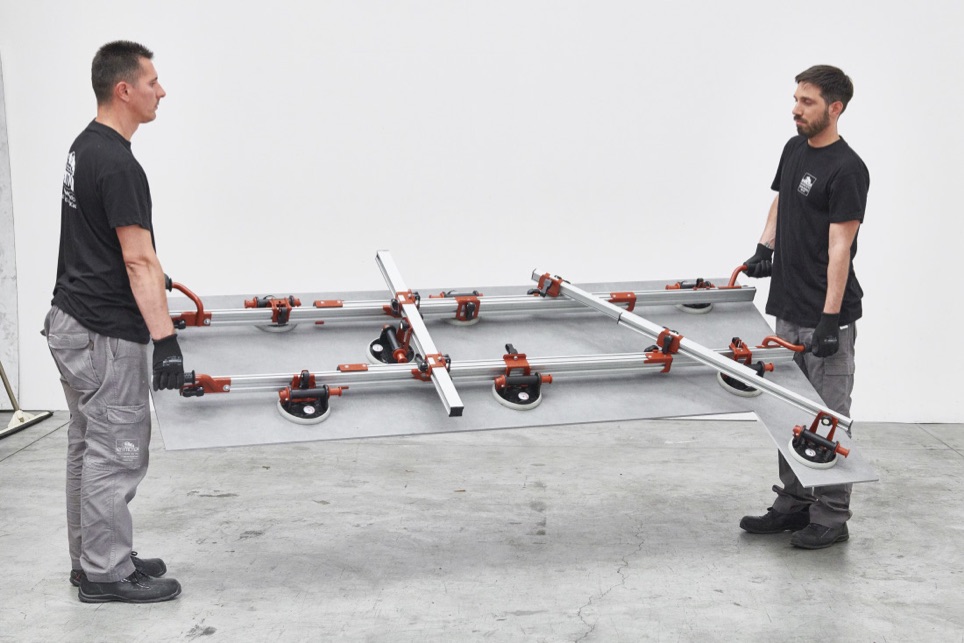 With Raimondi SpA's wide range of innovative tiling tools and equipment, handling large-format tiles has never been easier. The 4th-generation EASY-MOVE frame is a lightweight tool designed for moving large-format slabs up to 10.5' in length, with four sliding handles and eight RV175 vacuum suction cups that can be adjusted to fit slabs of any odd shape. The BM180 PLUS is an extendable workbench with folding legs – a sturdy solution for performing cuts on large format slabs of any size. RAIZOR is ideal for making straight score cuts on 3 to 12mm-thick slabs up to 14.7' long, complete with suction cups, aluminum guides, and SNAP pliers to ensure the perfect cut. raimondispa.com
Rubi USA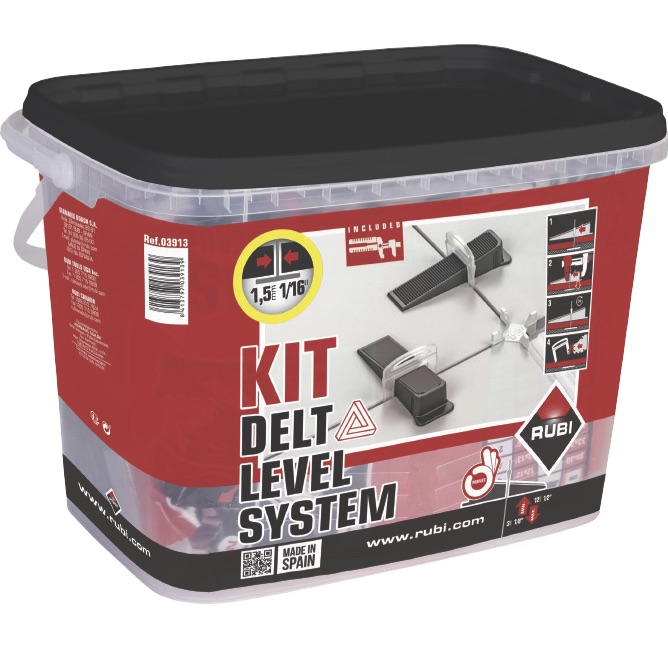 The DELTA clips in the DELTA Level System are now color-coded to their thickness. The new clips have been aesthetically and functionally improved, with thickness measurements written on the clips themselves, marking a major advantage for the user. The new clip design ensures correct pressure for the wedge, and a clean and uniform break. While DELTA clips are compatible with most wedge systems on the market, the new DELTA wedges have been improved in terms of their composition and shape, making them much more resistant to wear and tear. A reusable element like a wedge should guarantee a good few cycles of reuse. The curved shape at the end of the wedge creates a stop so it can't pass right through the clip, avoiding excess pressure. In addition to the DELTA Level System, Rubi also offers the Tile Level and Tile Level Quick leveling products. rubi.com
Stabila

The Stabila Tiler Set is the perfect set for all tile-related work! The set is a combination of the 58" and 32" Type 196, heavy-duty levels. The 32" is ideal for tubs and showers. The 58" is the perfect fit for long tub walls. Find your high or low spots with this long level that transports easy at only 58". stabila.com
Ventique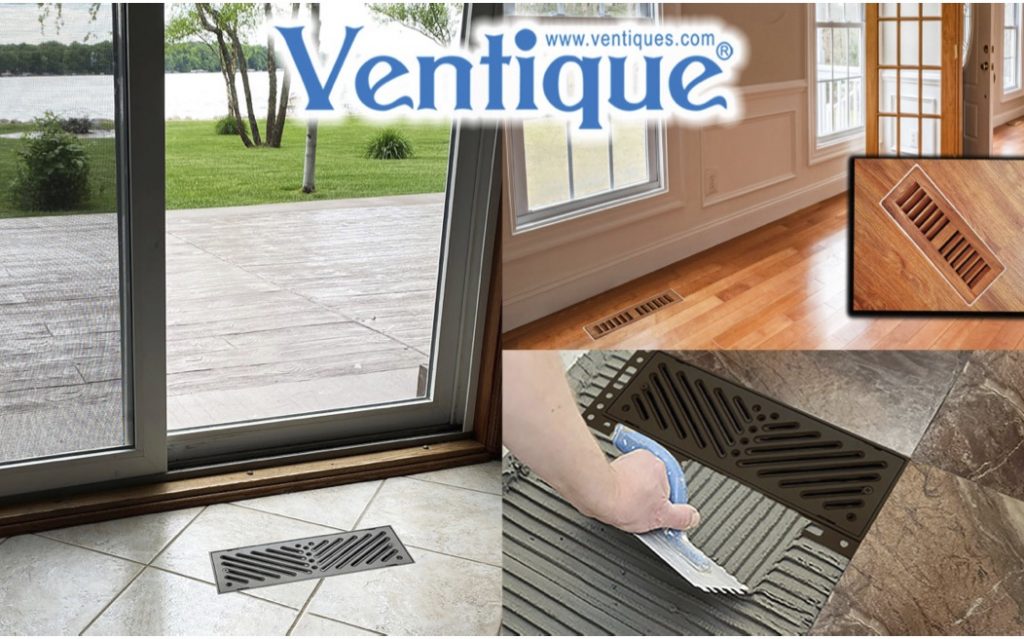 Ventique vents are made to create a solution for flooring installers and homeowners alike – smooth transition vents. Ordinary raised floor vents don't add anything to a home's look, feel, or value, but Ventique vents are functional and stylish, and also easy to install. Unlike anything else on the market, these vents are completely flush to the surface. With four unique design styles, and a variety of colors, and finishes, you will find a flush mount vent to complement any of your project's needs. ventiques.com