Visit us at CERSAIE. Booth C12-D13 of Pavilion 36. Bologna (Italy) from September 26th to 30th

The tile design studio WOW is currently presenting a series of tile collections at CERSAIE, the international ceramic tile fair (Italy), all conspicuous for their strong authenticity and ceramic spirit.
Its latest products are on show at the design studio's innovative stand at the Italian tile event. Under the slogan Purely Ceramic Soul, a number of different tile collections are being presented, each with its own distinctive language and natural allure. Once again, the tile studio has amazed visitors with its distinctive stand, specially conceived to display its signature tiles to best effect.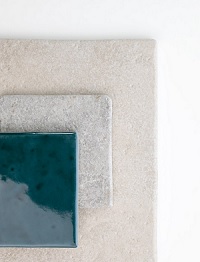 Small formats, geometrical shapes, volumes, shiny glazes and more
At this edition of CERSAIE, WOW Design is presenting a wide variety of small-format tiles and different flat and 3-D geometrical figures to international visitors, in addition to models with volumes and textures.  
Its tiles come in endless different colours, from natural terracotta shades to those of its glossy glazed tiles, whose surfaces reflect the light in a myriad of ways, bringing living spaces to life.
All these tile products can be seen at the stand designed by WOW's collaborator SUMMUMSTUDIO, the architects' studio with which WOW has been singled out by prestigious design bodies, such the international Red Dot Design Award or Casa Decor 2022.
CASBAH conjures up the beauty of the Mediterranean
One of the collections presented by the tile design studio is CASBAH, a collection with a natural fired clay appearance in a matt finish, inspired by the Muralla Roja project (Alicante, Spain) by well-known architect Ricardo Bofill. The architect built a series of apartment blocks on the Mediterranean coast, evocative of the adobe fortresses found in the north of Africa that merge so skilfully with the landscape.
The collection comes in a 12.5×12.5cm format in colours ranging from natural talc or sand to vibrant Mediterranean colours, such as blues, reds and earthy shades. The tiles feature volumetric geometrical designs, evocative of the fortresses set amid rocks.
See-through, lightweight screens with ICON
The ICON screen tile is also being presented to international clients. This 3D tile is designed for use in the creation of see-through, lightweight screens, perfect for linking up indoor and outdoor areas. Thanks to the screen's capacity to filter light and to regulate the temperature, this is a prime example of sustainable building. ICON comes in a sand or terracotta-coloured fired clay version and a glazed white one.  
REBELS, SWEET BARS and TWISTER: signature tiles 
REBELS is a collection made up of 5x15cm small-format rectangular tiles in a choice of 18 colours, from different clay shades to glossy bright glazed colours. Given their small size, the tiles are perfect for living spaces of all kinds.   
SWEET BARS are volumetric glazed tiles in the form of vertical bars, with a wavy effect. The collection, which comes in an 11.6×23.3cm or 12.5x25cm format, can be used to create settings with a high expressive potential. TWISTER, on the other hand, is a glossy glazed tile collection in a 12.5×12.5cm square format, with volumes, circular motifs and vertical designs.
Click here to discover all the tile models presented at CERSAIE, with photos, their colours, and details of their formats, different models etc. The tiles showcased by WOW Design at CERSAIE are: ABBEY STONE, AQUARELLE, CASBAH, GLOW, HAMMER, ICON, REBELS, ROOTS, SWEET BARS and TWISTER.  
---
WOW, signature tile design
WOW is a specialist in the design and development of bespoke one-of-a-kind signature tiles, tailored to meet individual projects and the needs of architects and interior designers. This makes the studio unique throughout the world. 
With its 20 years' experience in tiles for material specifiers, WOW is present in 76 countries worldwide. It currently has a turnover of almost 53 million euros, with yearly rises in its annual turnover of about 40%, and a stable workforce of 300 people from the local community. Its main target markets are the USA and European Union countries. Its goal is to continue expanding, mainly in these two markets via material specifiers through the design of small-format tiles with a high added value.