This Fall's TileLetter ARTISAN gallery highlights the work of four talented creators who wrangled pebbles, scrap and salvaged tile into beautiful works of art, or who had to wrangle with scheduling, climate conditions and problematic prep to reach their goals. Enjoy these masterful installations – and if you have one of your own to share, email high resolution photos and a short description to [email protected]. It's never too early to start assembling the gallery for the Spring TileLetter ARTISAN issue!
Rock on!
Talk about custom backsplash! Brandon Foster of Design Construction, Inc., in Lakewood, Colo., has a customer whose hobby is collecting and polishing rocks, with the intent of having them installed as a wet bar backsplash.

To get started, Foster studied photos of a grassy field with a stream, a blue mountain in the background and hills thick with trees to develop a design using the rocks, which varied from pinky tip size to fat finger size from 1/8″ to 1/2″ thick. "Being polished, they don't stick well to anything, nor does the size and shape variation allow for continuity or crisp lines," he said.
After experimenting with several layouts to scale the design down a bit, Foster arrived on a design the customer loved. The next challenge was to transfer the design to the backer without changing it.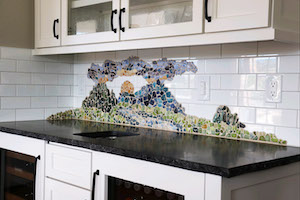 Enter Erin Epperson of Whistling Bee Artisan Tile, (see the Craftsperson story in this issue) who recently installed a monumental pebble tree mosaic. They connected at a recent Blanke event in Denver, and Epperson helped Foster with some online coaching, then went on site with his project for three days to assist.
"We used contact paper and tile foam boards to flip and move the layout," Foster explained. "She had previously talked to Markus Dworowy at Blanke Corp., and itseemed like a pretty good fit to pre-mount the rocks to Blanke Permat underlayment sheets and then mount that to the wall.
Epperson guided Foster though the knockdown troweling method which she had found to be useful with small rocks and pebbles. This resulted in fewer joints for Foster to clean, along with excellent coverage for the polished rocks.
Foster also reached out to his reps – Mike Hogan at LATICRETE and Garrett Wegrzynowicz at ARDEX to determine the best mortar selection for this project. "LATICRETE Multimax Lite took this one as I was able to tint the mortar to the grout color due to the size variation in the rocks," he said. "However, I could never leave ARDEX out of this one, so X-5 was used to set the Permat to the wall and set the subway tiles."
To facilitate scribing of the small pebbles, Foster reached out to his contacts at Shower Concepts in Englewood, Colo., to devise a grinder table that was similar to a router table. Together with some artisan grinder bits, this arrangement allowed Foster to hold the tile with both hands, which reduced breakage of the small, thin tile.
Grouting posed another challenge, but Epperson came to the rescue. She suggested using a sponge to pick up the grout, push it into the joints and begin wiping and cleaning. "It worked fantastic!" Foster exclaimed.
"The customer is thrilled with it, and I'm super happy to put this on my books for more of what I'm capable of producing!" he said.
Come dance with me!
Joshua Nordstrom of Tierra Tile in Homer, Alaska, created a beautiful tribute to two Sandhill Cranes that have been migrating back to his customer's home for the past six years to have their chicks. When she moved into her new home, she wanted to memorialize them.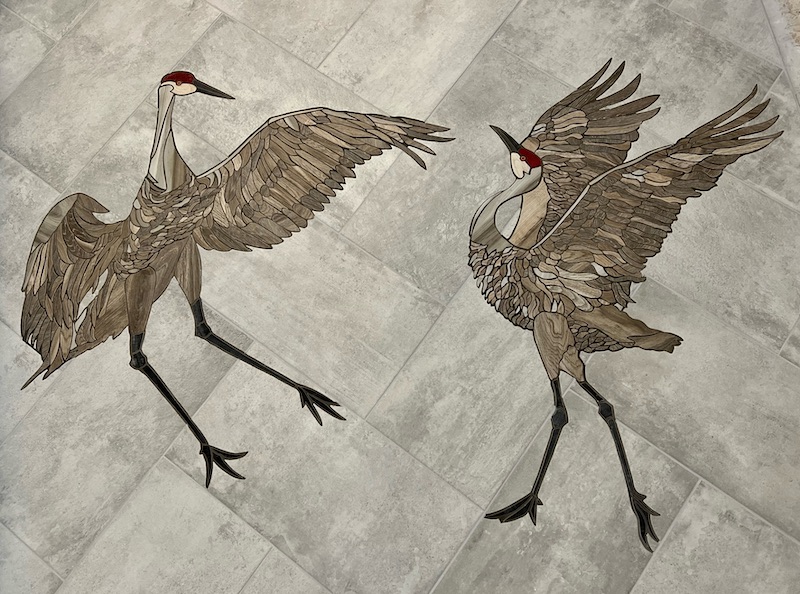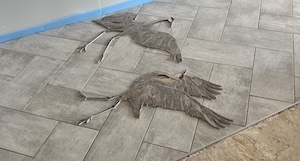 Nordstrom created life-sized crane mosaics from recycled wood grain porcelain scrap tile with red porcelain heads and Absolute Black granite beaks. Nordstrom pre-mounted them on mesh and set them into Florida Tile Continent DP Delta Haze 12″ x 24″ porcelain. The subfloor is two layers of 3/4″ plywood with Schönox ADF self leveling underlayment and DITRA XL to accommodate a transition to 3/4″ wood flooring.
The result is a charming and spirited highly-customized tableau of the two life-size cranes, dancing merrily across the customer's floor.
Native Warrior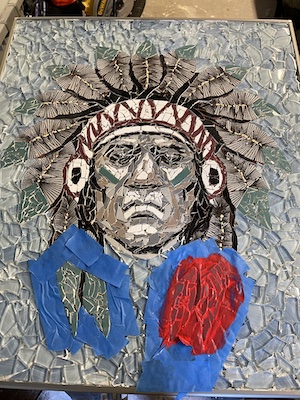 John Vitacco, CTI #1519, of Vitacco Tile LLC in River Vale, N.J., created this Native Warrior mosaic of hand-nipped 4″ x 4″ salvaged ceramic tile of different colors. It was inspired by the former mascot of Pascack Valley High School (PVHS) in neighboring Hillsdale, N.J., that serves the district – the high school, it just so happens, that TileLetter ARTISAN editor Lesley Goddin graduated from!
"The tile I used for the feathers was a lined patterned tile that was also hand clipped," Vitacco said. "I free hand set single shards of ceramic with weld bond glue directly to mosaic mesh that was on top of plastic wrap over my sketch. I then thinset the mesh piece to cement board and single-set blue glass around head and feathers." The green tones in the piece were inspired by the former PVHS mascot colors of green and white.
"This 24″ x 36″ piece has six grout colors which was the most satisfying part of the project that brought this warrior mosaic to life!" Vitacco said.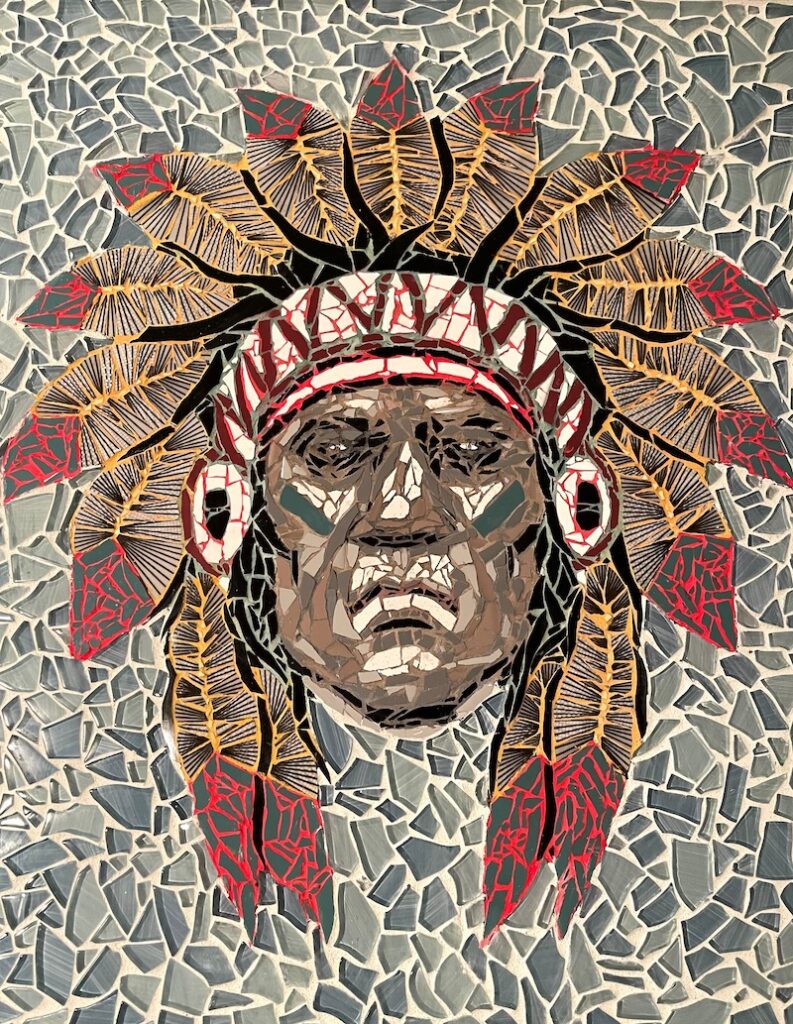 Wrestling challenges to go from simple to sublime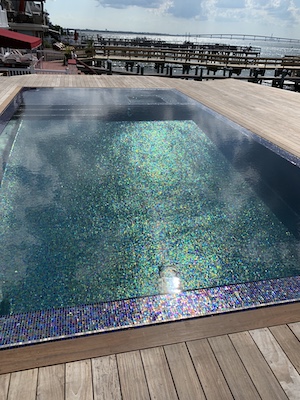 Even a relatively simple pool project can be challenging when you are working in freezing temperatures to meet a tight schedule, and you have to wrestle with the shell to be sure the install will be level.
Such was the case with a pool project that Danilo Bonazza of Art and Mosaics in Holmdel, N.J., called "very simple." The mosaics were all handmade in his workshop, but he claims they "did not have the artistic intricacies of some of my other projects." But then there were the challenges.
"The tight schedule was to have everything ready for the coming summer season and the pool had to be completed before a specialized crew would finish the pier around it," he said. For Bonazza, that meant working in December with freezing temperatures. His team tackled that trial by building a "temperature-controlled solid structure to keep the weather away from the pool while I was working on it," he said.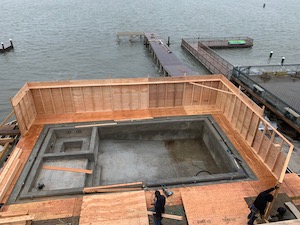 The second challenge was a bit trickier. "The design was supposed to have a mirror effect with a 360 perimeter overflow so it had to be perfect," he said. "The shell was actually very off level so I had to work very hard to make sure my preparation with high strength cement – then the waterproofing and installation of the mosaics with epoxy materials – would be perfectly leveled. Long hours of hard work and triple checking every single phase made the project come together. The result is really outstanding."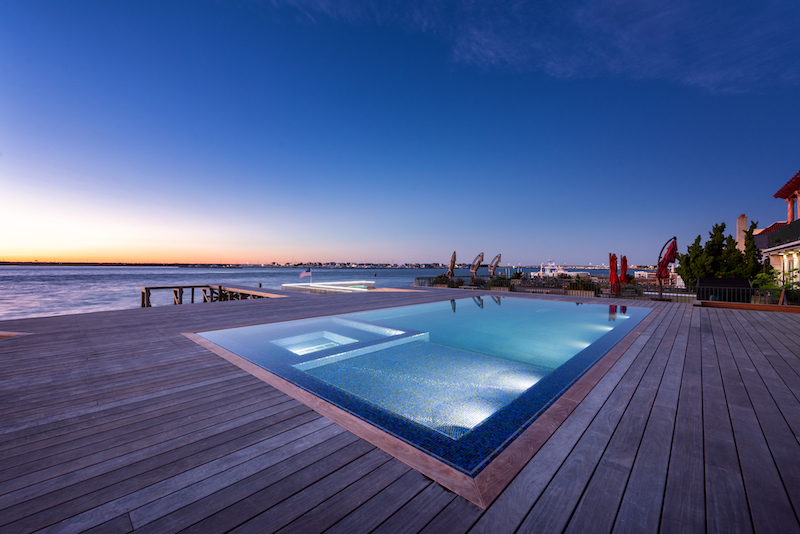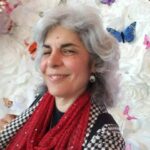 Editorial Director and Senior Writer for TileLetter and TileLetter ARTISAN
Lesley Goddin has been writing and journaling since her first diary at age 11. Her journey has taken her through a career in publishing and publicity, landing her the editor position of TileLetter and its special publications in 2006. Her goal is to educate, inspire, recognize and encourage those in the tile industry -- especially the tile and stone contractor. Other interests include the soft, purring marvels known as cats, labyrinth walking, drumming and percussion, and a range of spiritual, musical and artistic pursuits.