Carrara marble moisture discoloration on shower floors is a common problem that has been experienced by many professional tile and stone installers in the U.S. Cases when white or light-colored stone gets random, blotchy-looking dark spots are often posted and discussed at social media groups and online forums. The lack of technical information on cause and prevention of the above-mentioned problem seems to result in a rapidly-growing rejection of white marble as a finish suitable for wet areas. Stone is often blamed for its "poor quality," "inappropriate mineral composition" and, thus, its inability to provide predictable results when it is installed on shower floors.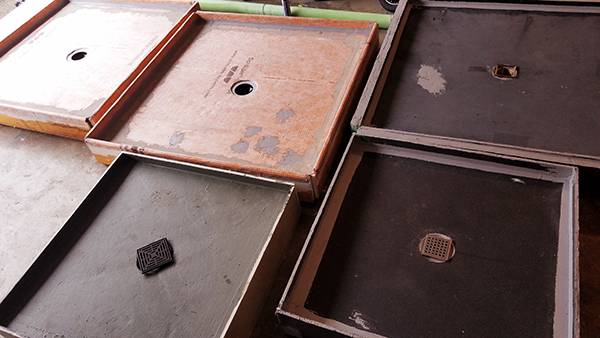 Such opinion is often based on the fact that light-colored marble is subject to moisture discoloration not only in cases when a tile and stone mechanic does obvious installation mistakes such as failure to provide proper pre-slope and/or final slope to drain, clogged weep holes, or not fully collapsed mortar ridges, but also in situations when the installer strictly follows the above-mentioned requirements.
This provides a controversy in the light of the fact that white marbles have been successfully used for wet room applications – for example in Europe – for a long time.
Ten Carrara shower modules were tested, with help and support from many industry professionals. Results showed that most of the problems with light-colored marble arise due to inappropriate installation methods/techniques that often result from the insufficiency of the technical information on this subject.
The research has helped to determine two main methods that, if properly followed, will provide great results for white marble at shower floors.
Method #1: traditional dry pack mortar bed shower pan
Before the surge of the discussed problem in late 2000s, marble was mostly installed in shower floors with a traditional water-in water-out system. A dry-packed mortar bed, consisting of one part Portland cement to four to five parts sand, not compacted too tightly and not finished too smoothly, provides a subsurface of connected and very high porosity allowing water to quickly be "taken away" from the underside of marble mosaic. If stone is bonded to substrate with a basic thin-set mortar (preferably unmodified due to its higher porosity), grouted with a simple grout, has no adhered fiberglass mesh reinforcement (an impervious coating on the back of stone also known as "resin backing") and is not treated with an impregnating/penetrating sealer, the water absorption, migration and evaporation should not face extra complications. The above-mentioned shower system will provide exactly what it was designed for – a proper water evacuation, both topically and internally.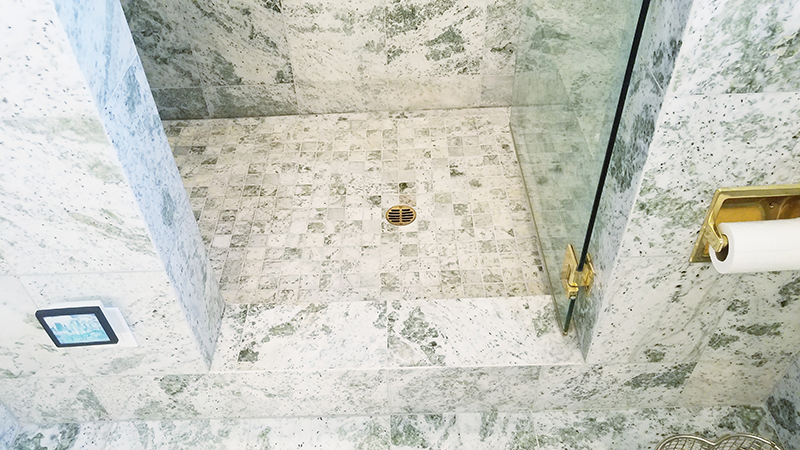 Method #2: bonded waterproof membrane shower pan with epoxy adhesive and grout
According to our reasonable testing, the bonded waterproof membrane method also provides great predictable results with translucent stone like marble when it is properly installed with a suitable epoxy adhesive, epoxy grout, and very permeable (breathable) impregnating sealer. While the "dry pack" system enables great drainage and internal water evacuation, the second method provides marble with a highly hydrophobic/water-repellent subsurface, almost waterproof grout joints, and a reduced-to-minimum presence of moisture inside its pores, which enables relatively quick topical water evacuation, evaporation of moisture, and drying of the stone.
The problem with bonded membrane pan systems installed with modified mortar and grout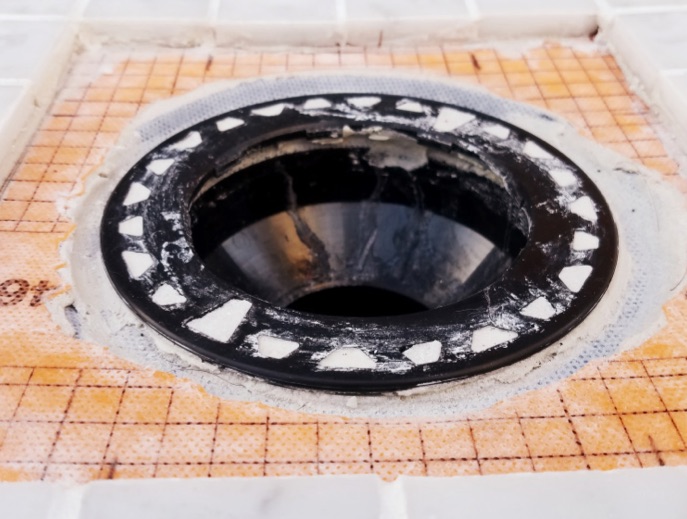 It is important to understand that the reduced porosity of modified mortars and many modern "stain-resistant" grouts – as well as the design of integrated bonding flange drains (that creates a little dam around the drain opening) within a bonded waterproof membrane system – not to mention the application of penetrating/impregnating sealers – do not contribute to proper internal water evacuation and evaporation. Water still penetrates the stone mosaics, whether sealed or unsealed, either as liquid or gas/vapor and moisture gets trapped below and/or inside stone.
Saturation of the anchoring fleece in the top layer of a waterproof sheet membrane or dampening of the cementitious coating of a foam pan only reinforces the moisture discoloration. The close distance from the waterproof membrane to the stone on shower floor with a thin layer of mortar – that is much less porous than dry pack sand – does not allow water to be "taken away" from the underside of stone. If the shower is used somewhat moderately, marble and its subsurface do not get really saturated and can dry relatively quickly. However, if the shower is used "heavily" (for example, by a few people in a row), the chances of stone/mortar/membrane saturation are much higher, causing a gradual moisture entrapment within the shower floor assembly installed with the topical waterproofing method.

All the bonded membrane Carrara modules were constructed with full mortar coverage and 2% slope to drain and only one – installed with the "epoxy" method – has shown incredibly quick drying time (from two to three hours to return to the original light color). Other modules, whether sealed or unsealed, have all shown some sort of moisture discoloration that would not fully go away for days.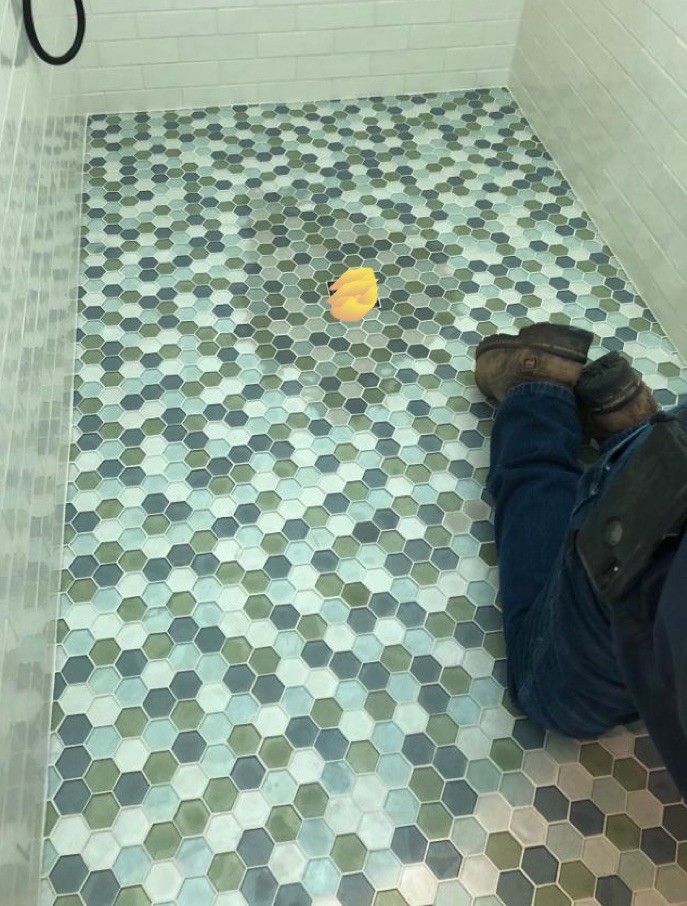 Again, the reason for such discoloration is the inability of a bonded membrane system to "hide" moisture entrapment under translucent stone when it is installed with materials that still absorb moisture and are not as highly water-repellent as epoxy.
This conclusion is indirectly supported by the following remarkably interesting statements found in the TCNA Handbook in regards to translucent glass tile installation: "Bonding translucent glass tiles directly to membranes or other impervious surfaces is not recommended because any moisture trapped between the tile and membrane would be visible. Membranes should be placed behind or below the tile setting substrate where translucent glass tile will be installed" (TCNA Handbook for Ceramic, Glass, and Stone Tile Installation 2019, page 7).
The research on the subject continues. Next step will be testing eight new Carrara marble modules installed with different products within the two above-mentioned methods ("dry pack" and "epoxy").