If there's a project that requires expert engineering, it's a shower system. Steam showers, whole-room, European "wet rooms," barrier-free/zero-entry showers, evolutions in drains that include linear drains, tileable drains and wall drains all bring functionality and style to showers – as well as learning curves for installers. Improper slope, leaks and moisture vapor are bad news for any type of wet install, from rot to mold proliferation to discoloration to deterioration.
Shower systems depend on expert waterproofing, but more and more manufacturers have been developing lightweight modular panel systems that integrate waterproofing into the backer and pan elements.
In recent years, some of the most innovative examples of performance engineering have occurred within the shower systems category, featuring systems that form waterproof, functional, high-performance backdrops to attractive combinations of stone and tile. The following products are some examples of these new and interesting innovations.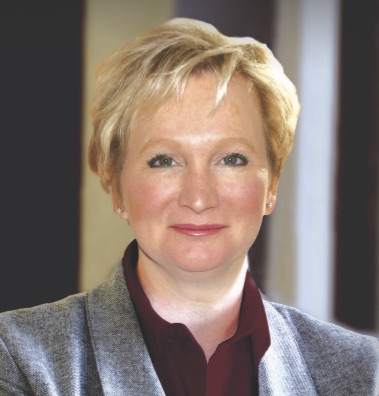 Shower systems have seen a lot of developments in the last few years but something that we've observed has been a shift toward shower waterproofing systems that incorporate a prefabricated shower pan, said Julia Billen, Owner and President, WarmlyYours Radiant Heating. 
This system type offers several key advantages over traditional mud beds, she added, such as weight reduction (particularly important for non-slab subfloor installations), speed of install (since you don't have to wait for a mud bed to fully cure), and a consistent slope towards the drain (something that is difficult to achieve by hand without exceptional skill and patience).
"Prefabricated shower pans also offer a distinct advantage when combined with electric radiant heating systems as their dense foam construction typically has an inherent degree of thermal resistance (or R-value)," concluded Billen, "meaning they won't absorb the heat from heating elements and negatively impact energy efficiency."
---
Shower Systems
1 Custom Building Products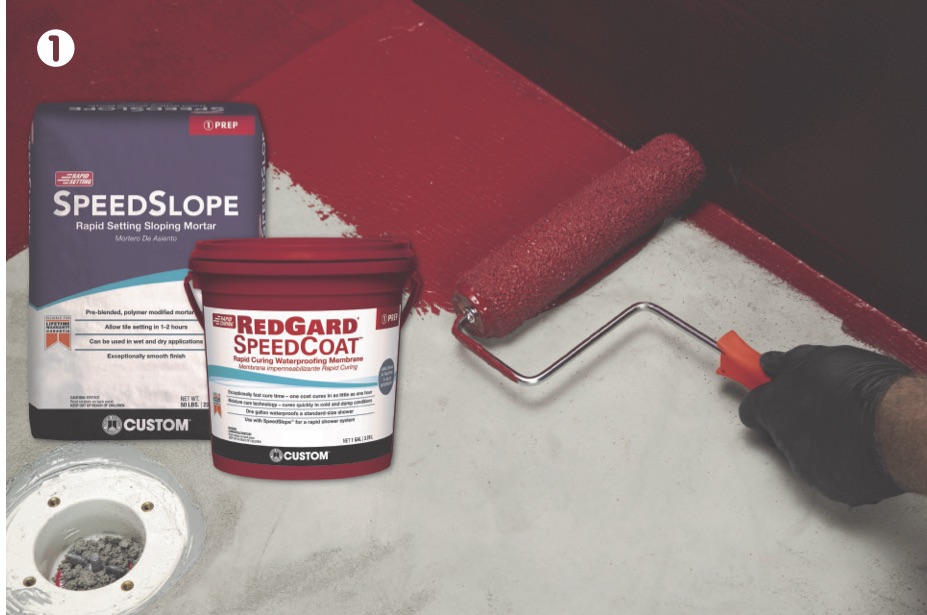 A polymer-modified, pre-blended, cement-based mortar bed and sloping mortar for fast-track leveling and ramping, Custom's SpeedSlope Rapid Setting Sloping Mortar and RedGard® SpeedCoat™ Rapid Curing Waterproofing Membrane are designed to make shower installations fast and easy, with Speedslope setting in 1-2 hours. RedGard SpeedCoat is a ready-to-use, liquid-applied waterproofing membrane that cures in about an hour, even in cool or damp conditions, due to cross-linking moisture cure technology. Together, these two products allow installers to float a shower floor, waterproof, flood test and set tile in hours rather than days. custombuildingproducts.com  
2 LATICRETE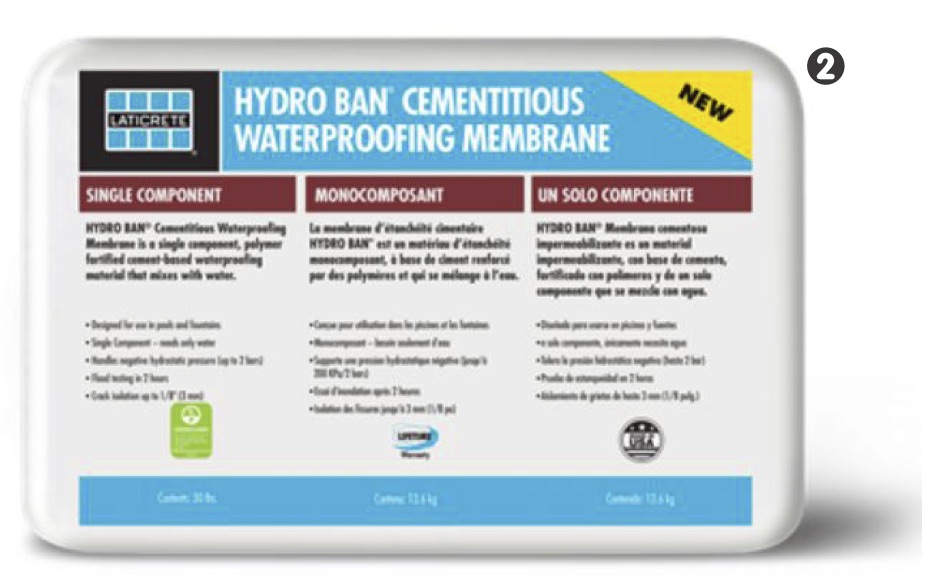 Hydro Ban® Cementitious Waterproofing Membrane is a single-component, polymer-fortified cement-based waterproofing material that requires only water for mixing, resulting in a faster preparation process. It's suited for use in applications such as swimming pools or waterproof spas. Formulated to be GREENGUARD Certified and LEED compliant for sustainable building, it's equipped with anti-microbial technology and is solvent-free and non-flammable. laticrete.com
3 MAPEI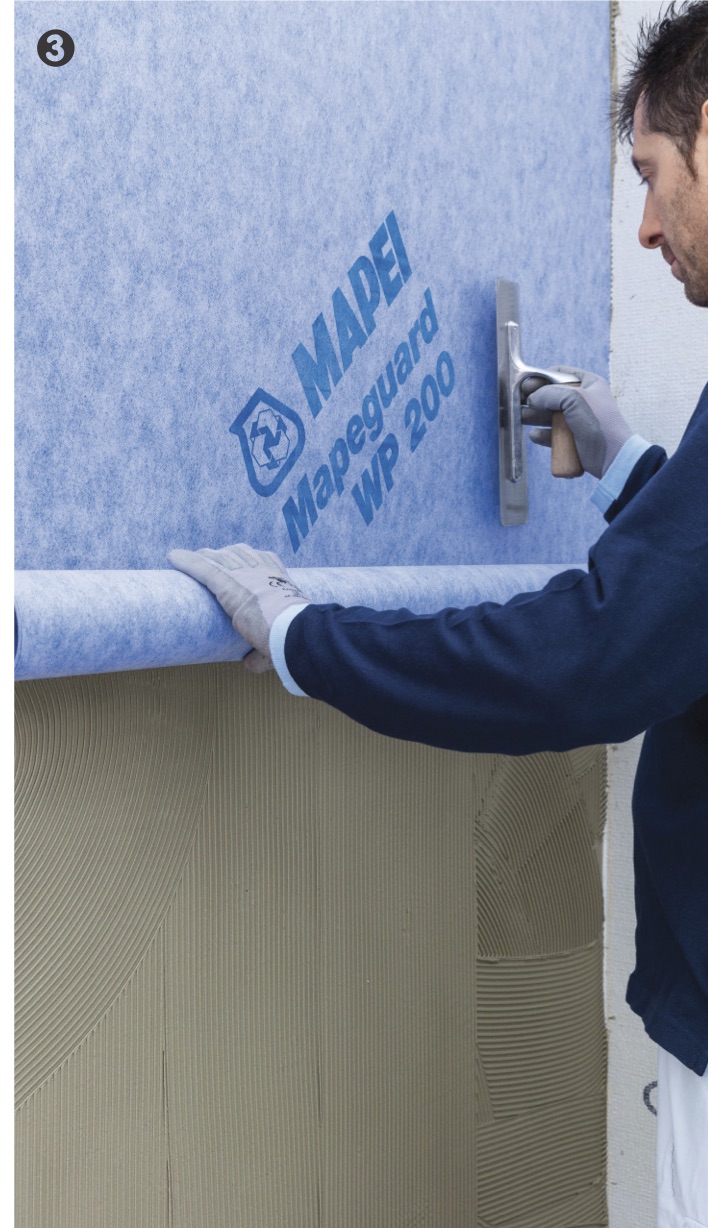 Mapeguard WP waterproofing membrane systems are engineered to deliver waterproofing, crack-isolation and vapor-control solutions, addressing the demands of wet and high-moisture environments encountered in both ceramic tile and stone installations. Mapeguard WP systems can include Mapeguard WP 200 waterproofing sheet membrane, Mapeguard WP ST waterproofing sealing tape, Mapeguard PIC pre-formed inside corners, Mapeguard POC pre-formed outside corners, Mapeguard PC pre-formed pipe collars and Mapeguard VC pre-formed valve collars. Components of Mapeguard WP systems can be purchased individually or collectively as the Mapeguard Combo kit (which consists of inside and outside corners, a pipe collar and a valve collar). mapei.com
4 Noble Company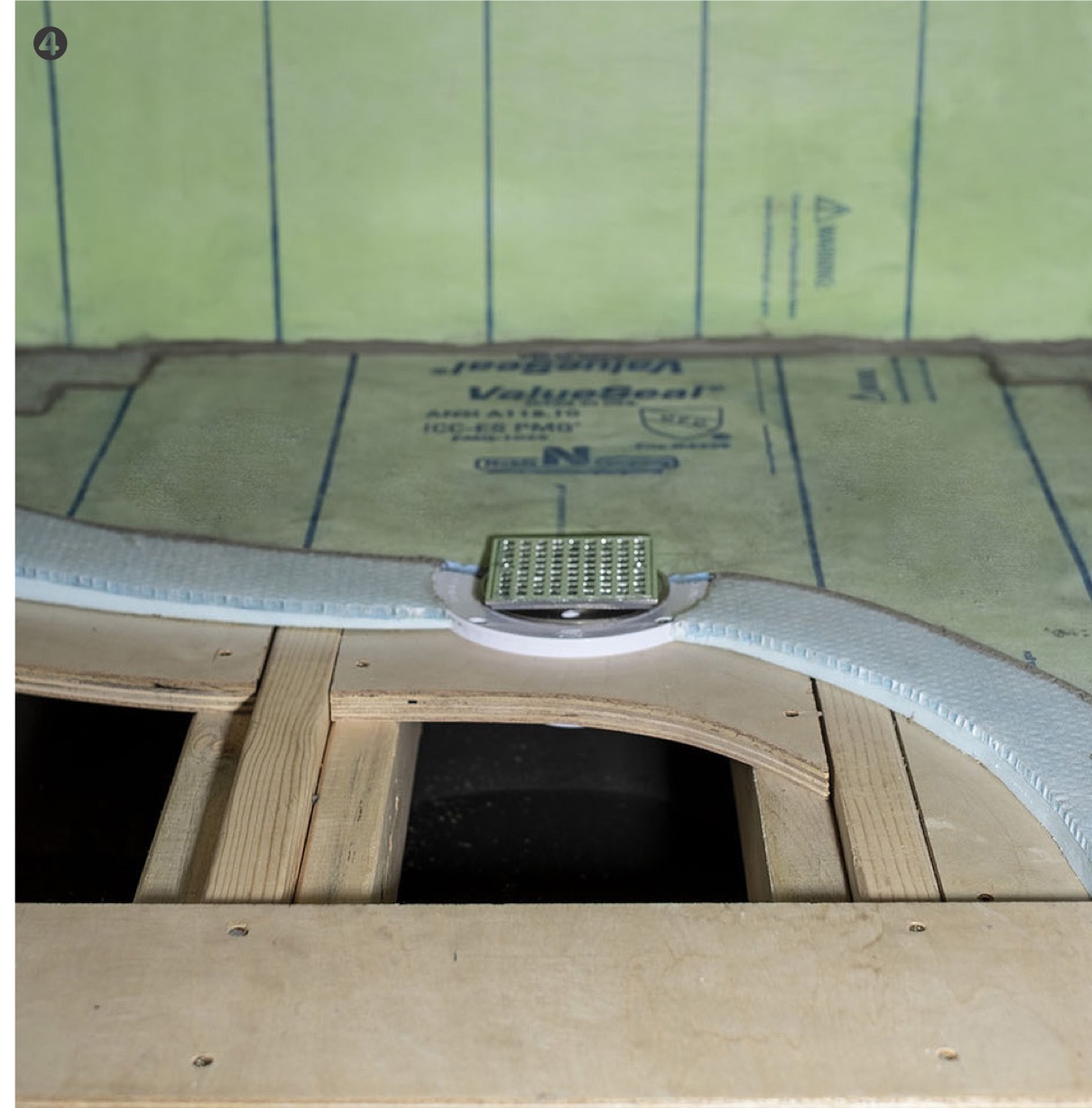 Adding storage space within a shower environment is a convenient way to organize the essentials used including soap, shampoo, conditioners, shaving elements, and more. Noble Company offers a wide range of preformed, waterproof, ready-to-tile niches to meet this need. Custom sizes and configurations can also be accommodated through special order. In addition, Noble Company's FreeStyle Thin-Bed Drain (pictured) is designed as a complement to its ProBase® II Multi-Slope Base system. The drain incorporates a clamping ring to provide for a high-performance mechanical attachment of the membrane to the drain. In addition, the drain is created to be low profile, making it a solution to a barrier-free installation. Drain bodies are available in either PVC or ABS and the strainer is available in four finishes. noblecompany.com
5 Progress Profiles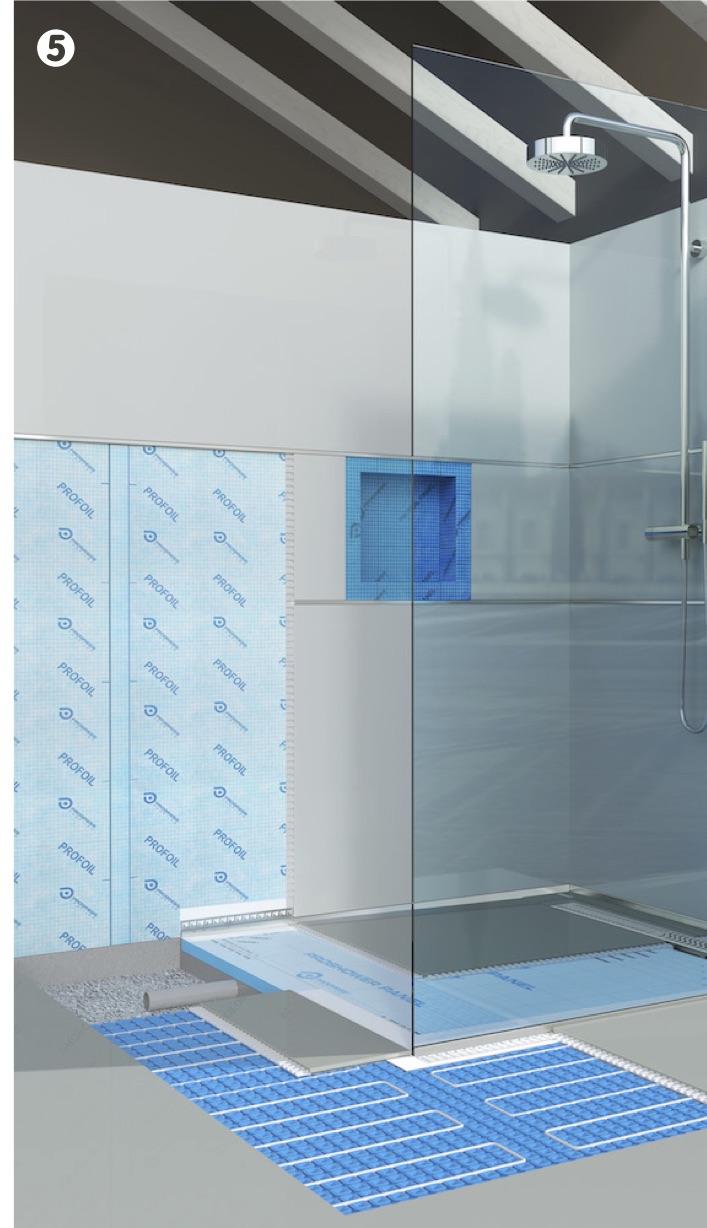 The company's Proshower System is designed to be the solution for linear drain showers. Proshower Panel Linear is an isolating pre-sloped shower pan that facilitates tile installation by providing an optimal pitch for efficient water drain. Proshower Panel Central is the new shower tray with a 150mm diameter central hole for the positioning of Proshower Drain Kit. Two different shower channels that avoid malodorous stagnation are equipped with 360° adjustable drain and removable head flanges for connecting two or more shower channels. The Proshower Profile line offers profiles in a range of designs that finish the outer edges of the shower tray and hold the shower glass. progressprofiles.com
6 Schluter Systems
Relocating a drain for a shower can be extremely challenging and expensive in many renovation situations like slab-on-grade construction, basements and buildings with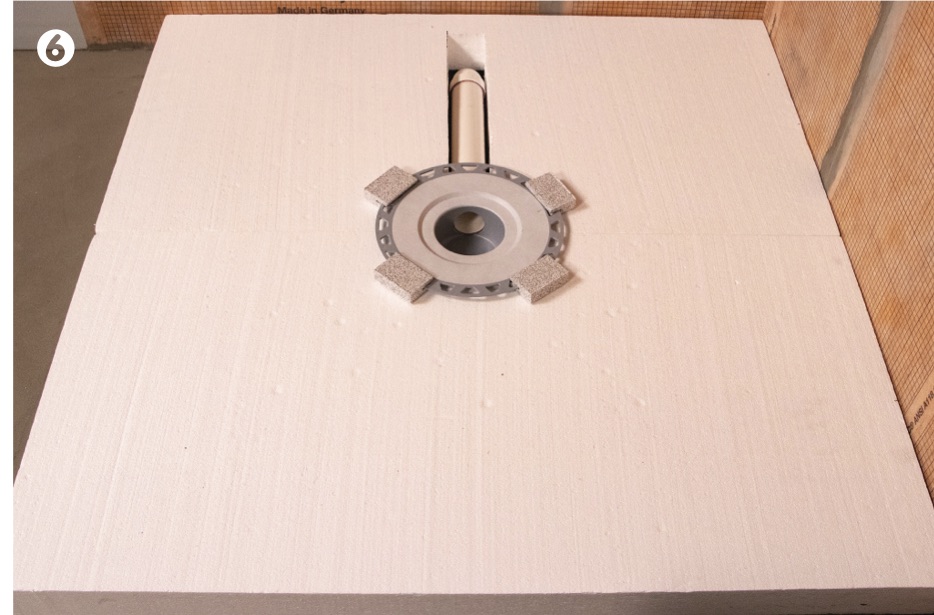 suspended concrete. To overcome these challenges, the company has developed the KERDI-DRAIN-H with a 2" horizontal outlet that allows the drain to be connected to an existing drainpipe and P-trap away from the new drain location, reducing cost of the project. In situations where there is no access to the space below the floor, the horizontal drain outlet is designed to make an almost impossible project a reality. schluter.com
7 WarmlyYours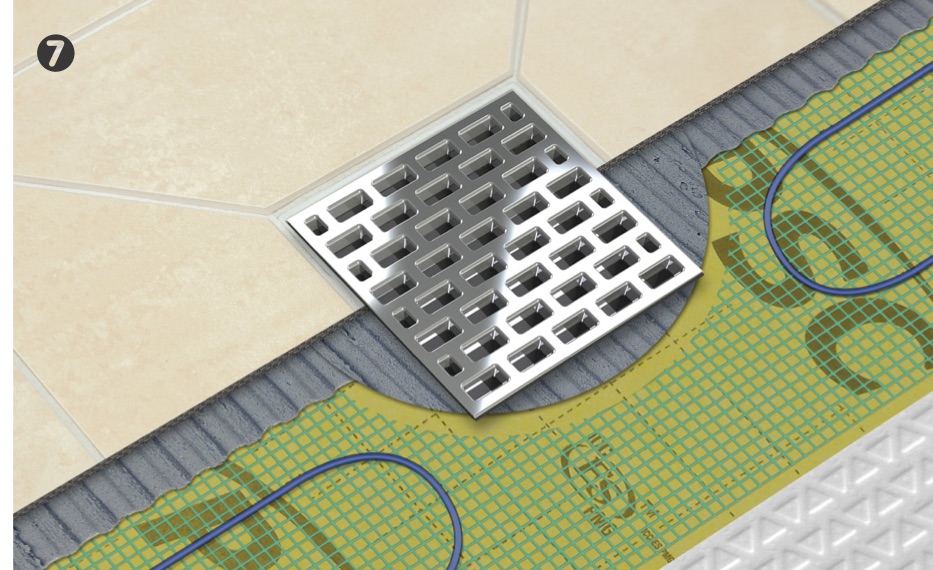 The WarmlyYours Shower Waterproofing and Floor Heating Kits are among the first in the industry to combine all of the elements of a shower pan waterproofing kit with a pre-sized electric floor heating system. The shower pan, which is pre-sloped, eliminates the need for a traditional mud bed, reducing installation time and effort. The company's shower kits also feature an integrated hair trap in the drain assembly, a stronger drain flange, a wide variety of available grate covers and a dense shower pan. warmlyyours.com
---
CONTRACTOR PERSPECTIVE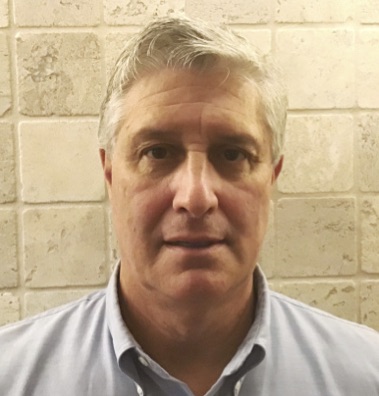 Tom Cravillion
Cravillion Tile & Stone
Plymouth, Wis.
Cravillion walks us through a traditional master bath install and a renovation using state-of-the art systems and products. He shared that construction in his Eastern Wisconsin market is robust with more new construction start-ups in the mid-range homes and remodeling going strong as home values keep rising along with demand. He reports that labor rates are strong as well. $75-125/hour is not uncommon. – Ed.
We have just recently completed a large master bath renovation in which the 15-year old shower system failed. We installed it according to the written specifications at the time using a traditional water-in-water-out clamp ring assembly with a plastic weep hole protector as specified. The weep holes plugged and water flowed up and over the liner/curb system and flooded the floor/ceiling of the lower level bath. Insurance covered the entire renovation as the existing stone tile could no longer be acquired.
This time we used a major manufacturer's full warranted system: bonding flange-style drain, mud-pack floor, water/steamproof wall board, ANSI 118.15 large-and-heavy-tile mortar, and epoxy grout. All tile on the walls are a 32" x 32" porcelain with 1/16" grout joint; shower floor is a mesh mosaic; main bath floors are 6" x 48" wood plank tile with 1/8" grout joint over an uncoupling membrane. Lippage-control devices were used as well to keep everything flat. For peace of mind, the mortar bed cured for one week, membrane for one week, four-day flood test with only evaporation loss. 
We think this is the way of the future for worry-free installations. Yes, it costs more, but how much value is a leaky shower system? We use this system almost always when it comes to installing high-end tile and stone. Our estimates are not competitively bid; we get our work through our local reputation along with a very high-end tile store.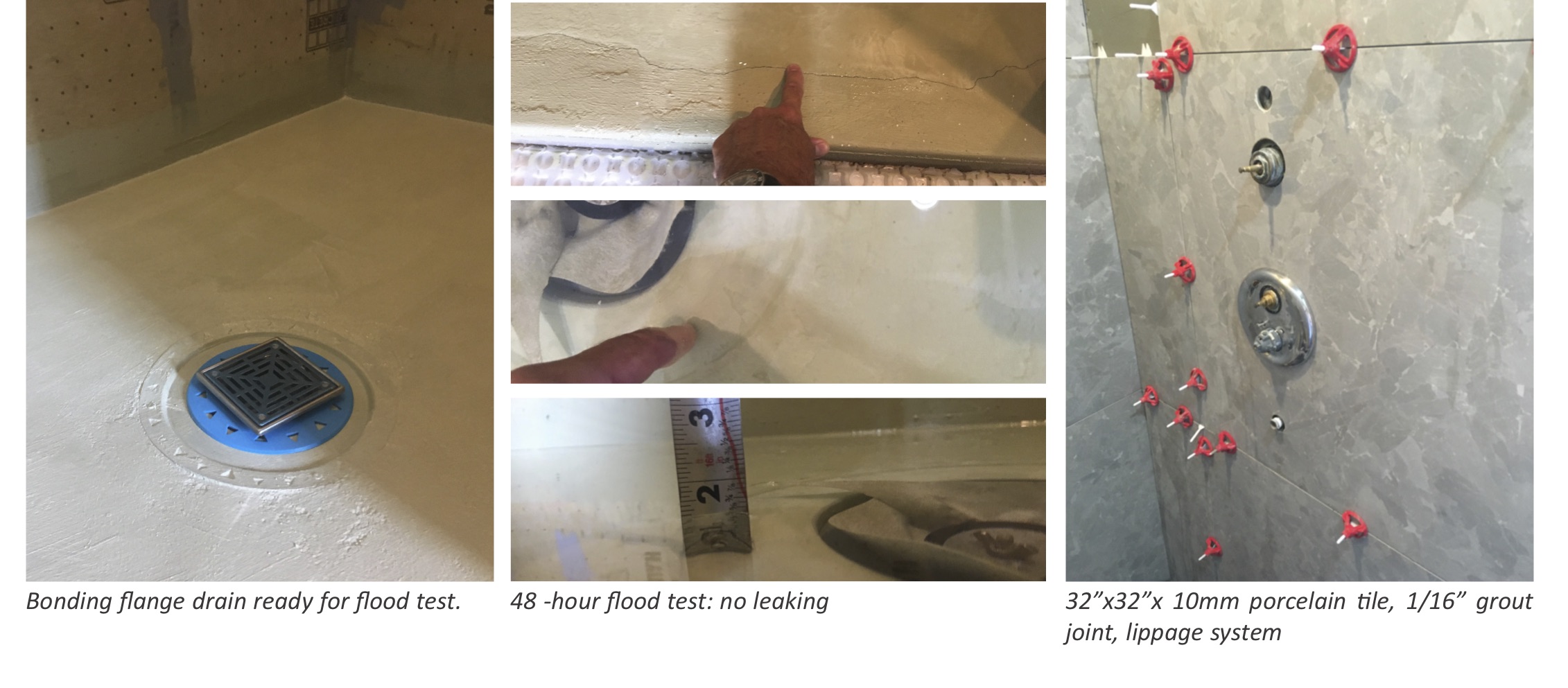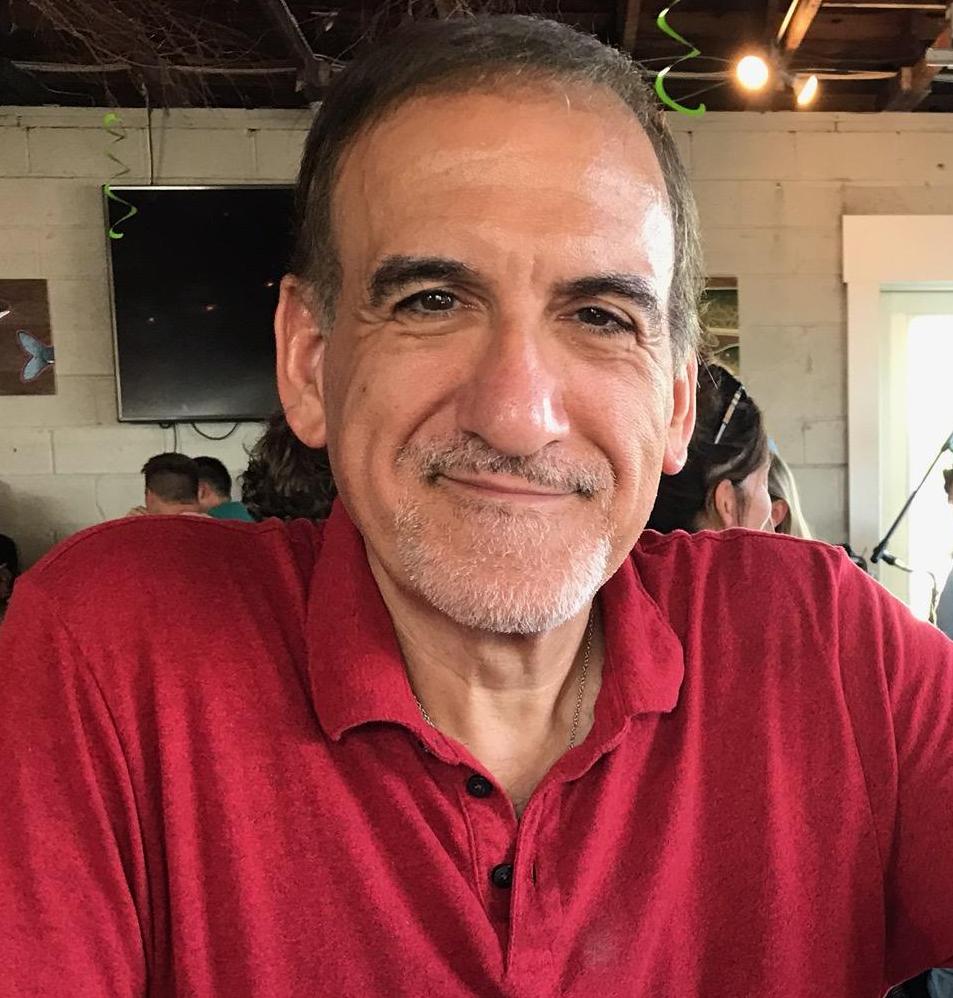 Louis Iannaco is a contributing editor to TileLetter magazine.