Coming into November – the season of thanks – this year, there really is a LOT to be thankful for. Yes, we are dealing with inflation and supply chain issues and midterm elections – but the energy in the country is at a level it hasn't been the last couple of years. COVID is still around but it is moving into a still-to-be-avoided, but more manageable malady. There's a lot of excitement in the industry with new products, and new training opportunities – both for installation and business – resurgence of conferences and trade shows, and the infusion of beauty the growing artisan movement is bringing. So, yes, a lot to be grateful about.
For instance, I have been blown away learning about new NTCA member Aryk Snowberger's work with Snowbee Custom Tile LLC in Ohio. This young man is producing beautiful installations with precision and elegance, and maintaining a work-life balance that is inspiring to behold. Learn more about Aryk in this issue's Member Spotlight. 
Trisha Guinn, a tile setter apprentice at Columbia River Tile & Stone, is another impressive force in the industry. Her path from an educator in California, to a union brick mason finisher to a tile finishing apprentice and now a tile setter apprentice is incredible. And she started her journey through tile after age 50! Rising Stars usually focuses on young members of our industry, but this determined, young-at-heart woman is the focus of this issue's Rising Stars feature. 
We take a look at the efforts Associated Builders and Contractors are making in the area of inclusion, diversity and equity in the construction industry in our Business section. And our Training and Education story by contributor Heather Carter recaps the value of an NTCA workshop for students of the Sierra Nevada Job Corps at the Reno Floor & Decor back in the spring. 
CTEF's Scott Carothers explores the standards-based methods of installing curbless showers, and our cover story details an installation story using CUSTOM products at Corso Atlanta, a luxury senior living community in Atlanta's upscale Buckhead neighborhood. 
We give thanks for the energy, presence and leadership that NTCA President Martin Brookes invested in our association in his tenure over the last two years, as he moves on to chair the NTCA Board of Directors. And Bart Bettiga pays homage to Pedro Riaza, the former General Secretary of Spain's tile manufacturer's association, ASCER, who the industry mourns in his passing last month. 
This month is a time to count our gains – and our losses – and take a moment to ponder it all, with grace and gratitude and positive anticipation of the days to come.
Happy Thanksgiving and God bless,
Lesley
[email protected]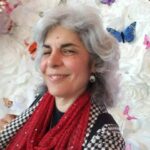 Editorial Director and Senior Writer for TileLetter and TileLetter ARTISAN
Lesley Goddin has been writing and journaling since her first diary at age 11. Her journey has taken her through a career in publishing and publicity, landing her the editor position of TileLetter and its special publications in 2006. Her goal is to educate, inspire, recognize and encourage those in the tile industry -- especially the tile and stone contractor. Other interests include the soft, purring marvels known as cats, labyrinth walking, drumming and percussion, and a range of spiritual, musical and artistic pursuits.