Recycling options can benefit homeowners, contractors, and community members as well as the earth
With this issue addressing issues of sustainability, environmental friendliness and recycling, we turn to a couple of contractors to see what might be percolating in the green arena for them. 
Nadine Edelstein, owner of NTCA member Tile Design by Edelstein located in Vashon, Wash., addresses the recycling issue with a program she's dubbed, "No Tile Left Behind." Edelstein said, "It's enabled me to pull a LOT of material out of the waste stream, and then I am able to make creative spaces for clients with it. I don't charge them for the material, but they pay me to design with it."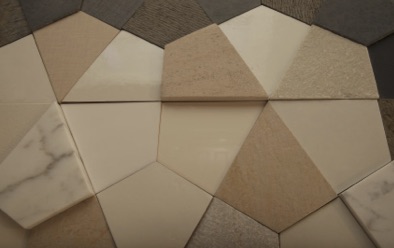 Edelstein was asked to create a feature wall for a new local salon and used No Tile Left Behind material to create it.
"I was thrilled when I found out that the branding was around the concept of the hive," she said. "Several years earlier I had created a concept wall for a local group tile show. I cut kite shaped tiles from tile and stone (from No Tile Left Behind) and arranged them into a dimensional wall of hexagons for the show's entry. Of course I saved all the tiles and hoped I would find an imaginative client. 
"Then along came The Hive! I had to tweak the color palette and add some more pieces but I was finally able to give the piece a place in the real world," she said.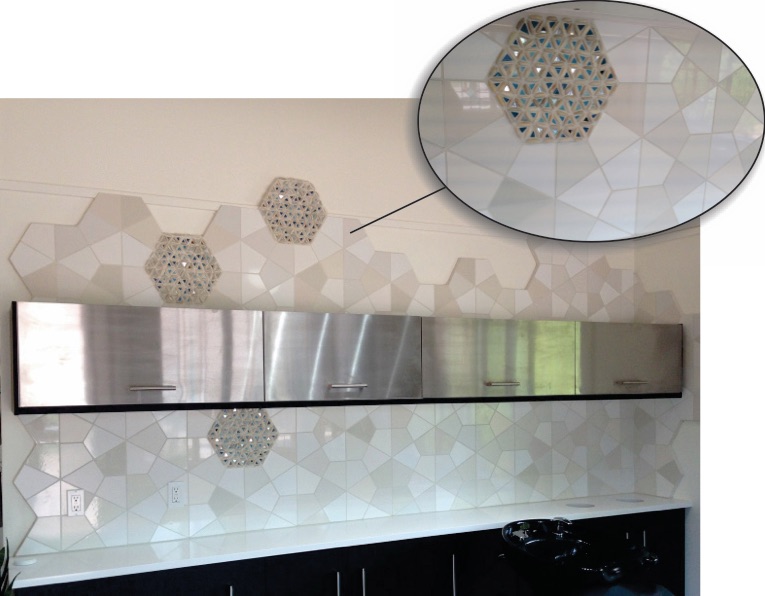 Another recent No Tile Left Behind project was a shower for a previous client of Edelstein. "I was able to utilize glass, ceramic, and porcelain in a blue/green color palette to create a large scale mosaic for their master bathroom remodel," she said.
"Fortunately, I have a large studio," she said. "So I am able to store the rescued tile and stone until I can find them a new home."
Another "Green" perspective
Another "green" perspective on recycling comes from appropriately named NTCA member Phil Green, owner of PGC Construction, Remodeling and Design in Gilberts, Ill. He's also the creative genius behind the "Back Butter Buddy" tool, a tile-centric Lazy Susan that sits atop a bucket and allows large tiles to be turned more ergonomically. He's putting his innovative mind to work on the recycling issue and he's outspoken about the need for novel solutions.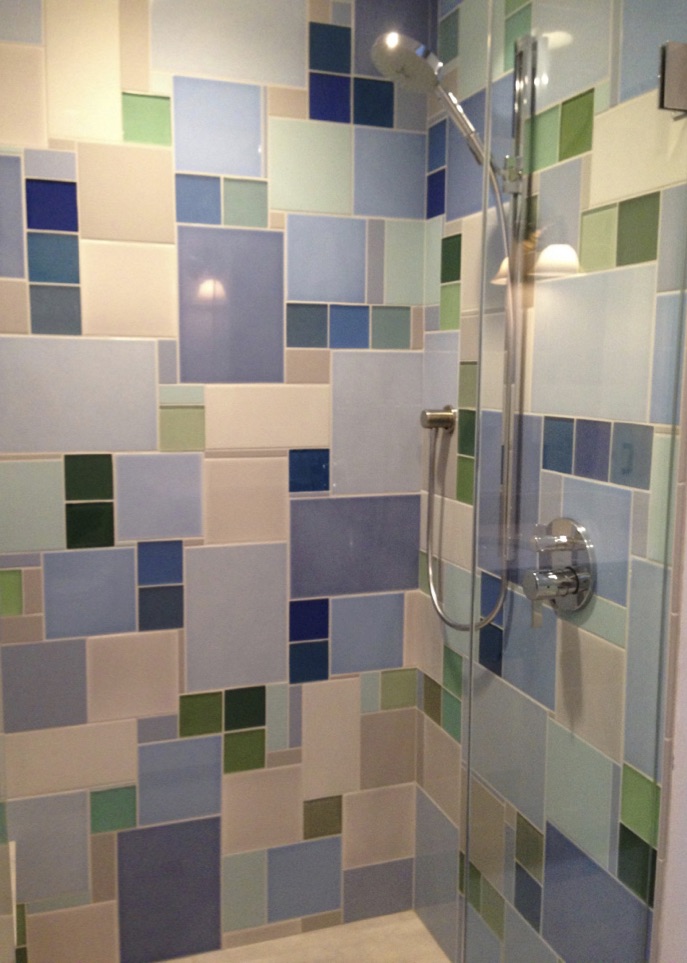 "We in the tile/remodeling industry generate a fair amount of waste materials during the course of our projects. Even the cartons and bags from our tile and thinset become something that we need to deal with," he said.
"As the planet gets more and more cluttered with debris from a 'disposable-minded' society we NEED, MUST, ABSOLUTELY HAVE TO do our personal fair share to chip in and become part of the solution. Many programs already exist, and new ones are on the horizon that look for alternatives to bagging and shipping everything to the dump."
Green detailed  a few things that his company has chosen to do to help: "When we demo a kitchen or bath we do it in such a way as to not damage the reusable products from the project," he said. "Sure, sledge hammers work, but they are just to add drama on the DIY/HGTV shows. We take cabinets, countertops, faucets, light fixtures, doors, and even old paint to our local Habitat for Humanity Restore. For any valuable products, I fill out a donation sheet and give it to my homeowners as a tax write off. They appreciate it and it means less in the landfill. Win, win!"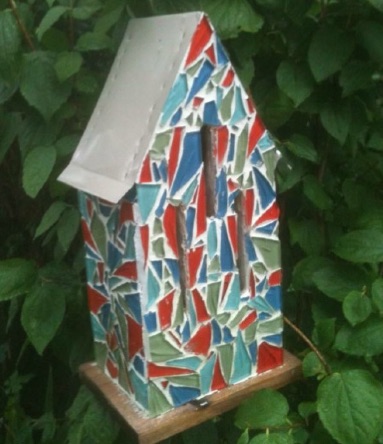 Cuts and broken tiles make excellent materials for mosaic projects, Green has discovered. "I love the look of mosaic designs, and once again the tile gets a new life and is not buried in some hill," he said.
"I would suspect most towns have a recycling program along with their normal garbage pick-up," he added "I try to bring cardboard and plastic home to be disposed of in my personal container. I am also lucky enough that I can have an open burn pit at my home. I take paper and wood products home and burn them there. If I get any metal from my jobsite – other than copper and aluminum – I bring that home too, separate it from my normal waste and set it aside. I know that the 'scrapper' will drive along on garbage pick-up day, and if I can help him make a couple of extra pennies, I do. 
"Every town also has a recycling drop-off center for scrap materials such as copper and aluminum," he said. "I accumulate these metals and make the trip, even if just for gas money, but I know these products too will be melted down and be reborn."
Green knows this isn't an exhaustive list of solutions, but it's a start for contractors who want to be earth-conscious. "That is my GREEN perspective," he said. "I guess I've always been Green without realizing it."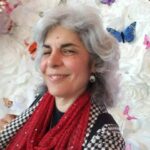 Editorial Director and Senior Writer for TileLetter and TileLetter ARTISAN
Lesley Goddin has been writing and journaling since her first diary at age 11. Her journey has taken her through a career in publishing and publicity, landing her the editor position of TileLetter and its special publications in 2006. Her goal is to educate, inspire, recognize and encourage those in the tile industry -- especially the tile and stone contractor. Other interests include the soft, purring marvels known as cats, labyrinth walking, drumming and percussion, and a range of spiritual, musical and artistic pursuits.